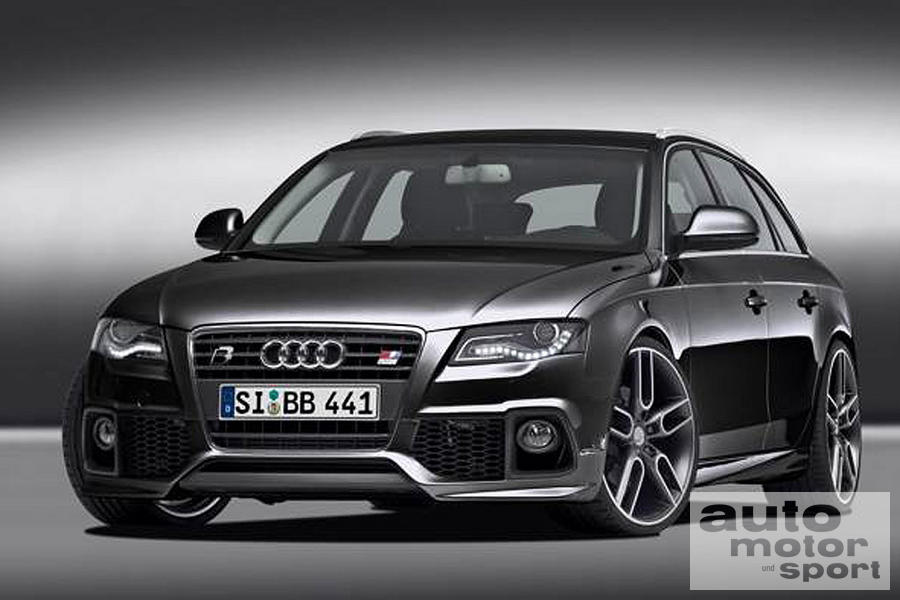 Oil burners seldom make fast cars but Audi thinks otherwise. the firm had the Le-Mans winning R10 TDI and the upcoming R15 TDI and the 500bhp Q7 V12 TDI. So, tuners would be better off beginning with one of these performance diesels and that's what B & B have exactly done.
B&B has taken the 3.0l Audi A4 TDI and put it on steroids.
The range topping 240 bhp diesel has been tweaked to give out a whopping 325 bhp! There are two stages and Stage-1 boosts power to 285 bhp and  585 Nm of torque while Stage-2 gives 325 bhp and 600 Nm of torque !
Alternatively, a sports level is offered with 300 bhp and 600 Nm of torque. The prices for the Light-tuning start at 1,198 euros, ranging up to 5,998 euros for the top version.
Audi A4 tuned by B&B Image Gallery
The mods are not restricted to the top end variants. Even the smaller TDI engines are B & B tuned. The two-liter four-cylinder with a standard 170 bhp and 350 Nm goes up to 200 bhp and 400 Nm in Stage-1 and 220 bhp and 420 Nm in Stage-2.
The 120 bhp TDI Version gets over 160 bhp and 350 Nm and 185 hp and 380 Nm. The 143 hp variant is at 180 hp and 390 Nm respectively, to 210 hp and 410 Nm market. First stage costs 998 Euros while the second stage is 4,998 Euros.
More power for the gasoline TFSI
The standard 1.8l TFSI engine goes up on the power stakes to 250 bhp and 350 Nm. B&B will also do a 295bhp version of the 2.0 TFSI that gives a whopping 295bhp and 450Nm of twist. However the highlight of the range is the 405 hp and 510 Nm beast and prices again range from 998 to 5,998 Euros.
Sport suspension and appearance package
With all the power, and improper suspension and tires, the car would simple go no where. Hence once can install the tuner coilover suspension for 1,198 euro, which in both comfort and sport version is available, with the ride height adjustable to upto 40 millimeters from the ground.
This can be combined with alloy wheels in 9x20 inch dimension and tires 245/30, at a total price of 3,998 euros.
An aerodynamic package for the price of 1,898 euros and a stainless steel sport exhaust system adds visual punch, showcasing power of the car even to the pedestrians.