The Audi A3 has been catering to the compact luxury segment for the last 17 years. Recently, the German automaker had celebrated an important milestone as the three millionth A3 rolled out of the assembly line at Ingolstadt.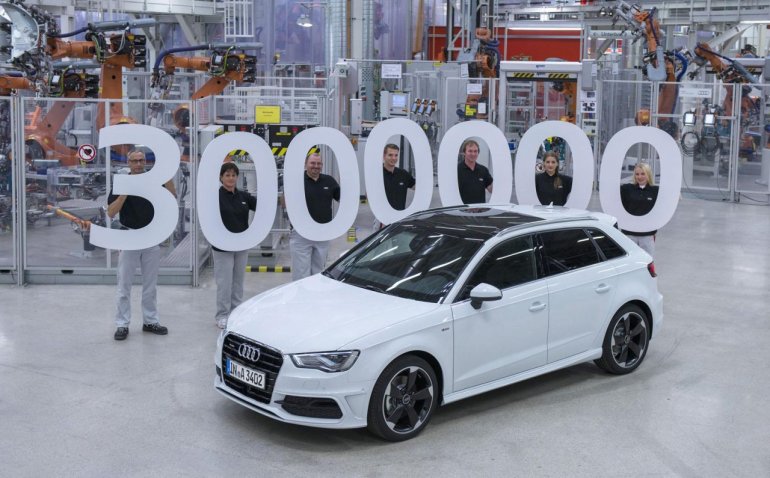 The A3 is living in the third generation now and has recently added the sedan version to its lineup for the first time in its history. The milestone comes even as the much anticipated A3 sedan is waiting to go on sale.
The milestone car is a white Audi A3 Sportback quattro powered by a 2 litre TDI diesel engine. Audi likes to deliver the car to its customer rather than retaining it.
Dr. Frank Dreves, Board of Management Member for Production at AUDI AG, stated -
Three million automobiles in the compact class are quite a performance. With the Audi A3, we have created a new brand segment – we have been setting standards in the compact class with innovative technology and first-class quality for 17 years now.
The Audi A3 is one of the primary models being built at the company's HQ in Ingolstadt. Since 2001, Audi's Hungarian plant started the assembly of the car. In the advent of the A3 sedan, the Hungarian plant has been expanded into a full fledged production facility. The A3 sedan will also be built at FAW-Volkswagen's new JV plant at Foshan, China.
The Audi A3 sedan is expected to actively contribute to the overall sales figure of the A3 family. The sedan will enter India sometime next year as the most affordable Audi.
Head to Page 2 to view the press release.
Audi A3 Three Millionth Car Press Release
[Can't view the document? Head to Scribd]