Ashok Leyland's version of the Nissan Evalia, the Stile, will launch on the 16th of July according to a report on Autocar Professional. The company has announced product plans for this year, of which the Stile is an important part.
[Some of our readers thought the Stile looked better than the Evalia!]
The Stile is a creation of the Ashok Leyland-Nissan joint venture. This is the second product to emerge out of this partnership, with the first one being the fast-selling Dost.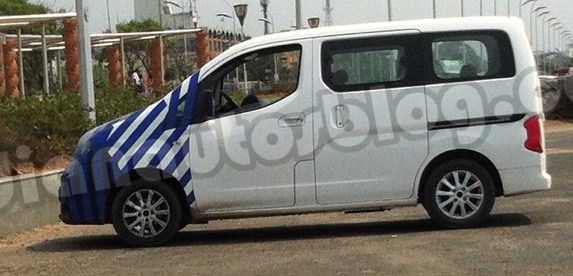 On a simple glance, it emerges that the Stile is a redesigned version of the Evalia. The front-end of the car has been reskinned with new headlamps, bumpers and grille. There are minor changes to the rear fascia, while the interior is stripped-out.
In place of a beige interior, the Stile gets a black and grey trim and upholstery. The design and layout is untouched with the Nissan logo on the steering wheel (which is from the Micra's parts inventory) replaced by Ashok Leyland's.
Both models will use Renault's 1.5L K9K diesel engine that will turn the front wheels. The Dost is also powered by an engine of 1.5L capacity, but that is a three-cylinder unit and is not a part of this family.
[Left - Ashok Leyland Stile from the Auto Expo unveiling, had an interesting front fascia; Right - Nissan Evalia]
While the Evalia has failed to interest the market, the Stile's target customer is not the Innova buying family. Its application would be in the commercial market with variants for ambulance and parcel services. The Stile can also be used as a bus for intra-city transport and many existing customers, looking for a smaller addition to their fleet, may be interested in the Stile.
Ashok Leyland has increased its dealer footprint with 450 outlets across the country. It also plans to launch the CNG version of the Dost and the Partner LCV. All three vehicles mentioned in the story were displayed at the 2012 Delhi Auto Expo.
Ashok Leyland Stile Image Gallery
[Source - Autocarpro.in]