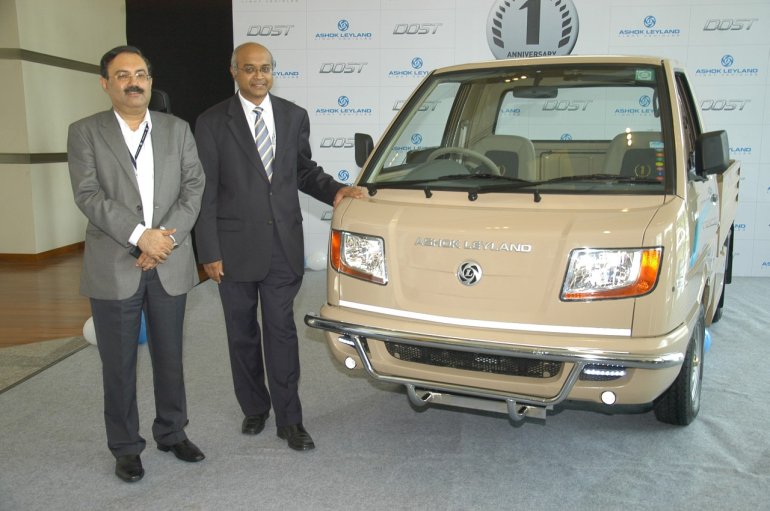 Ashok Leyland unveiled a special edition of the Dost truck this week to celebrate its first anniversary in the Indian market. To the casual eye, the Dost maybe a plain jane mini truck, but if you read the interesting story behind its roots and birth, you may think of this vehicle very differently.
The Dost has been performing very strongly, possessing a market share of 31% in its segment in Tamil Nadu, Karnataka, Kerala, Andhra Pradesh, Maharashtra, Gujarat, Rajasthan and Goa.
The Dost's restricted to these 8 markets, but certainly there appear to be plans to widen the availability in the future, and eventually beyond the Indian borders.
Dr. V. Sumantran, Vice Chairman, Ashok Leyland, summed up the launch stating "Our celebration is more a gesture of gratitude to our loyal and growing customer base."
The special edition model unveiled to mark the occasion retains the same chassis. It is painted with a special "Gray Beige" and sports vehicular ornaments such as bull bars, fuel tank skirt panel, LED daytime running lights and arm rests. Distinguishing it from models manufactured previously is exclusive detailing on the body work such as graphics on the door and an Anniversary badge. Anniversary edition emblems on the seat cover and center cushion are inclusions that also give away its specialty.
The jubilee model has been priced at Rs. 4.78 lakhs (ex-showroom, Chennai).
The Dost is powered by a three-cylinder 1.5L diesel engine that produces 55hp and 150Nm of torque.