Ashok Leyland nationally introduced the Boss, an Intermediate Commercial Vehicle (ICV) which "combines the ruggedness of a truck with a comfort of a car" at an event held in Chennai this afternoon. Manufactured in Pantnagar, Uttarakhand, the vehicle is being launched in 9.6T, 11.9T and 12.9T GVW. The vehicle is launched in LE and LX trims which can be further classified as -
Ashok Leyland Boss LE
Boss 912 LE (9.6T)
Boss 1112 LE (11.99 T)
Boss 1212 LE (12.9 T)
Ashok Leyland Boss LX
Boss 913 LX (9.6 T)
Boss 1113 LX (11.99 T)
Boss 1213 LX (12.9 T)
Features of the Ashok Leyland Boss range
Hydraulic Power steering
15.3m turning radius (best in class)
3-year anti-perforation warranty for cabin
Service interval of 40k km
5-year replacement guarantee on the LED lights
For both variants, the front axle is a reverse Elliot I-Section and the rear axle is a fully floating type. The fuel tank capacity is rated at 208 liters.
The LE variants are powered by a 3.8-liter 4-cylinder diesel engine with an in-line injection pump, capable of a peak power of 120 hp @ 2,400 rpm and 415 Nm @ 1,600 rpm. All LE models have a top speed of 96kph and a greadability of 25%. The company claims that the fuel saving over the competition is to the tune of 5-10%.
The LE variants are marketed towards the transportation of fruits and vegetables, parcels and logistics and intra-city distribution.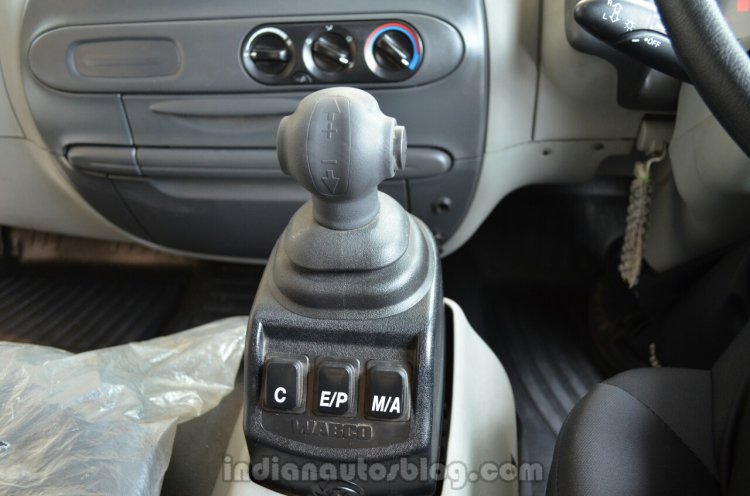 The LX variants are powered by a 3.8-liter 4-cylinder diesel engine with CRDI, producing 130 hp @ 2,500 rpm and 450 Nm @ 1,500 rpm. It is paired to a 6-speed Automated Manual Transmission, which does away with a clutch. The top speed and greadability are 85 kph & 20.77%, 96 kph & 22.9% and 100 kph and 27% for the 913 LX, 1113 LX and the 1213 LX respectively.
The fuel efficiency of the LX variant is 5-10% over the LE variants. The engine life is officially rated at 5 lakh km while the clutch life is rated at 3 lakh km.
Ashok Leyland Boss Specification Sheets
Ashok Leyland Boss Image Gallery