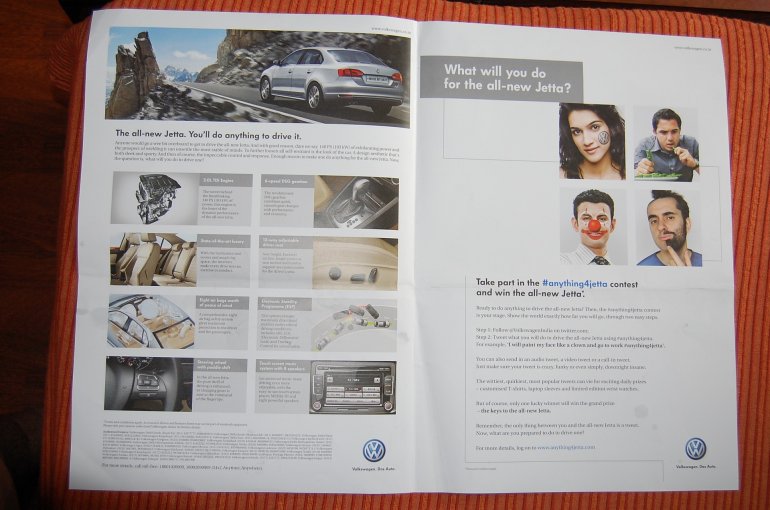 Volkswagen India recently introduced the all new Jetta in India. We brought you live coverage of the whole event along with some exquisite pics. Sure, the Jetta is a very competent product from VW but with a hefty price tag.
At an entry level price of 14.12 lakhs, it's not everybody's cup of tea. But what if you can win the all new Jetta without spending a single penny?
Are you ready to do anything for your new Jetta?
The VW Jetta will be marketed in India with the tagline 'Anything for Jetta'. Pretty soon you will start seeing banners and hoardings on your way to work whereing people from various strata of the society are doing anything for their Jetta. On similar lines #AnythingforJetta is new contest launched by VW where you can win your brand new Jetta.
No, you don't have to eat a snake or jump of the mountain; all you have to do is tweet!
First you have to follow @Volkswagenindia on twitter. Then you can do a series of tasks to accumulate points. The person with maximum points wins a shiny new Jetta!
Want to know what these tasks are? Head over to http://www.anything4jetta.com/how-to-participate
VW is known to launch such contest with their cars. During the launch of the Vento, VW came out with a similar campaign wherein you had to share your innovative ideas and the person with the most innovative one wins a brand new Vento!
Will you participate?
Oh and click here to follow IndianAutosBlog.com on Twitter
Image Courtesy - Vijay Rajani