Note: This story is an advertorial.
New Delhi, November 8: Abkhil Rabindra finally got his act together beating some of the best Indian drivers to take the chequered flag in the Race 1 of Round 3 of the 17th JK Tyre Racing Championship at the Buddh International Circuit here on Saturday.
The Bangalore driver Rabindra, who had to settle for minor placing in the last round at the Kari Motor Speedway in Coimbatore in July, drove confidently to beat Mumbai driver Rahil Noorani by 1.507seconds, completing the superfast track in 23 minutes 47.075 seconds.
Noorani was home in 23:48.582, while Ananth Shanmugam finished third in 23:49.981.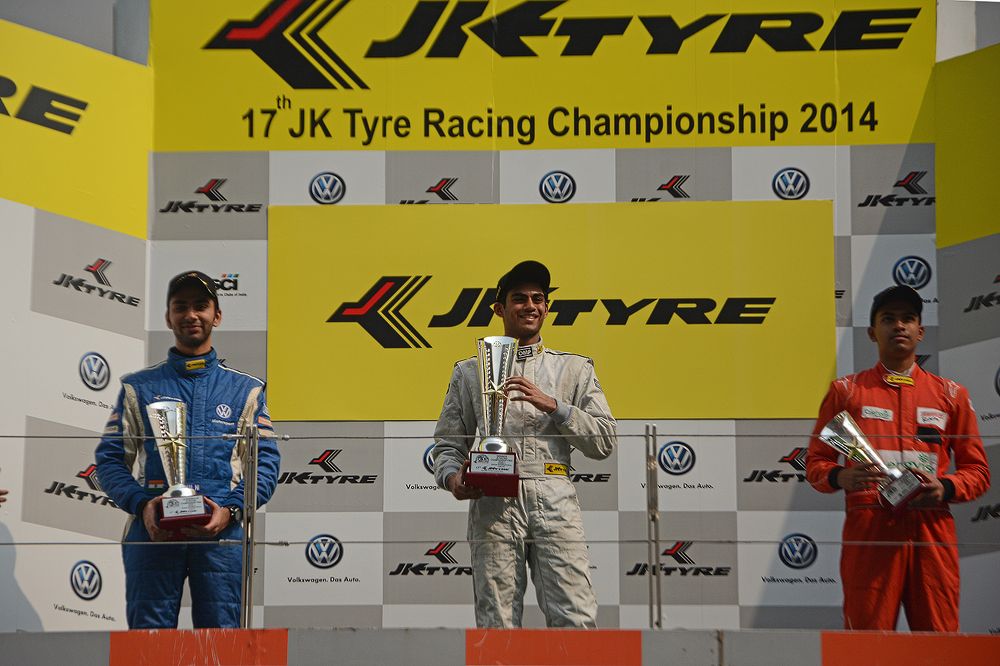 The win helped Rabindra to close in the gap on Vishnu Prasad in the overall drivers' standings in the FB02 class for their Team Euro International cars.
In the qualifying race earlier in the day, Rabindra had clocked 2.10.871 to take the pole position. Vishnu Prasad was second clocking 2.11.377, while Noorani was third with 2.11.565.
In the race though, Vishnu slipped down the place as luck did not favour him today.
"It was a good race. Got a good lap in qualifying which put me in P1 which was half a second less than Vishnu's. In the first two laps it was difficult and Vishnu was next to me and I went in with a defensive set of mind but in the end I pulled through and eventually got a difference of around 20-30 meters till the end,: said Rabindra.
"On the second last lap, Vishnu went into pits as he had a jumpstart and it got me a bit of freedom. I want to finish ahead of him in both the races tomorrow and that's my plan. I am very happy with the performance of my car as it has been consistent throughout."
Guest drivers, Aarman Ebrahim and Aditya Patel drove along with the young drivers to motivate them but they failed to finish due to technical hitch.
Chittesh spectacular
Kolhapur driver Chittesh Mandody of Meco Racing won the Race 1 of Formula LGB 4 beating Dark Don's TS Diljith to open his account earlier in the day.
Diljith, however, got his due when he won the Race 2 leaving Mandody to settle for the Runner-up position, but this made the drivers' championship in Formula LGB interesting.
"It was a good race today. I had a good fight with Chittesh with him coming first in one and me coming in the next one.It was good fighting with him as we are very close friends. His car got good pace in the corners and mine was a bit slower in corners because of the handling," said Diljith.
"In the 1st race both of us ran wide in the corners as both of us forgot to brake as we braked very late. But happy that i finished 2nd. In the second race, I was defending a lot and tahankfully it helped. I have a plan for tommorrow's race to work on my handling in my corner so that I can go faster in the corners," he added.
Results:
Round-3:
JK Racing India Series FB02 (Race-1): 1. Akhil Rabindra (Bangalore) 23:47.075; 2. Rahil Noorani (Mumbai) 23:48.582; 3. Ananth Shanmugam () 23:49.981; 4. Krishnaraj Mahadik (Mumbai) 23:51.456; 5. Vishnu Prasad (Chennai) 23:56.090.
Formula LGB 4 (Race-1): 1. Chittesh S Mandody (Meco Racing) 19:59.030; 2. Diljith T S (Dark Don) 19:59.207; 3. Vishnu Prasad (Meco Racing) 20:05.190; 4. Ameya Bafna (Rayo Racing) 20:06.689; 5. Nayan Chatterjee (Rayo Racing) 20:06.960.
Formula LGB 4 (Race-2): 1. Diljith T S (Dark Don) 19:52.345, 2. Chittesh S Mandody (Meco Racing) 19:54.469, 3. Raghul Rangaswamy (Meco Racing) 20:04.298, 4. Sudarsana Rao Karwa (Dark Don) 20:07.767, 5. Vishnu Prasad (Meco Racing) 20:10.970.
VW Polo R Cup (Race-1): 1. Lee Keshav (New Delhi) 20:03.892; 2. Gosia Rdest (Poland) 20:09.054; 3. Karthik Tharani (Chennai) 20:11.588; 4. Dylan Pereira (Poland) 20:13.634; 5. Anindith Reddy Konda (Hyderabad) 20:16:209.