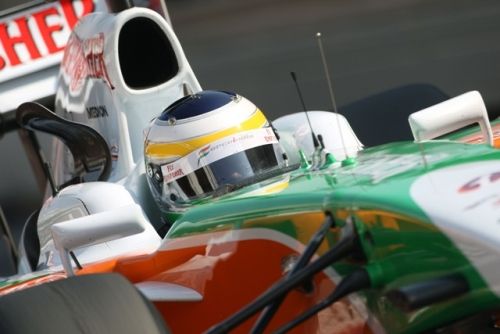 After a magnificent 2nd position drive from Fisichella in the last race at SPA, the new lead driver, Adrian Sutil, backed it up with a terrific drive to secure a 4th place finish for Force India at the Italian GP in Monza today.
Sutil could have easily snatched a podium finish if not for a slight mistake during his second pit stop, where he only just, over-shot his parking, losing time as his mechanics had to regroup.
On the same lap, Kimi Raikkonen, who was ahead of him, took advantage of the prevailing situation, and came out ahead from the pitlane to resume his dominance over Sutil for the rest of the race.
A scary crash involving 3rd place man Lewis Hamilton and the guard rail, when pushing hard to catch Brawn's Button, just corners from the checkered flag, meant the rest of the top 10 upgraded one position, eventually gifting Sutil a stronger 4th place.
If not for the KERS energy recovery system on Raikkonen's car, that Ferrari could have easily lost track position to Sutil's Force India very early in the race. Sutil's progress around the corners was negated in the long straights where Kimi used KERS to good effect keeping Sutil at bay till the very end. The gap separating the two was very little. It hovered around the two second mark for the major portion of the race.
On his debut race with Force India, Vitantonio Liuzzi's dream run came to a screeching end as he pulled over just before the first corner after a mechanical problem occurred on his car, after several strong laps that promised him a place in the top five. Whether it was a faulty gearbox or engine is not determined, but if he would have continued, it could have been the best performance of a replacement driver in the recent times in Formula 1.
Who won?!
Oh yes, I've said this before, and I'm going to say it again - A Brawn GP 1-2, Barrichello followed by Button followed by Kimi Raikkonen enjoyed the champagne and took home the trophies..
1 Rubens Barrichello, Brawn-Mercedes
2 Jenson Button, Brawn-Mercedes
3 Kimi Raikkonen, Ferrari
4 Adrian Sutil, Force India-Mercedes
5 Fernando Alonso, Renault
6 Heikki Kovalainen, McLaren-Mercedes
7 Nick Heidfeld, BMW Sauber
8 Sebastian Vettel, Red Bull-Renault
9 Giancarlo Fisichella, Ferrari
10 Kazuki Nakajima, Williams-Toyota
11 Timo Glock, Toyota
12 Lewis Hamilton, McLaren-Mercedes
13 Sébastien Buemi, Toro Rosso-Ferrari
14 Jarno Trulli, Toyota
15 Romain Grosjean, Renault
16 Nico Rosberg, Williams-Toyota
Not classified:
Vitantonio Liuzzi, Force India-Mercedes
Jaime Alguersuari, Toro Rosso-Ferrari
Robert Kubica, BMW Sauber
Mark Webber, Red Bull-Renault