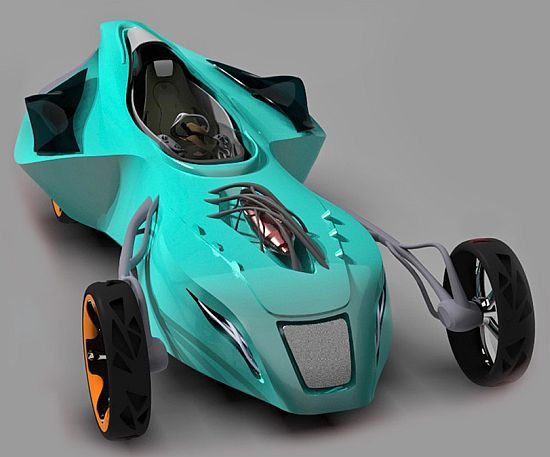 Racing fans in India have nothing to cheer about, after the Force India car of Fisichella crashed out and Sutil came last. But here's something that will put a smile on your face.
Well, I had some idea on how racing would be like in the future after watching the movie 'Speed Racer'. But then it got me thinking how single seater formula cars would like. While surfing the web today, I came across this amazing concept called 'MORFLEX', designed by an Indian design student Anupam Tomer. This design chooses to explore human body movement and apply it to racing cars using smart polymers, which have the capability to emulate human muscle movement. The application of these superlative polymers was considered necessary to design, what he calls a bio-morphic speedster.
If you analyze its design, it looks like person lying down with his arms stretched and legs bent towards the insides. As a result, it does satisfy his first requirement very well. And 2050? I have the softest idea of how a racing car from 2050 might look like, but this certainly fits the bill.
Whatever happens, Anupam get the thumbs up from IAB we wish him good luck for his future designs.
Morflex Gallery
Source CarbodyDesign