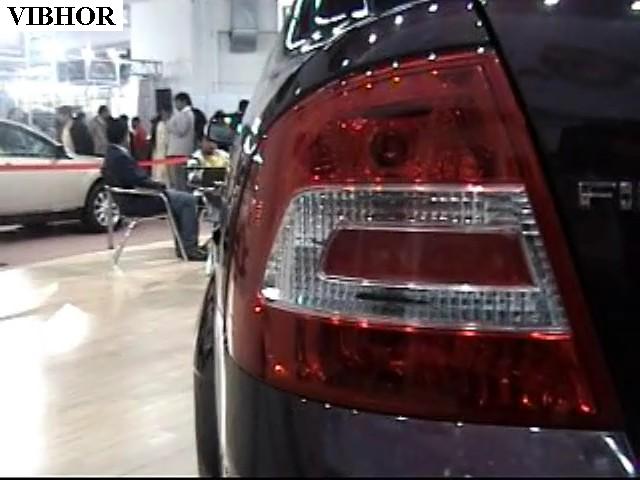 By Special Correspondent Vibhor
It was a perfect day for motorheads like me at the AUTO MALL 2009 sponsored by Relio Quick which was held for a duration of three days- 9, 10 and 11th Jan.
Brands like Skoda, Honda, Hyundai, Chevrolet, Nissan had put their respective cars on display and the big surprise was not a special participant, but the absence of one- India's top car maker Maruti Suzuki.
The show was held in Pragati Maidan, where the AutoExpo is normally held once in two years. There were intresting exhibits which even a person with little interest in Autos would find interesting. The main attraction of the show to me were the two beasts - A black Porsche Cayenne Turbo S and the imported BMW X6 which were on display by Magus Auto. The BMW X6 was instantly booked by a college professor for a whopping price tag of 1.5 crores!
Apart from these beasts there were other eye catchers like the newly launched Honda city, people were eager to experience it's space and comfort. The Mitsubishi Outlander and the Hyundai's latest offering - The i20 were on display, both being newbies to the India.
Other cars which made their presence at show were the Nissan Teana, Toyota Prado, Mitsubishi Pajero, Ford Endy , Fiesta, Toyota Camry, Skoda Fabia, Chevy Captiva, Spark and Aveo U-VA, Tata Safari, M&M Scorpio Even the little MAINI REVA made it to the Auto Mall 09, leaving us startled on Maruti's absence.
Coming to the bikes section, there were four monsters from the very famous bike enthusiast, Bitto bikewallah, as they say it in hindi "Naam desi, Kaam Angrezi." Bittoo is born bike freak and now he modifies bikes. He showcased the Suzuki Hayabusa, Suzuki Intruder, Honda CBR and a Hero Honda dirt bike. Dream bikers, a popular bike modifier, showcased their custom bikes fitted with fat tyres.
There was feasts for vintage lovers too. Yes, there were some vintage cars also on display from Triumph and Chevrolet. Reportedly, on the last day, the number of visitors crossed the 100,000 mark!
IAB Comment- The BikeExpo is also going to take place at same venue, Pragati Maidan on 15 and 16 Feb 2009. You don't have to look elsewhere for coverage as we will entertain you with pictures and interviews on your favorite Indian Auto Blog- Indian Autos Blog!