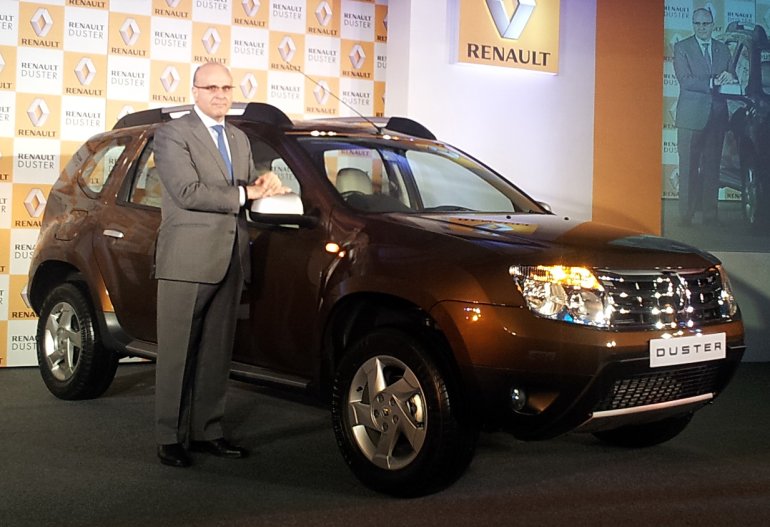 We caught up with Marc Nassif, the Executive Director of Renault India at the Renault Duster Mumbai launch to discuss the future strategy of the French automaker. Here is what he had to say:
1) How did you manage such an aggressive pricing for the Duster?
We tried to localize the Duster as much as possible. Currently 60% of the Duster is localized. We want to move to 80% localization. However, these are introductory prices which will be rationalized depending on the customer demand.
2) Are you thinking of LPG/CNG variants for the Duster?
Not right now. We believe in a step by step approach and whenever we deliver, we want to deliver quality. We have LPG and CNG in other markets but our choice for India is the petrol and diesel for now. If the market moves, we will move with the market.
3) What about LPG/CNG option for Pulse?
I don't see the volumes yet. When we see the volumes, we will exploit that option.
4) With Duster being so aggressively priced, would it cannibalize into the upcoming Scela sedan?
We believe that the Duster can create its own segment. Obviously, the sedan that we launch can have some variants overlapping with the Duster in terms of prices. But we believe that customers who want sedans will still buy sedans so I believe there is room for both products to survive.
5) The new Renault Clio was recently revealed on the web. Does the Clio make sense for India?
I don't think so. The Clio platform addresses much more demanding regulations. The Indian customer will not be willing to pay such high prices. If we adapt the Clio for the Indian market, it would take a lot of time and a lot of money. So it is better to develop products for Indian market than to tweak European products for India.
6) The MPV segment is booming in India. You have the Renault Espace and the Dacia Lodgy as options. Are you considering them for India?
The Renault Espace will not be coming to India. As far as the Dacia Lodgy is concerned, we are looking at that aspect of the market. However, right now our priority is the 5 products that we promised and the 100 dealers by the year end. We are completely focused on our current targets.