After Inazuma 250, Suzuki has finally returned to the quarter-litre segment, but this time it has a sport-tourer offering - the Gixxer SF 250. Within the span of last few years, the company has already made the 'Gixxer' brand a hit in the Indian market,  and now, it is leveraging its popularity with a bigger capacity model.
Yesterday, we were invited to the BIC to check out if the new quarter-litre offering has the potential to stand out in the segment which is considered a battleground for all the bike makers since it is filled with some very capable motorcycles already. So did the Suzuki Gixxer SF 250 delivered on our expectations? Read on to find out.
Design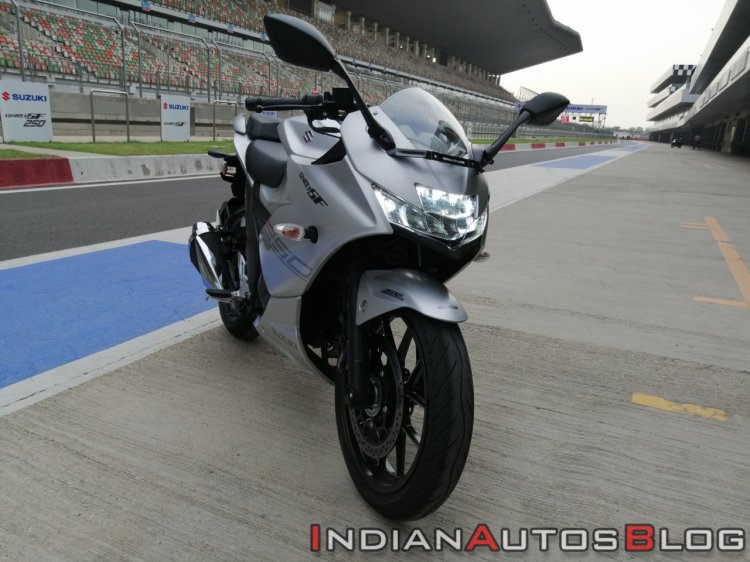 First things first, Suzuki has left no stones unturned when it comes to making sure that the 250's design is clean, sharp and sporty. It's beaky LED headlamp has hints of old school GSX-Rs, the side fairing sports minimal graphics with just a single '250 SF' sticker running across the width. Its bronze engine chamber cover is visible from the side fairing. On the top, the fuel tank has a muscular design similar to that of the smaller Gixxers, and it doesn't come in the way when the rider is fully crouched over. The split-seat setup certainly looks good, and at the back, sits a V-shaped sleek LED tail light unit which has a minimalistic appeal. The fit and finish on the bike is nothing to complain of, and the Gixxer SF 250 really is an appealing motorcycle no matter which angle you look at it from.
The quarter-litre Gixxer has a fully digital reverse-backlit instrument panel which displays all the necessary information like speed, current gear, rpm, fuel level, time, and much more in a simple and uncluttered format. This is same screen from the smaller Gixxers, but with a tweaked format.

Engine and Performance
With the Gixxer SF 250, Suzuki decided to go with the single-cylinder configuration, and that was probably a smart thing to do considering the Indian motorcycle market hasn't been very generous with the twin-cylinder motorcycles in this segment. The engine is a 249 cc single-cylinder, fuel-injected unit which comes with Suzuki Oil Cooling System (SOCS). Suzuki is clearly very proud of this cooling-system, so much so, that they've given liquid-cooling a miss. This was another smart thing to do to keep the costs low, and also it may not have been entirely necessary considering the fact that it is not a high-revving engine which heats up quickly, which it is true.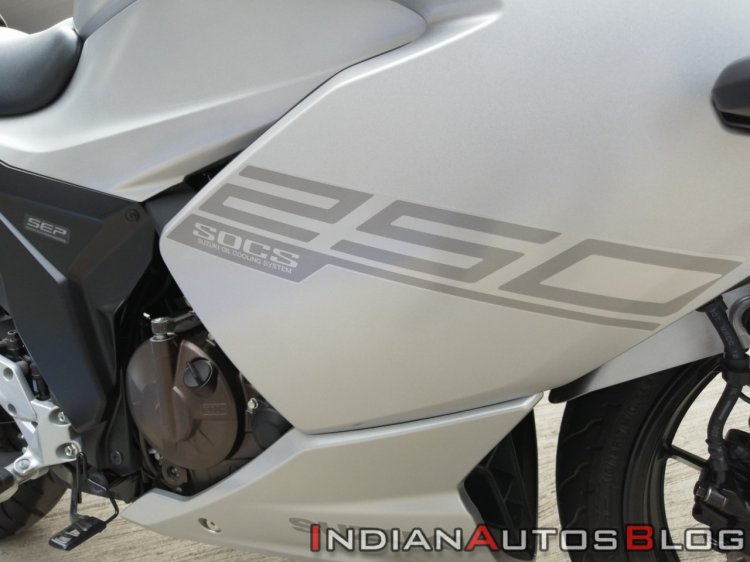 The engine delivers 26.5 PS at 9,000 rpm, and 22.6 Nm comes at 7,500 rpm. This unit comes mated to a 6-speed gearbox, which is slick and precise to use. As soon as the first gear is clicked in and the clutch is released, the SF 250 progresses with a smooth, buttery push. The first gear has been kept longer which will take you to around 51 km/h before hitting the redline, while the last will add another 100 km/h to the count (depending on the load and overall drag). The power delivery from the new engine is predictable and linear throughout the range, but not quick.
As expected, the engine revs freely through-out the rev range and isn't prone to vibrations even when the throttle is fully pinned down and working at its full capacity. There are some minor vibrations towards the higher-range, but nothing significant to complain of.

Handling and Riding Dynamics
As soon as you swing your leg over you find out that the Gixxer SF 250 isn't a hardcore sports bike. Its raised clip-ons allows for a very neutral, slightly sporty riding position which should be comfortable enough even on occasional longer rides. But we weren't there to test this, but to see how it performed on a world-class racing circuit.
Its kerb mass of 161kgs along with a short wheelbase of 1345 mm, keeps it nimble without sacrificing the stability. It is light-footed on the handling and leans into a corner like a good sport bike should. Also, it is natural when it comes to sticking on the cornering lines, and making mid-corner corrections is forgiving on it. All this makes it a profoundly easy, natural and forgiving motorcycle to ride even if you are a beginner. It packs traditional telescopic front forks and a monoshock at the back which has been tuned surprisingly well even for aggressive and sporty riding. The front forks, even though soft, don't dive in under hard braking and maintain their composure. Sideways weight transfer may not be lightning-quick but the front provides ample feedback when making fast transitions on serpentine turns.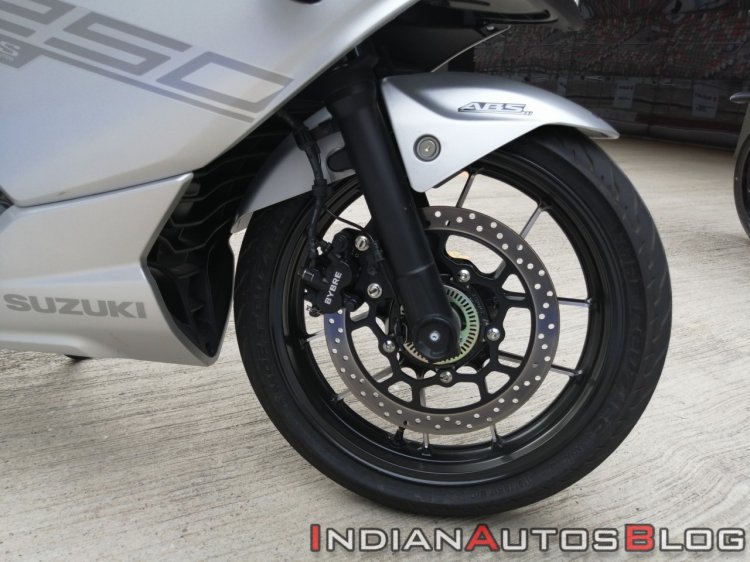 The Suzuki Gixxer SF 250 packs a disc brake at both the ends, and both the disc brakes are governed by ABS. The front comes with 300 mm disc plate which has tremendous stopping power allowing late braking into a corner even when you are approaching the curve at triple-digit speeds. Also, the ABS safety-net works with minimum intrusion which provides confidence when dropping anchor at high speeds.
The bike's 17-inch rims come shod with 110/70R (front) and 150/60R (rear) MRF Revz tyres which were decent for a hot sunny day when the track temperature was high. The grip levels were under control even in aggressive cornering but the same cannot be commented about real-world riding conditions yet.
Its 800 mm seat height is fairly low and allows riders of all heights to comfortably settle on to the saddle without worrying about tip-toeing. Overall, it isn't very demanding to ride and stays comfortable, but we will reserve our thoughts on it until we ride it on public roads for a longer time.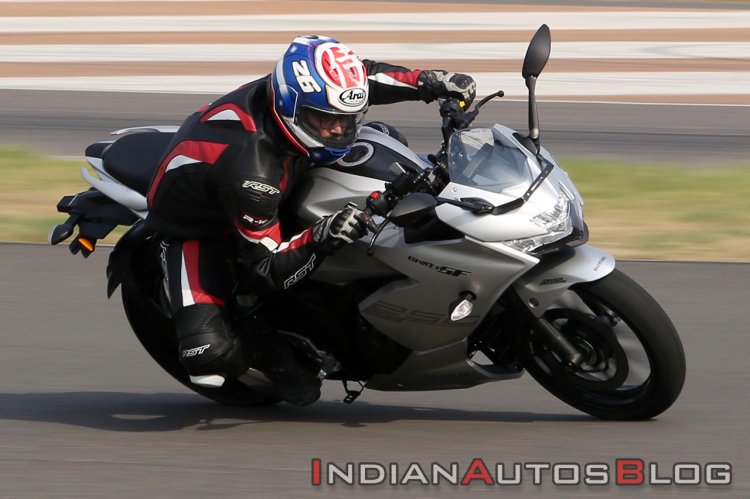 Also Read: Suzuki Gixxer SF 250 vs Honda CBR 250R vs Bajaj Pulsar RS 200 vs KTM RC 200 Yamaha Fazer 25 [Spec Comparo]
Verdict
Suzuki might have re-entered the quarter-litre segment a little late, but it has made sure to check all the right boxes before coming in and it has a winner in its hands with the Gixxer SF 250. Its price tag of INR 1,70,655 (ex-showroom, Delhi) may sound like a little over the line for a few, but all in all, it is a very smartly engineered product which has been designed to hit the right chords. It might not be sharpest track tool, like its Austrian counterparts, but it will certainly be an all-rounder which does everything you want it to do without breaking a sweat.