Offers a diesel engine for the first time.
Chevrolet has digitally revealed the 2018 Chevrolet Equinox on September 22 (fittingly on the Fall Equinox). Here a brief pictorial comparison between it and the outgoing generation.
Exterior: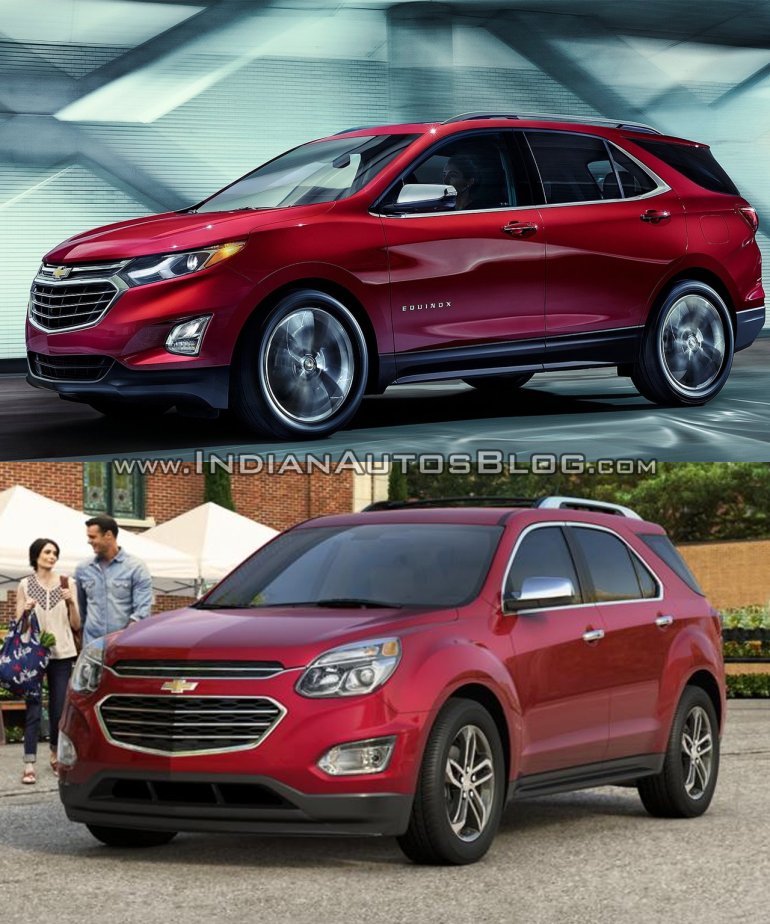 The exterior styling of the new Equinox is inline with the latest crop of Chevrolets like the Cruze, Malibu and Volt. The front-end features sleek projector headlamps that directly flow into the new Chevy 2-part grille. The body-colored panel that separated the grille on the old Equinox has been replaced by a more subtle chrome piece.
Coming to the profile, the new Equinox has swoopy character lines running across, new black plastic body cladding, and new alloy rims designs. At the back, the new Equinox features sleeker, horizontal taillights, and a redesigned bumper.
Interestingly, Chevrolet has slightly shrunk the Equinox; it is now 4.7 inches shorter in length, almost an inch shorter in height and 5.2 inches shorter in wheelbase.
Interior:
The changes inside are more dramatic than the exterior. While there's a certain familiarity to the exterior of the new Equinox, the interior has been completely redesigned. Borrowing cues from the latest generation of Chevy's, the 2018 Equinox features a new dashboard housing a large MyLink touchscreen system and lower button count than before.
It also features a new steering wheel, instrument cluster, Apple CarPlay and Android Auto and new dual tone leather seat upholstery.
Engine and Gearbox:
The new Equinox comes with a downsized-but-turbocharged engine lineup, which is expected to be more fuel efficient and kinder on the environment than the outgoing Equinox's 2.4L DOHC 4-cyl and 3.6L SIDI V6.
It includes a 1.5L four cylinder turbocharged engine with 170 hp and 203 lb ft of torque and 2.0L four cylinder turbocharged engine with 252 hp and 260 lb ft of peak torque. Both engines are slightly less powerful than the units they replace, but given that the new Equinox is 400 pounds lighter (10% weight reduction) and comes equipped with a new 9-speed automatic, the performance figures could be similar.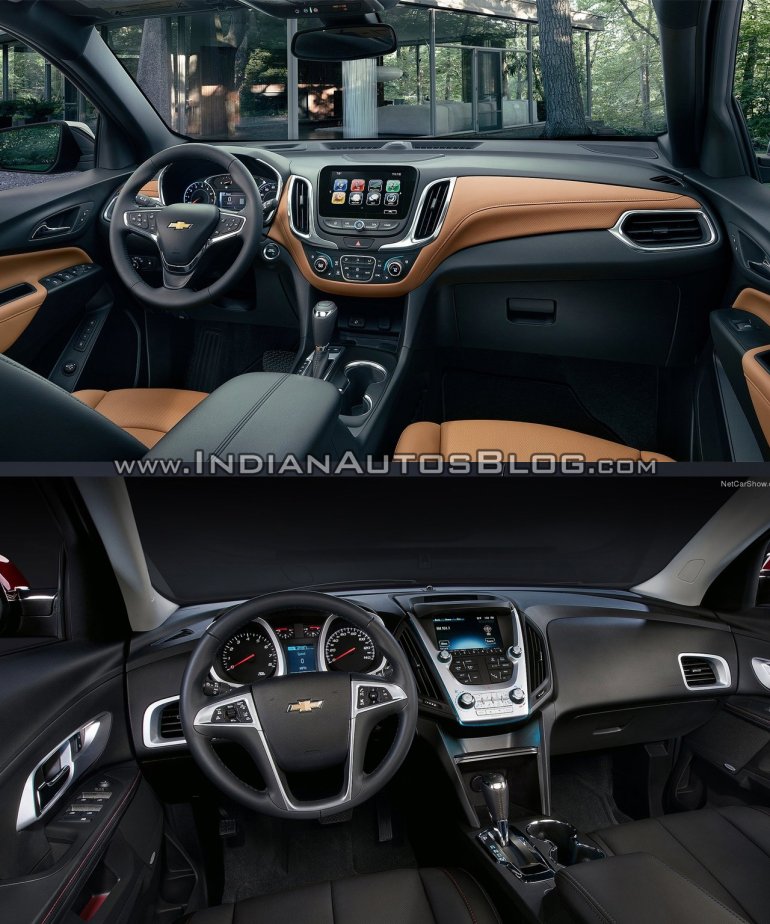 An interesting addition to the engine lineup is a diesel option - it is a 1.6L turbodiesel four-cylinder engine that produces 136 hp and 236 lb-ft of peak torque. The figure that is bound to raise attention is its fuel economy; the Equinox diesel can average a fuel mileage of 40 mpg (17 km/L, U.S driving cycle).
The 2018 Chevrolet Equinox hits the market in the first quarter of 2017 in North America and will roll out in 115 additional global markets through next year.