Audi has unveiled the highly anticipated 2018 Audi A8 in Barcelona. Here's how the 2018 Audi A8 compares with the 2014 Audi A8 on paper.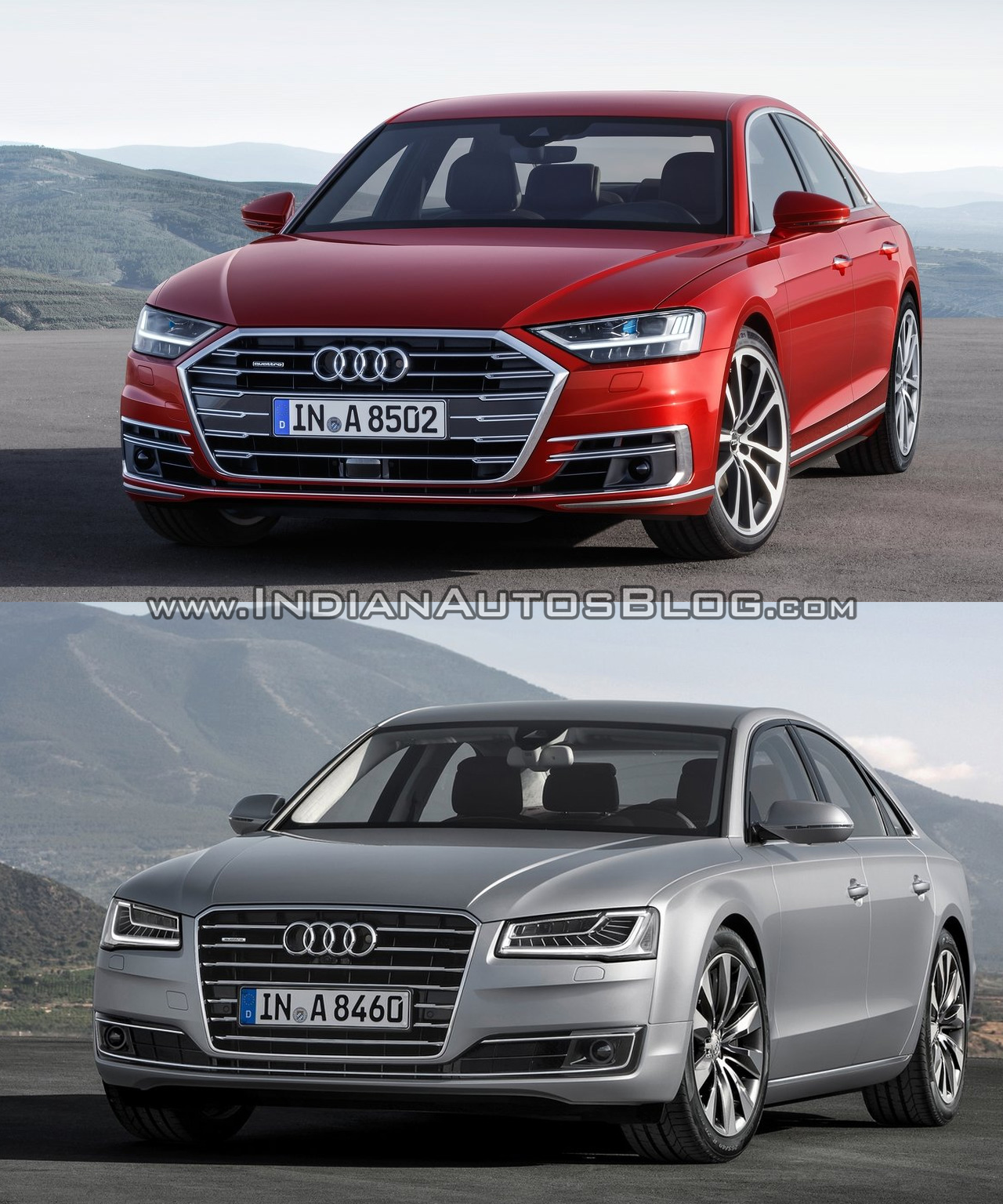 With the redesign, the Audi A8 has entered its fourth generation. The flagship saloon features an evolutionary design for a more sophisticated and elegant look. The all-new A8 has grown by 37 mm in length and 13 mm in height, and its wheelbase has seen an increment of 6 mm. The car's width, however, has reduced by 4 mm. The same changes apply to the long-wheelbase version, except the height, which has increased by 17 mm. The interior length has grown by 32 mm.
The 2018 Audi A8's structure is made of carbon-fibre reinforced polymer (CFRP), magnesium, aluminium and steel. Besides using such lightweight materials in construction, Audi has also employed new front seats that shed over 4 kg.
The notably wide Singleframe grille which is flanked by HD Matrix LED headlights, as well as the 21-inch wheels and the OLED rear lights are among the 2018 Audi A8's eye-catching exterior traits.
Like the exterior, the interior draws inspiration from the Audi prologue concept and has a clean layout.
The cabin is more high-tech with three displays now at the front. The instrument cluster is a 12.3-inch full-HD (1,920 x 720 pixels) screen we know as the Audi virtual cockpit. On the centre console, there's a 10.1-inch (1,540 x 720 pixels) curved touchscreen display for handling the car's primary functions in the upper portion. Below that, there's an 8.6-inch (1,280 x 660 pixels) screen on the centre tunnel console for the air conditioning and comfort features' controls. This display also offers the convenience of entering texts via either a keyboard or by handwriting recognition.
That is not all; there are two Audi tablets with full-HD 10.1-inch screens for the Rear Seat Entertainment system. The rear seat remote has a full-HD 5.7-inch OLED touchscreen display. The removable unit is placed in the centre armrest.
The 2018 Audi A8 is the world's first series-production car with highly automated driving. It offers the driver the convenience of autonomous driving in traffic jams on highways at speeds up to 60 km/h. Twelve ultrasonic sensors, a 360-degree camera system, a front camera, four mid-range radars, a long-range radar, an infrared camera and a laser scanner work together to accomplish this. The driver has just to tap the AI button on the centre console, and the traffic jam pilot will handle the start, acceleration, steering and braking functions.
The all-new Audi A8 is electrified as standard. The range starts with 340 hp 3.0-litre TFSI petrol and 286 hp 3.0-litre TDI diesel V6 engines. 460 hp 4.0-litre TFSI petrol and 435 hp 4.0-litre TDI diesel V8 engines will follow later. A 585 hp 6.0-litre W12 petrol engine tops the range. These engines work in conjunction with a belt start alternator (BAS), the core of the 48V electrical system. Mild-hybrid tech allows the car for coasting with the engine switched off at speeds of 55-160 km/h for up to 40 seconds. Audi's German website mentions 30 km/h which we suppose applies only to the domestic market.
The all-new Audi A8 L e-tron Quattro will join the range at a later date. Its 3.0-litre TFSI and electric motor together produce 449 hp and 700 Nm of torque. There's a lithium-ion battery beneath the luggage compartment for storing 14.1 kWh of energy. In pure electric mode, the driver can accelerate the A8 L e-tron Quattro at speeds of up to 135 km/h and can cover about 50 kilometres.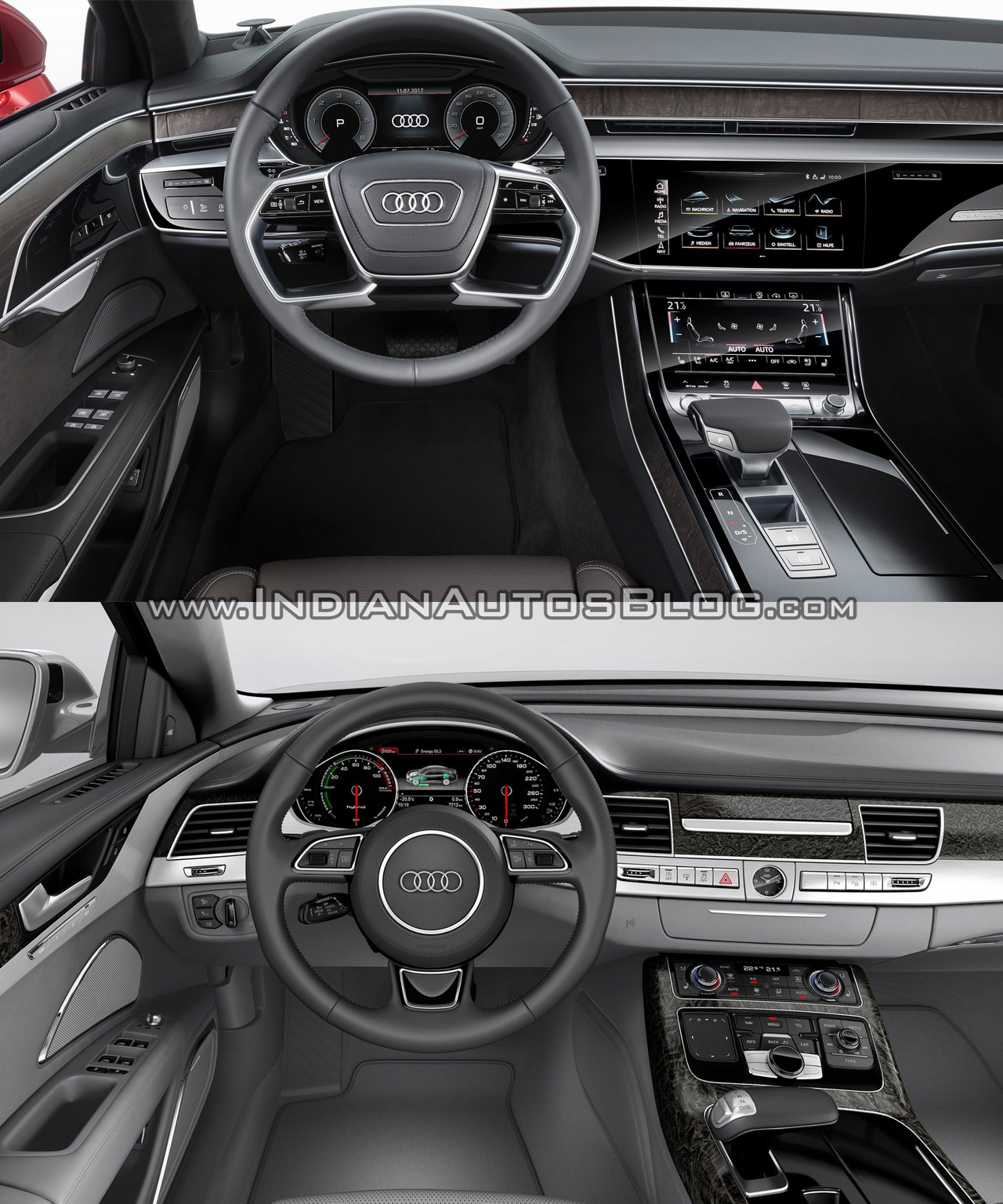 Also See: 2019 Audi A4 (facelift) to get a sportier design – Rendering
The 2018 Audi A8 will reach the German market in late fall 2017. Prices will start at €90,600 for the A8 and at €94,100 for the A8 L. The V8 and W12 engine options, as well as the e-tron Quattro plug-in hybrid variant will follow in 2018. As before, production takes place at the Neckarsulm site in Germany.
2018 Audi A8/2018 Audi A8 L - Dimensions
Length - 5,172 mm (A8)/5,302 mm (A8 L)
Width - 1,945 mm
Height - 1,473 mm (A8)/1,488 mm (A8 L)
Wheelbase - 2,998 mm (A8)/3,128 mm (A8 L)
2018 Audi A8/2018 Audi A8 L - Engines
3.0 TFSI petrol- 340 hp and 500 Nm of torque
3.0 TDI diesel - 286 hp and 600 Nm of torque
4.0 TFSI petrol - 460 hp*
4.0 TDI diesel - 435 hp*
6.0 W12 petrol - 585 hp and 800 Nm
2018 Audi A8 L E-Tron Quattro - Specifications
Primary source of power - 3.0 TFSI petrol engine
Secondary source of power - Electric motor
Maximum system power - 449 hp
Maximum system torque - 700 Nm
Battery type - Lithium-ion
Battery capacity - 14.1 kWh
Pure electric range - ~50 km
Pure electric top speed - 135 km/h
*Maximum torque output figures not available yet.