Is more mature and 'Dzirable' than ever before. 
The sub-4m compact sedan segment may not have products with the most desirable designs, but the extra practicality over its hatchback counterparts and, of course, the inherent want to own a 3-box sedan among Indian car buyers has made it one of the most profitable segments. And its success can largely be credited to one product - the Maruti Swift Dzire.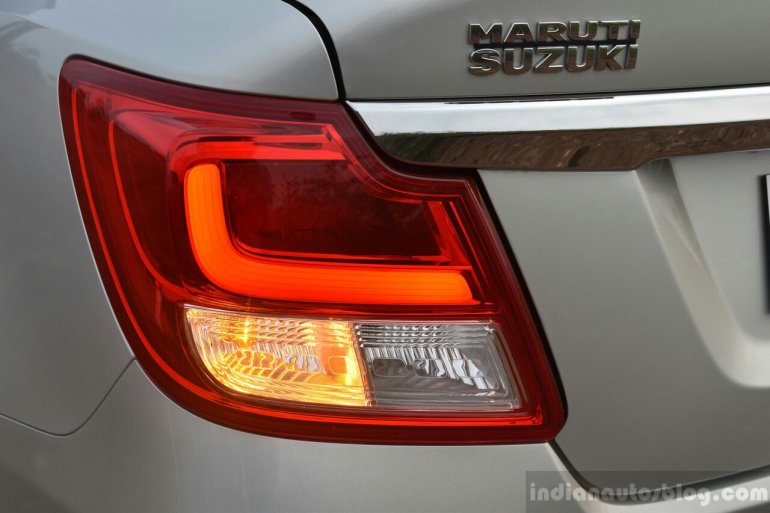 So popular it was, that one out of two sub-4m sedans sold in India is a Swift Dzire. It's a populated segment too, comprising of the Hyundai Xcent, VW Ameo, Honda Amaze, Tata Zest, and Tata Tigor, competing against one product that commands a 50 percent share of the segment. And adding to their woes is the arrival of an all new Swift Dzire - nay, just Dzire - in the market, which raises the benchmark in every respect.
At its launch, Maruti executives divulged that they received over 33,000 bookings in just weeks since bookings were opened, which is a figure rivals could only dream of at such a short period of time. But is it merely a cash cow with a few design changes? Not quite. The 2017 Maruti Dzire is an all-new car from the ground up, touted to be bigger, lighter, and more advanced than before. We got an opportunity to sample the new model in the picturesque towns of Goa. Here's our first drive review of the all new 2017 Maruti Dzire.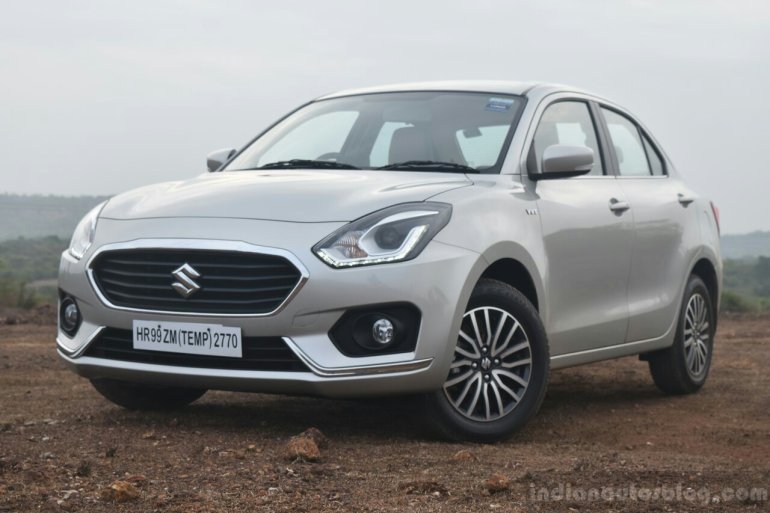 When the second gen Swift Dzire arrived in 2012, it got plenty of flak for its odd proportions; the exterior was summarised as a Swift hatchback with a boot sewn into its posterior. So, expectedly, one of the key elements Maruti wanted to get right with the new Dzire was its exterior design.
I was one of the many people who thought the new Dzire looked unattractive when the first undisguised spy shots surfaced. However, after spending some time with it, the design did eventually grow on me. With its chrome embellishers, wider front fascia (40 mm wider), liquid metal flow design lines, and first-in-segment LED headlamps with DRLs, it has this regal road presence not seen before.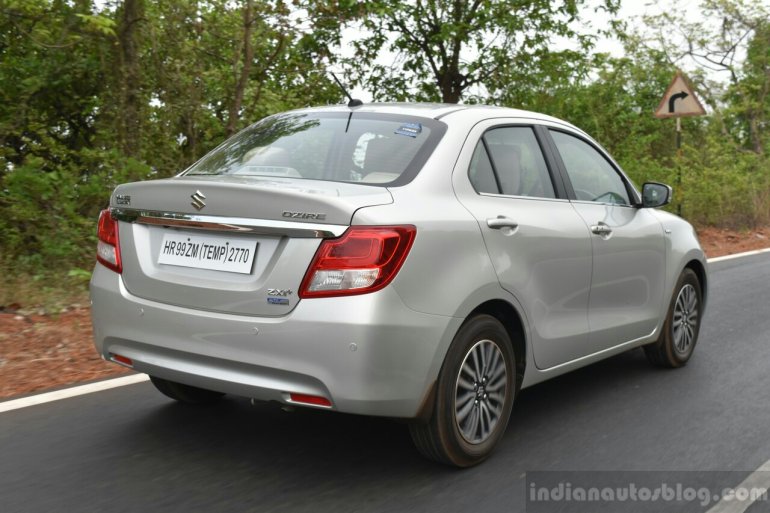 Amusingly, a few readers believe that the design draws a parallel to that of the Hindustan Ambassador, which may not be deliberate by Maruti's designers. From the posterior, the Dzire is now one of the few well proportioned sub-4m sedans on sale, and is much less of an eyesore than the previous car.
The interior retains the dual tone beige and black colour combination, including a few switchgear that's been in Marutis for generations. Aside from that, it's an all-new design that looks more premium, simpler and receives top marks. It would've been full marks, if it weren't for the choice of materials and build quality.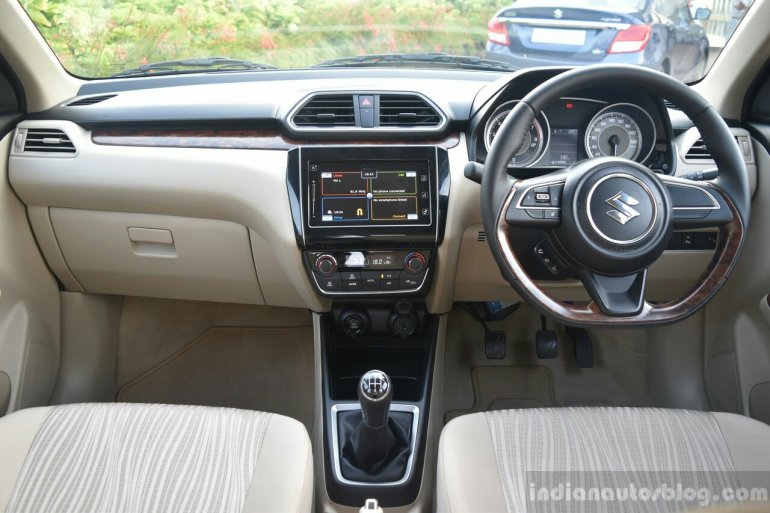 The only area that feels good to touch is the leather-wrapped steering wheel, but it comes with this odd burl wood ornamentation like one would find in a luxury limousine. At first glance, I assumed there was a steering wheel cover, but it's actually a flat-bottomed, sporty steering wheel trimmed with wood. Looks a bit over-the-top for such a class of car.
Ergonomics of the cabin are acceptable, featuring buttons within easy reach, and the centre console is slightly tilted towards the driver. Unlike the international-spec Suzuki Swift we saw at the Geneva Motor Show, the Dzire lacks the cool HVAC controls, sportier instrument dials and a colour MID similar to Baleno's unit. Regardless, it's still an attractive interior that looks as expensive as the exterior. Thanks to the new platform and altered dimensions, the Dzire's cabin is now more spacious than ever before. In fact, it's one of the most spacious cabins in the segment - up there with the segment-best Honda Amaze. Even with the front seat set for my 6"2 frame, there was enough knee room to spare, while headroom would've been good if I was a bit smaller or had a bald head.
The rear bench seat has good thigh support, and is slightly wider so that the poor soul who always sits in the middle is a bit more comfortable in the Dzire. New features at the back include a rear HVAC vent and 12V power socket, although it's strange to see that neither the burl wood ornamentation or fabric trim from the front two doors are present on the rear doors as well.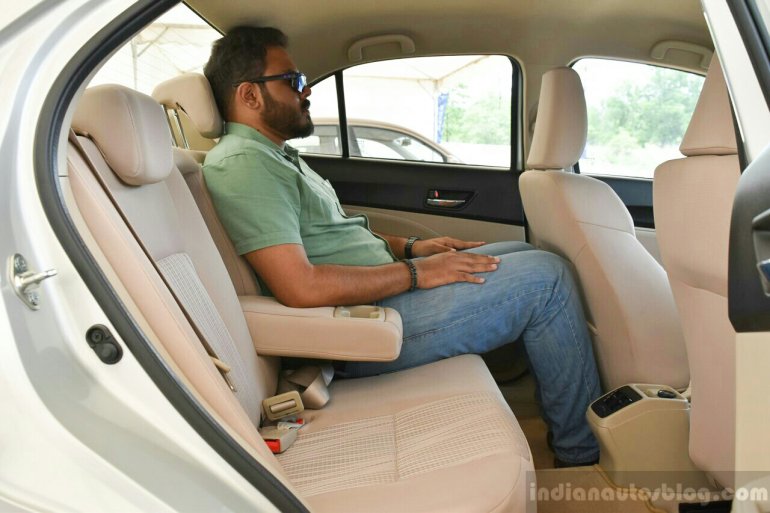 The new Dzire comes with a larger 378L boot volume with a wide lip and spare wheel underneath the boot floor. It's 63L more capacious than the outgoing car, but still not a class-leading figure (419L in the Tata Tigor).
On the list of features, Maruti has upped the ante with first-in-segment LED headlamps with neatly integrated LED DRLs and automatic activation, LED taillamps, 7-inch SmartPlay with sat-nav, Apple CarPlay and Android Auto, dual airbags and ABS as standard across the range, reverse parking camera and sensors, ISOFIX child seat anchor points, and tiltable steering (also standard in all models).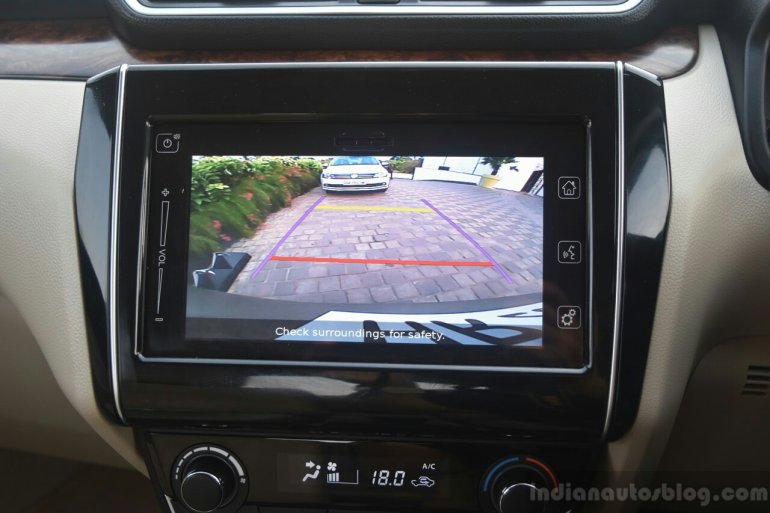 Like the outgoing car, the new Dzire is available with two engine options: a 1.2-litre VVT petrol and 1.3-litre DDiS 190 turbodiesel. The former makes 61 kW (81.77 hp) at 6,000 rpm and 113 Nm of torque at 4,200 rpm, while the latter develops 55 kW (73.73 hp) at 4,000 rpm and 190 Nm of torque at 2,000 rpm. Both models get improved 5-speed manual gearboxes, and the diesel retains the 5-speed AGS (AMT). For the 1.2 petrol, Maruti has dropped the 4-speed torque converter option for a new 5-speed AGS (AMT), making it cheaper and more fuel efficient.
Let's start with the 1.2 Petrol. If you've driven any new Maruti with the 1.2L motor, the refinement levels will appear to be more or less the same - stellar. Thanks to the lightweight HEARTECT platform, the Dzire petrol now weighs between 860 kg - 895 kg (depending on variant), which has positively impacted performance. It now is more lively than ever before and pulls cleanly when you floor the throttle. Yet, the Dzire petrol is more of a premium city runabout than a highway eater like its diesel-powered twin.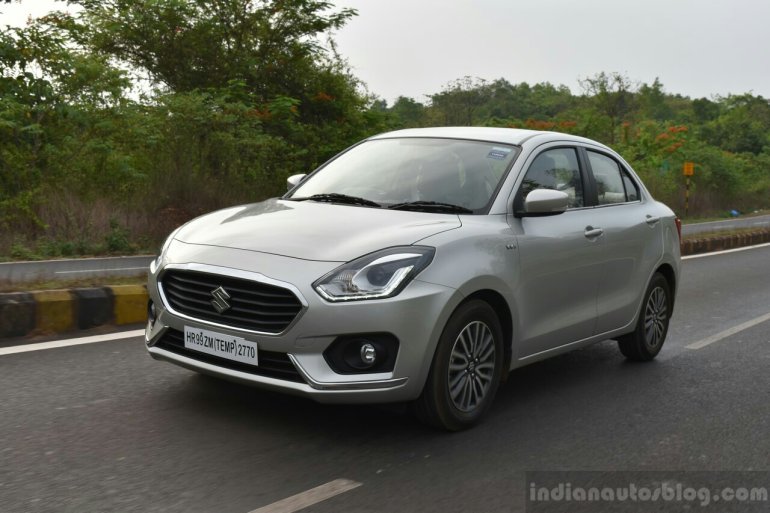 Like in the Baleno and Ignis, the Dzire's 5-speed manual gearbox is smooth and accurate to shift between gears, while the 5-speed AGS is easily the best of its kind on sale in India. The usual quirks of an AMT are still present (head nodding and slow shifting speeds) when you push for max performance, but isn't as annoying as that of the Celerio or Alto K10. Being gentle on the throttle in urban conditions is where the AGS feels comfortable. It's also much more fuel efficient than the previous Dzire petrol automatic, capable of averaging an ARAI certified 22 km/L.
The Fiat-sourced 1.3 DDiS 190 (or 1.3 Multijet or 1.3 Quadrajet) is so common in India that there should be at least one instance in your life where you've driven or were chauffeured around in a car powered by this engine. Having driven almost every Maruti with DDiS 190, setting off in the Dzire diesel felt instantly familiar. It is slightly heavier than its petrol counterpart, tipping the scales at 955 kg - 990 kg, but feels more sprightly off the line thanks to the bulk of torque past 2,000 rpm. Engine noise and vibration also seem to be better insulated than before, further complementing the premium cabin experience.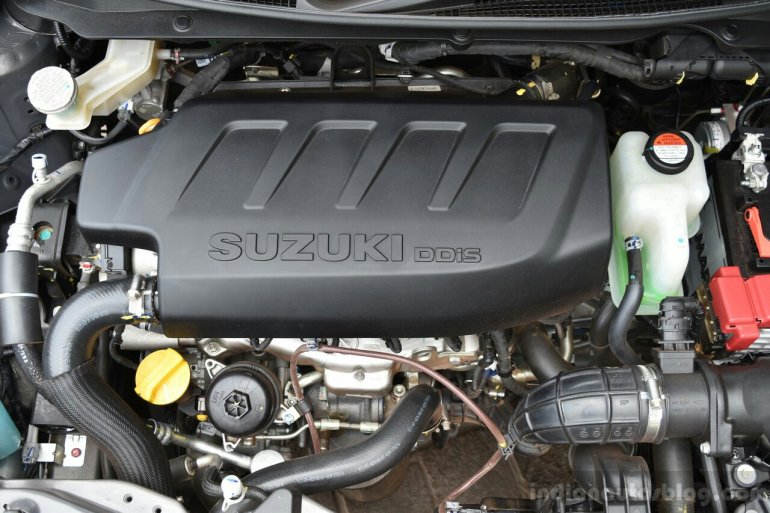 As usual, there's a slight bit of turbo lag under 2,000 rpm which - like countless owners of DDiS 190-powered cars have - is easy to get used to if you shift gears at the right time. Despite that, the DDiS 190 has barely got the punch of the VW Ameo's 110 PS 1.5 TDI motor or the Ford Aspire's 100 PS 1.5L TDCi unit.
The 5-speed manual and clutch combo is easy to get acquainted with, offering short, smooth throws and light clutch actuation. The AGS variant still has the shortcomings of the previous car, but they start to become liveable after a couple of days of ownership. Even though the Ameo 1.5 DSG is much better to drive, it's also much more expensive and nowhere near as fuel efficient as the Dzire. With an ARAI-certified 28.4 km/L average, the Dzire is now the most fuel-efficient mass-produced car in India. This figure alone is going to draw as much attention as SRK publicly announcing a meet and greet with fans.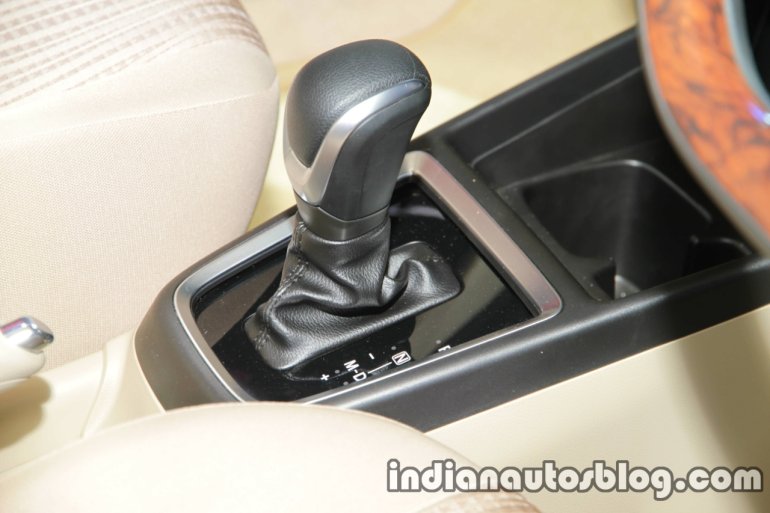 Although the Dzire doesn't feign sportiness, I was surprised how composed and well connected the chassis was around corners. It has this fine balance of ride quality and handling not seen in any sub-4m sedan, and you wouldn't be deterred to drive it around ghats or on a bumpy cement road. In a way, it makes me excited about the next-gen Swift, which is also based on the same HEARTECT platform. As for the electric steering wheel, it could've been better, given how well the chassis is tuned. But it wouldn't necessarily be a bother to the average Dzire customer.
Prices:
The Maruti Dzire was launched on May 16 at prices ranging from INR 5.45 Lakhs - INR 9.41 Lakhs. Here's the full price list (ex-showroom Delhi):
2017 Maruti Dzire petrol price
Maruti Dzire LXi MT: INR 5,45,000
Maruti Dzire VXi MT: INR 6,29,000
Maruti Dzire VXi AGS: INR 6,76,000
Maruti Dzire ZXi MT: INR 7,05,000
Maruti Dzire ZXi AGS: INR 7,52,000
Maruti Dzire ZXi+ MT: INR 7,94,000
Maruti Dzire ZXI+ AGS: INR 8,41,000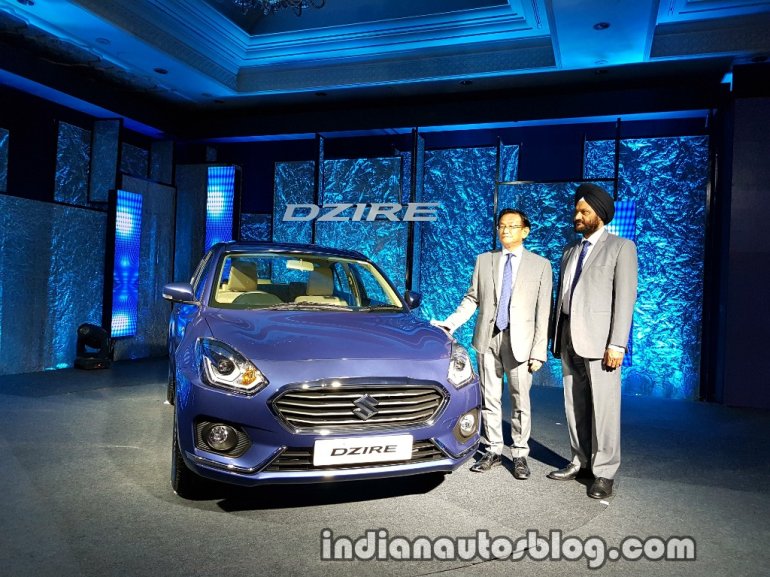 2017 Maruti Dzire diesel price
Maruti Dzire LDi MT: INR 6,45,000
Maruti Dzire VDi MT: INR 7,29,000
Maruti Dzire VDi AGS: INR 7,76,000
Maruti Dzire ZDi MT: INR 8,05,000
Maruti Dzire ZDi AGS: INR 8,52,000
Maruti Dzire ZDi+ MT: INR 8,94,000
Maruti Dzire ZDI+ AGS: INR 9,41,000
First Impression:
It's quite a ballsy move to price the top-end Dzire ZDI+ diesel above the competition, suggesting that Maruti is now targeting buyers who wouldn't mind indulging in premium products and services, and have placed faith on Dzire's strong brand image. The top-end models of the Hyundai Xcent and Ford Aspire suddenly look value for money.
And, surprisingly, it's already become a runaway success. In the short amount of time since Maruti opened bookings for the Dzire, they have received over 44,000 orders. I've already seen quite a few examples around my house.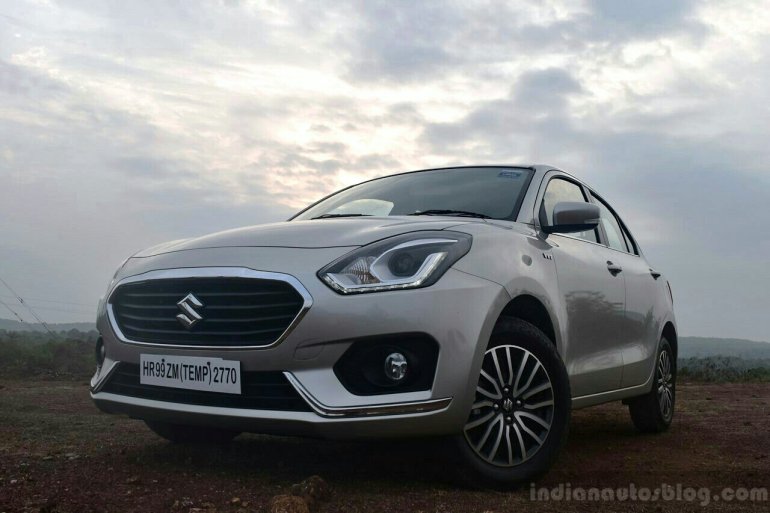 But, I'm glad that the new Dzire has found success. Maruti has indeed listened to feedback from target customers and developed a car that not only looks like an authentic premium sedan from the ground up but also feels like one inside. Thanks to the feature list, engine performance and fuel economy, it's also more enticing than ever before.
The usual negatives such as questionable build quality and choice of materials from other Marutis plague the Dzire, but if you've seen the sales figures of their products, people don't really seem to care. It's a Maruti, after all. And being their entry-level sedan offering, the Dzire is going to continue selling like hot cakes.