An SUV that makes a bold statement on the road.
Before I start my review, credit needs to go where it's due. If it weren't for the popular first generation Ford Endeavour as well as the steady growth of the segment fueled by the Toyota Fortuner's success, this muscular, apple red mammoth that you see below might not have arrived in India.
Despite the increasing appeal of compact SUVs, owing to their size and relaxed drivability in crowded cities, there is still a strong demand for full-size premium SUVs in the Indian market. The very segment came into existence when Ford introduced the first generation Ford Endeavour way back in 2003. Among the sea of hatchbacks, sedans and utility vehicles, the Endeavour was able to stand out with its tough, go-anywhere looks, reliability, and a price tag of around INR 12 Lakhs. It also had the distinction of wearing the biggest tires for a passenger vehicle.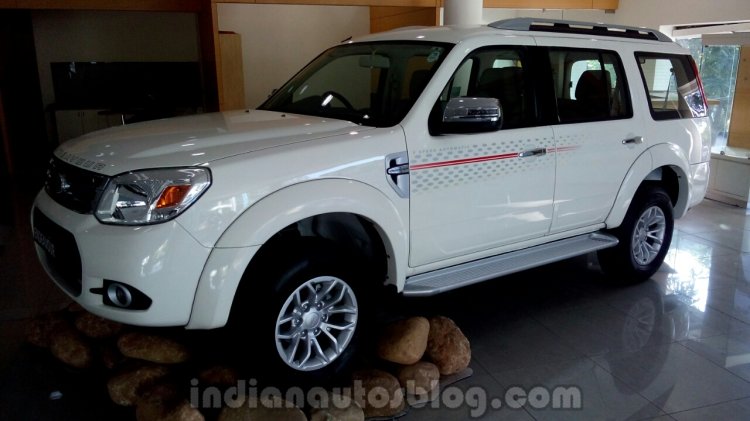 Once Toyota had brought the Hilux-based Fortuner to the Indian market, sales started to go south for the Endeavour. Offering a more premium package, a rounded and imposing exterior and spacious interiors, the Fortuner was an instant hit in the segment. Even with a major facelift introduced in 2009, the Ford Endeavour still couldn't take away the spotlight from the more-contemporary Fortuner.
Fast forward to 2016, and we have Ford looking to challenge the Fortuner with the all new second generation Ford Endeavour. Built on a completely new platform and featuring a bolder design, the new Endeavour aims to top the benchmark set by its Japanese rival for over a decade.
Exterior Design and Features:
Ford's designers have opted to keep the exterior simple yet bold. However, don't misunderstand the simple design for timidness, as the new Endeavour looks more menacing and butch than anything priced under INR 30 Lakhs. The photos below don't do justice to the sheer presence it has.
The new Endeavour is not as heavily stylized as the next generation Toyota Fortuner or Mitsubishi Pajero Sport (both are tipped to arrive in 2017), but rather easy on the eyes. A Ford enthusiast will guess correctly that the styling has been influenced by the company's global design language, which has been executed quite splendidly in the new Endeavour.
Once you step up front, the XXL version of the grille from the Ford EcoSport takes your attention straight away. It sits tall, garnished heavily in chrome and houses a sizable Blue Oval badge that can be seen from a mile away. Flanking it are large projector headlamps with Bi-Xenon illumination and L-shaped LED DRLs. They offer decent beam range for visibility in pitch-dark nights, while the high beam lamps are regular halogen bulbs.
Most of the bumper is taken up by the thick silver skid plate, which neatly integrates the foglamps as well as a couple of the front parking sensors. The clamshell hood is tastefully contoured to impart an impression that it hides something powerful.
The new Ford Endeavour measures 4,892 mm in length, 1,860 mm in width, 1,837 mm in height and sits 225 mm above the ground. This makes it one of the biggest vehicles one can get for under INR 30 Lakhs. With respect to sizing, it's neck and neck with the Chevrolet Trailblazer, but longer and wider than the Toyota Fortuner. The Endeavour sits lower than both the Trailblazer and Fortuner, although its ground clearance isn't low by any means. A running board is actually necessary for short people to literally climb in.
It rides on standard 18 inch six spoke alloy rims shod with large 265/60 R18 MRF Wanderer tires, which look like they can take a beating during a rock crawl. The side profile doesn't shy away from chrome embellishment, as seen on both faux intakes that have the engine and gearbox embossed, chunky door handles and the large ORVMs.
At the back, an option sorely missed is a spare wheel mounted on the tailgate, which is, strangely, offered in the Ford EcoSport as well as the first generation Endeavour. Not only would it have been easier to remove the spare wheel (otherwise located underneath the rear end), but also raise its tough appearance by a notch.
Since the exterior design is a significant departure from the boxy first gen Endeavour, Ford installed a large chrome bar that has the "Endeavour" lettering embossed, so that onlookers know which SUV they're staring at as well as relay the fact that there is a new Endeavour in town. The chrome bar runs into the wraparound taillamps with LED lighting (Titanium only). Other bits and bobs in the rear-end include a silver skid plate that matches with the one up front, a neat rear spoiler, and parking sensors fitted as standard across the range.
Interior Design and Comfort:
The doors are large and close with a solid, reassuring thud, following which the Endeavour greets you to an interior that is simple, ergonomic and spacious. Granted that the build quality does not match that of the smaller European models priced within the Endeavour's range, but it won't have you complaining one bit.
The dashboard is trimmed with leather and a mix of plastic panels in various colors and finishes. The passenger side of the dashboard doesn't get the model name lettering, which is found in its Thai cousin - the Ford Everest. All the buttons in the center console feel tactile and firm, and most of the functions are also integrated in the touchscreen system.
The steering wheel is wrapped in leather, and features the gloss grey trim from the dashboard. It's a perfectly sized wheel that feels good to hold and has well-sculpted thumb resting points. While the steering column does have tilt adjustment, there is no option of telescopic adjustment in any of the variants, which is a surprising exclusion in an otherwise well-equipped SUV. People who prefer a laid-back driving position will find themselves stretching their hands to reach the steering wheel.
Leather upholstery is standard in all variants of the new Endeavour, including the chocolate brown leather with contrast stitching that wraps the upper part of the dashboard. The seats are fairly supple with decent support all around, which is incremental during long highway drives. An 8-way power operated driver's seat with lumbar support is standard in all variants for precise adjustments, while rest of the seats are mechanically adjustable. It offers a commanding view of the road, and makes you feel like a VIP when moving along with a sea of compact vehicles.
The second row bench seat is wide enough to accommodate three adults comfortably. It has recline adjustment for a relaxed seating position, provided there's nobody behind. With the driver's seat set at my height (6 feet 2 inches), the legroom left for a tall passenger is little, but not enough to feel cramped. So get a driver/passenger below 6 feet to sit in front of you, if you want to stretch around during the journey. As for headroom, it is quite satisfactory for passengers in the second row seats, unless they have stylized spikes on their head.
The third row seat, however, must be avoided by sizable adults, unless he/she has somewhere really important to go. Not only is there very little space, but entry and egress will demand some flexibility. This is because the second row seats of the new Endeavour only slide and recline forward, rather than tumble towards the front seats.
Once I managed to get myself into the third row seat (and entertain a few onlookers with the theatrics of entering), I couldn't lock the second row seats into place because of my tree trunk-sized legs getting in the way. After I got somebody smaller to have a go, he reported that the seat was uncomfortably upright, but has got moderate space for an SUV with third row seating. Further improving comfort were armrests with cupholders and adjustable headrests for third-row passengers.
If you have only four passengers to haul, then the third row seat can be folded down flat to make use of the cavernous 1,050 liters of boot space.
Have no place to stay? Fold down the middle row seats flat to leave a total volume of 2,010 liters, which is more than enough for a sleeping bag, a suitcase full of clothes and a small kitchen similar to the one featured in Richard Hammond's Subaru in Top Gear's Africa Special.
Features and Technology:
The grade that I received for review is the top-end Titanium, which comes equipped with a decent list of equipment. The new Endeavour is the closest an Indian customer can get to experiencing the latest features sourced from Ford's top-end global models, at least until the Mustang launches in the country.
Taking the center stage in the dashboard is an 8-inch SYNC 2 TFT touchscreen system that is standard in all variants. It has a simple UI split into four color coordinated corners that represent Phone, Entertainment, Climate and Information. Interior functions such as the HVAC and music controls are also integrated into the system.
Given the advances in touchscreen technology that we are used to (smartphones, for example), the resistive display of the SYNC 2 system feels outdated. Every input will require a strong/hard tap for the system to register and the response times are relatively slow.
Still, there are some features of SYNC 2 that owners can brag about, such as the ability to connect to an external Wi-Fi hotspot or to create one using a mobile broadband card plugged into the car's USB port. This should make long highway drives less boring for passengers addicted to social media and Youtube.
Sound quality of the standard 10 speaker music system is good, and can be adjusted by an intuitive equalizer in the infotainment system. Under the center console, there are two USB slots, an AUX port and an SD card reader, which covers most of the hardware sources you can store your music into. If you don't have any of the mentioned storage options, there's also a CD player and support for bluetooth streaming.
The Titanium grade comes standard with front and rear parking sensors as well as a rear view camera, which is a MUST for the Ford Endeavour. If you live in a city where spaces are usually tight, it will be nerve-wracking to park a vehicle as massive as the Endeavour without any aid. When enabled, the viewfinder offers a clear view of the surroundings and displays parking guidelines based on steering angle.
The instrument cluster adopts a unique approach, where there are two color displays flanking a large speedometer. Believe it or not, the only other vehicle with such an instrument cluster design in the Indian market is the Ferrari 488 GTB.
In the Ford Endeavour, the left screen is exclusive to Entertainment and Bluetooth telephony, while the right display is for vehicle status and updates. To further elaborate on the functions of the right screen, it can display a virtual tachometer, fuel level and engine temperature, as well as data such as average and real-time fuel consumption, average speed, and distance to empty. The UI of the two displays are navigated around by a set of buttons on each spoke of the steering wheel, which collectively make the steering wheel look crowded with buttons.
Second and third row passengers will appreciate dedicated settings for the HVAC system, and the vents located on the ceiling. In general, the dual zone HVAC system does a quick job of dropping the cabin temperature to a comfortable level, which is a must for anybody spending their time on the streets of Chennai. Ford has integrated a one touch "Max AC" button (or the "Chennai" button, as I call it), which sets the temperature to the lowest and on full blast.
An interesting security feature in the new Endeavour is a volumetric burglar alarm, where motion detectors located on the ceiling console are activated after the vehicle is locked. It will detect any movement inside the cabin, and activate an alarm.
Other creature comforts fitted to the Endeavour include rain sensing wipers, auto dimming interior rear view mirror, a power-operated tailgate, ambient lighting, and a tire pressure monitoring system.
However, there are some glaring omissions in the feature list of the top-end Titanium grade. For instance, it doesn't offer keyless entry with engine start/stop button that is otherwise fitted in the top-end grade of the EcoSport, GPS navigation services, and an option that automatically folds the ORVMs after locking the vehicle.
Engine and Gearbox:
For a Ford that is huge and menacing, you'd expect a brawny V8 engine to be powering the beast. However, the engine lineup comprises of two TDCi turbodiesel engines: 2.2-liter four cylinder and 3.2-liter five cylinder units.
The variant we test drove had the less-powerful 2.2-liter engine, which produces 158 hp at 3,200 rpm and 385 Nm of torque between 1,600-2,500 rpm. It is paired to a 6-speed automatic transmission that sends power to the rear wheels, while a manual gearbox with 4x4 is also available.
In many instances, Ford has excelled in the powertrain department of its products, and the Endeavour is no different. The engine and gearbox combo delivers torque in a smooth and refined manner to the rear wheels. Power is instantly available at the slightest push of the throttle, although its sensitive response could make it jump eagerly while parking into tough spots.
On a highway, the speedometer needle will race towards the 125 km/h mark, before it starts to lose breath and crawl slowly to a top speed of 162 km/h. It may not be a highway express, but there are not many highways in India where it's safe to pass 140 km/h. In a head-to-head, the 3.2-liter variant may be faster on an highway, but will be the first to visit a petrol station.
The 6-speed automatic gearbox shifts smoothly between gears, although it takes its own sweet time when you kick-down on the throttle instantaneously. For quick city runabouts, it downshifts at the slightest throttle input for access to instant torque. The gearbox also unnecessarily holds on to the gear to keep power ready, thus affecting fuel consumption. If you'd like to have control over the gearbox, there is sequential shifting in the S mode.
However, the Endeavour with the 2.2-liter engine doesn't feel exciting to drive. The surge of power will not pin you to the seat or put a smile on your face and the gearbox isn't the fastest responding auto box there is, but will appeal to drivers looking to reach from A - B without any theatricality.
Fuel Efficiency:
For the variant that we tested, ARAI has certified a max fuel mileage of 12.62 km/l. Now let's see what it actually is able to achieve.
In heavy city traffic, the Endeavour will maintain an average figure of 8.6 km/l, whereas on empty highway stretches with a light foot, it can raise that figure to 9.2 km/L. Combining all the driving conditions that I have subjected the Endeavour to, such as stop-start traffic, fast highway runs, and fuel efficient cruising, it averaged a total fuel mileage of 8.4 km/L, which is not surprising for an SUV of its type.
Ride Quality, Handling and Braking:
The Ford Endeavour is a body-on-frame SUV with an independent coilover suspension at the front and Watts linkage type suspension at the back.
Ride quality is not as plush as several cars priced within its range, but it's comfortable enough to overlook. The tough suspension setup and high ground clearance is a confidence booster when driving over deep potholes and unmarked speed bumps at higher-than-normal speeds. It doesn't isolate you from the road completely, although it keeps the intensity of resulting jerks in check, so that ride quality stays pliant.
For a body-on-frame SUV that weighs well over 2 tonnes and has a high center of gravity, you'd expect the Ford Endeavour to be nerve-wracking around corners.
On the contrary, it's actually quite impressive for an SUV of its type. As usual with Ford, the suspension has been set slightly firm, which affects handling in a positive way. Body roll and heave can be felt around tight corners and road undulations, although it won't be dispiriting to the driver. Should you get a bit too adventurous, the standard ESP and roll stability control keeps the SUV in place.
If you've read my past reviews, I usually preach that hydraulic steering systems are good for intimate feedback around corners, and that an EPAS system breaks that tether you have with the road. In the Endeavour's case, however, an EPAS system is a blessing. At low speeds, the steering is adequately light to maneuver its huge mass around crowded city lanes, and weighs up perfectly on highways at high speeds.
Stopping power comes from four disc brakes on all four wheels supplemented by ABS+EBD, while the Toyota Fortuner makes do with rear drum brakes. The brakes feel reassuring in bringing the heavy SUV to a quick halt, although the front-end nosedives upon medium-strong application of the brake pedal.
Prices:
Ford India had launched the all-new Ford Endeavour for sale on January 20, 2016 at the following prices, (ex-Showroom, Mumbai):
New Ford Endeavour 2.2L 4×2 MT Trend – INR 24.75 lakhs
New Ford Endeavour 2.2L 4×2 AT Trend – INR 25.53 lakhs
New Ford Endeavour 2.2L 4×4 MT Trend – INR 26.68 lakhs
New Ford Endeavour 2.2L 4×2 AT Titanium – INR 27.36 lakhs
New Ford Endeavour 3.2L 4×4 AT Trend – INR 27.78 lakhs
New Ford Endeavour 3.2L 4×4 AT Titanium – INR 29.46 lakhs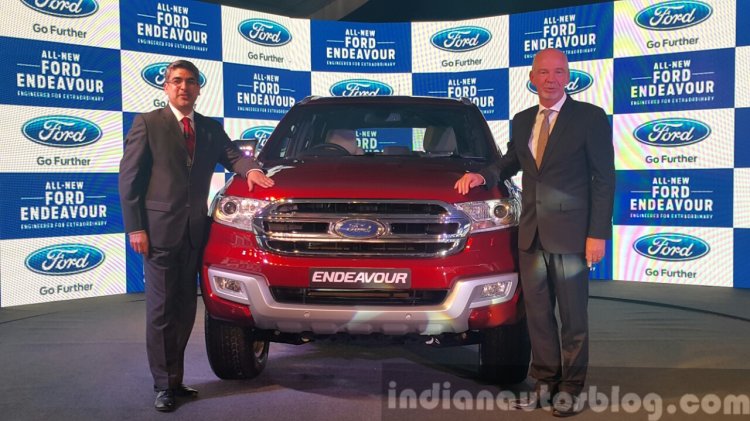 It is available with a standard warranty of 2 years / 100,000 km, and an extended warranty pack of 3 years / 100,000 km can be purchased for INR 19,500. With their latest range, Ford has introduced a 'Total Maintenance Plan', which covers the cost incurred in regular services, electrical or mechanical repairs, wear & tear of parts and labour for a payment upfront. Owners can opt for the plan of 2 years (30,000 or 40,000 km) or 3 years (45,000 or 60,000 km).
Verdict:
What truly took me by surprise at the launch of the Ford Endeavour was its pricing, which is very competitive for what it's worth. In fact, almost every variant of the new Endeavour is priced lower than the current Fortuner, whilst offering a better package overall. With pre-orders soaring well above supply, there are other people out there who agree with me as well.
After spending over a week with the all new Ford Endeavour, it was difficult for me to part with it. Sure, it has a few negatives, specifically on the creature comforts list, but the sea of positives that it carries is enough to overlook them all. I would definitely recommend the Endeavour to anyone looking for a full-size SUV that stands out in a crowd of compact vehicles as well as to explore remote, distant places with family/friends.
Once the next generation Toyota Fortuner arrives in the country in 2017, the Endeavour will start to face real competition. Until that time, Ford India can sit back and watch people hurl cheque leaves to get their hands on the new Endeavour.