Sports utility excites me a fair bit. Polo GTIs, M5s and 911s are all fun - but they kind of need tarmac to place their feet on. SUVs on the other hand, couldn't be less bothered. When the all- new Ford Endeavour launches in India early next year, it will house 7 seats, an intelligent 4x4 system, copious amounts of visible presence and a robust 197 hp diesel to plough through spots of bother - like Leh, Ladakh or Antarctica.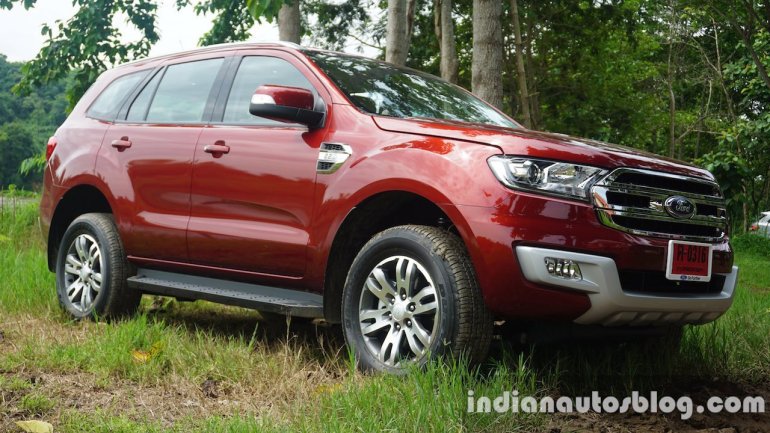 No wonder then, this is a Ford that Americans want, but can't have. Because Ford won't sell them any. Instead, it will go to 115 other countries where it shall serve as its flagship.
This can't can't be exciting. An armada of sports utilities are set to hit India beginning next year, right from Toyota's new Fortuner to Mitsubishi's new Pajero. Even Nissan is touted to bring back the X-Trail. So version 3.0 of the Endeavour has its work cut-out especially since 2.0 didn't exactly fly off the shelves. Let's begin from somewhere in deep northern Thailand where I have been driving the all-new Ford Endeavour on terrains ranging from tarmac to mud, and grass to slush.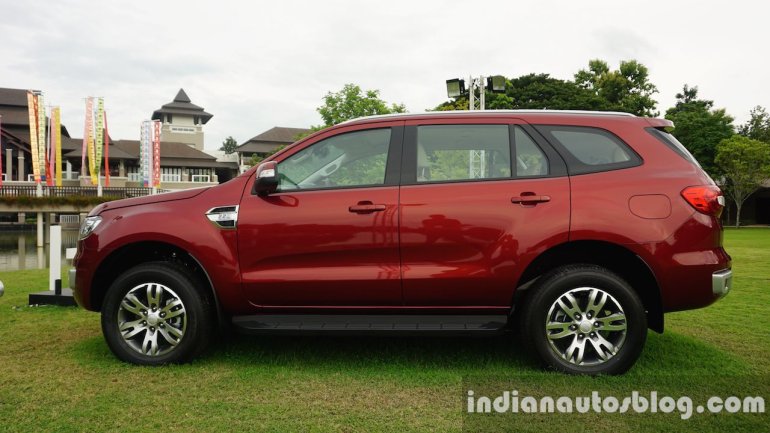 Onboard with me is the Chief of the Endeavour project - Ian Foston, who tells me it has taken 4 years and a battery of 450 engineers to design, build, and test this new car. It was primarily developed out of Ford's tinkering space in Australia and then tested to wit's end around the world. In different terrains, and different settings. Even at 14,000 feet above mean sea level somewhere in China. A bit over the top? Literally. It's huge, and thoroughly noticeable. It even dwarfs the current generation Fortuner on road- presence thanks primarily to the quite butch and flared chrome grill that introduces the Endeavour's design language. Projector headlamps pack-in day time running LEDs that complete the front end along with a muscular profile that screams of old-school SUV charm, a stand that rivals seem to have deserted in their 2016 avatars. But one that Ford seems to have happily occupied and perfectly mastered here. Towards the side, lines are clean and hence, the size is even more evident. Large wheel arches hang over 20 inch rims that aren't as uncomfortable for off-the-road application as they appear. The rear however, disguises the bulk of the Endeavour.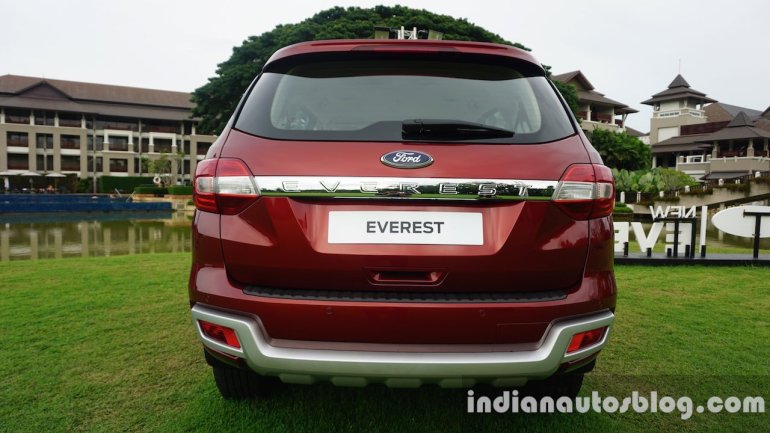 A bit stubby to look at, not ugly but in contrast to the boldness that lies at the other end of the car. The considerable body mass is rife with aerodynamic elements that work well to deliver a drag coefficient figure of 0.389, which is pleasant for an SUV that will in all probability displace itself at well over one hundred miles per hour.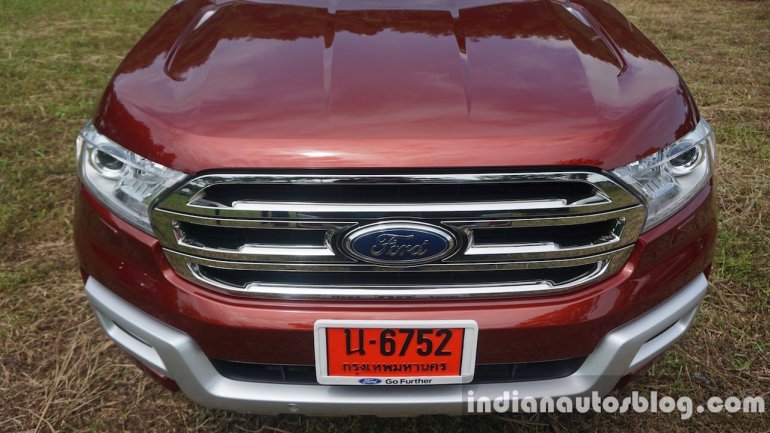 On the inside, furnishings include seven seats and a good helping of leather. Any bits and pieces that aren't leather, are well textured plastics. Even the dashboard is draped in leather with contrast stitching that immediately ups the luxury quotient of the cabin. I rather like that. The front seats are completely powered and very comfortable even for people with large frames. A black and beige theme runs through the cabin, which is otherwise very well built with fit & finish being on the side of excellence. This really is a pleasant place to be in. Ford's SYNC2 interface is impressive and eons ahead of the original SYNC system. It is mated to 10 speakers spread across the cabin, and the audio output will please even serious audiophiles. It also features an onboard WiFi setup that would be a first in the segment for us in India.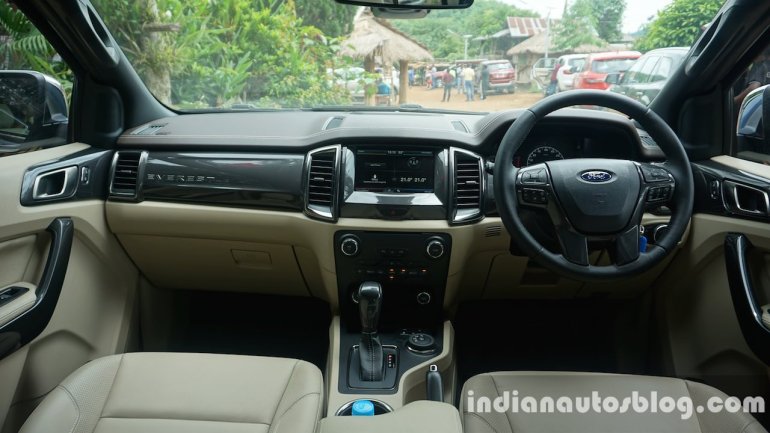 The voice recognition lady continues to be clueless though and the 8-inch touchscreen's touch is a bit fidgety to use.
Ford has made us a bit lazy too. Things that used to have levers before, now have motors. The tailgate is motorised. So are the 3rd row of seats, which happen to fall completely flat along with their second row cousins to open up luggage room enough to fit a nuclear warhead or two. The second row will happily host 3 adults, but the third row is best suited for their children. There is a massive moonroof to peer out of, if you are the sort who enjoys post dinner drives.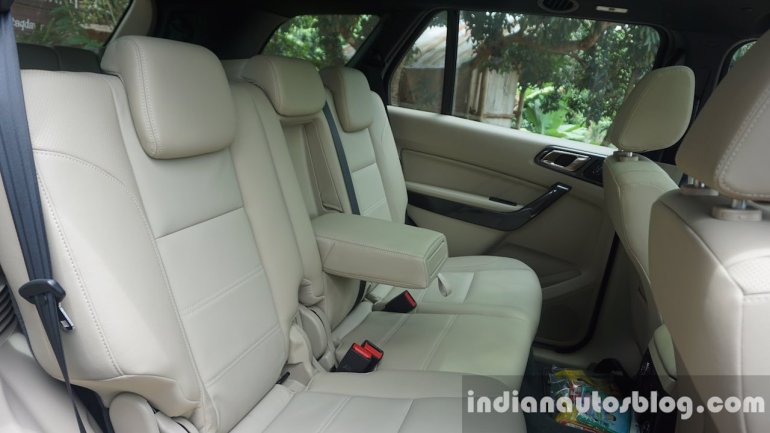 Ford promises 30 different storage spots inside the car, a fact that I didn't really check up on because the cabin consumes people, luggage, and things substantially well, which must be satisfactory enough for 99% of future Endeavour owners. There is even a three pronged 230V power supply outlet available for middle row passengers to charge devices.
Propulsion is all diesel on the Endeavour for obvious reasons. Ford will give you an option list consisting of two engines. A modest 4 cylinder unit producing 158hp and 385 Nm of torque, and a not so modest 5 cylinder unit producing 197hp and 470 Nm of turning force. I can't think of any on-the-road application here in India that the 158hp diesel won't be able to handle. In fact, the power and torque is enough to take the Endeavour considerably off-the-road too. But then again, how many of us actually would venture into farmland? Even if we decide to be a bit adventurous, there won't be four wheel drive to assist. Ford's 4x4 artillery will only come mated to the more powerful 197 hp diesel aimed squarely at the off-roading community of buyers.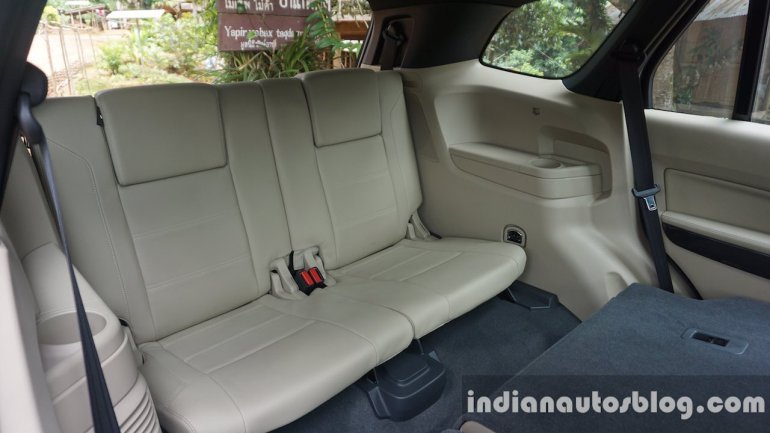 It will consist of a fully locking rear differential, an active transfer case, a low ratio gearbox and some smart software that Ford calls a 'Terrain Management System', which will be familiar to people who have been inside Land Rovers. Ford did happen to own the British marque once upon a time.
The Terrain Management System allows you to choose between 4 different terrain settings: Normal, Snow/Mud/Grass, Sand and Rock. Each selection will set in motion electronic wizardry that will recalibrate the brakes, throttle and transmission to help you tread through said terrains easily. It only asks you choose the right setting, of course.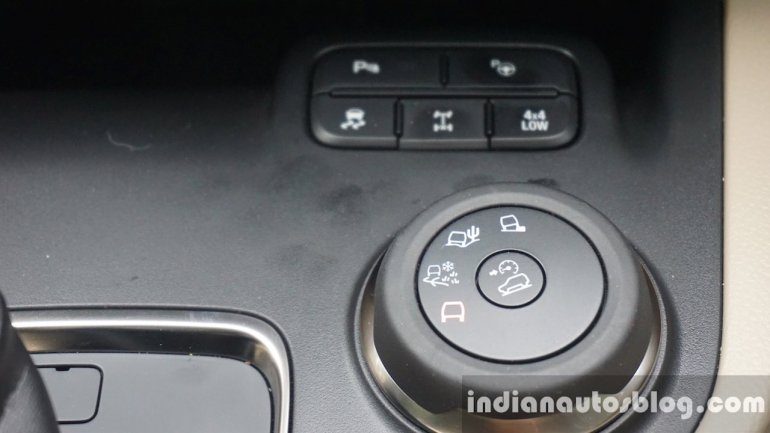 Switching to low range is not possible on the fly however, you need to be at rest before you can engage it. Speeds are limited to 65 km/h when in low range, though I suspect you will never need to do those speeds unless you are charging through a war zone, which - going by the size of the Endeavour - will render you a sitting duck.
And in case you are (charging through a war zone), Ford has worked hard to make off-the-road driving not very uncomfortable for the people doing it. Interesting things are happening under the body. The front suspension is all independent and hosts large coils, which is more or less a regular affair. The rear suspension does have coils too, but they sit completely outboard of the chassis, which allows for far greater absorption of roll moments when you are off-roading.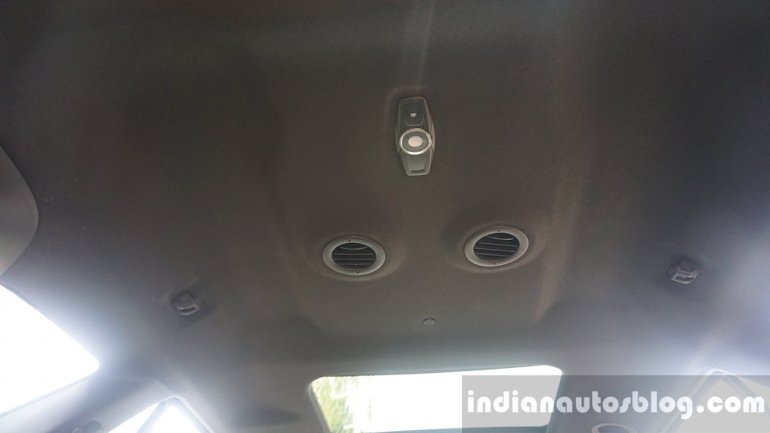 That feeling of constantly bouncing from left to right? Yes, that's a lot more controlled now. Ford has even equipped the rear axle with a Watt's linkage system that essentially makes the differential a functional element of the suspension itself, and helps control body roll in a much more effective manner. It isn't a very common setup on SUVs, and was last seen on the Discovery Series 2, but it does actually improves the ride quality when off the tarmac.
Back on the road, the Endeavour behaves much like how large body-on-frame sports utilities generally do. Body roll is evident around corners, and to help keep things in check, Ford has dropped in a menu full of controls. There is curve control, roll control and an electronic stability control. All of which, run on sensors and ECUs that constantly talk with the wheels, brakes, and engine power. So if you are caught red handed doing things and going in directions that don't please the car, it shall wag a little finger at you and gently guide you back to safety. And in case you have wandered a bit beyond, brake assist will activate to help stop you in time, and further to that, there are 7 airbags on board. Let's hope you never require their services though.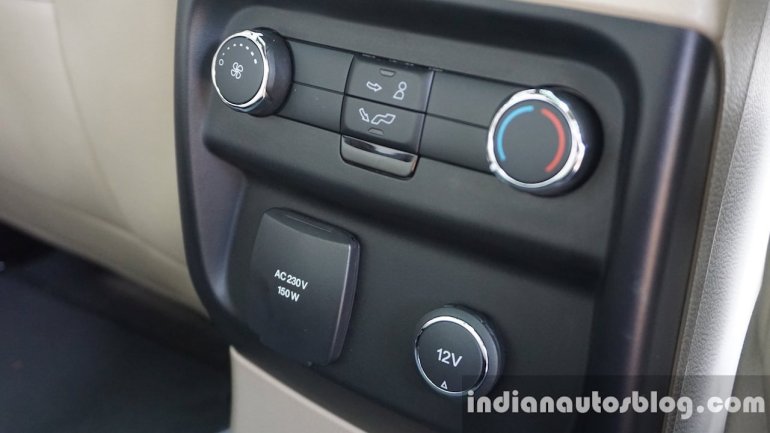 The electric powered steering wheel is a handsome thing to use, and weighs in perfectly as the speed builds up. A surprise shortcoming here is that the steering column doesn't adjust for reach, only rake. Wonder why/how they missed that.
In a straight line however, both engines are able and powerful with enough torque available on demand. Turbo lag is visibly absent (VGT equipped), the drive is refined and quite. You can either have a 6-speed manual gearbox or a 6-speed automatic under the hood.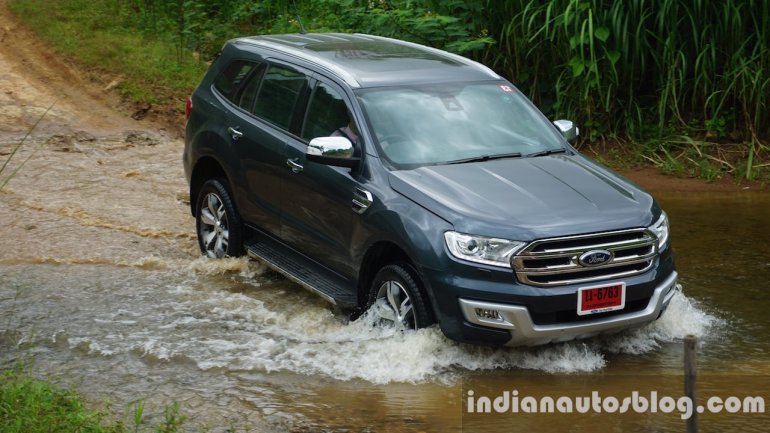 The pre-production cars I have been driving here all possess only the automatic version, which is a bit of a disappointment really. The engine produces all that power and torque, and is then left at the mercy of a gearbox that fails to keep up. Ford tells us there is a bit of software at work here that will learn the driving habits of the driver (over 100km of continuous driving) and then adapt the transmission characteristics to it, which sounds like an excuse for not having dropped in a more modern double-clutch gearbox into what is otherwise a fine piece of machinery. The transmission never did get a chance to learn my driving tendencies (<100km) and so, overtaking cars required some calculations despite the serious power on tap.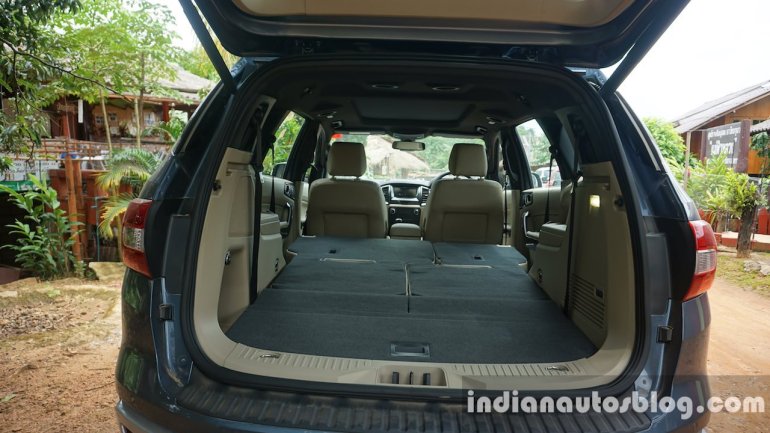 When Ford brings the Endeavour to India next year, in all probability, it will loose out on a handful of features. Things like lane departure warning and blind spot detection are unlikely to make it to our shore. And are also unlikely to be missed. The 2.2 litre engine should get the option of the manual and automatic gearbox while the 3.2 litre unit will arrive with the 4x4 system and automatic transmission as standard. It will be imported from Ford's facility in Thailand and then assembled in India.
Toyota will also debut the all-new Fortuner next year on the back of considerable success it has already seen with the current one. Ian and his arsenal of engineers have delivered a truly remarkable car in the Endeavour, and it is now upto Nigel Harris (Ford India's MD) and his team to place it effectively in front of Indian customers. Vital ingredients to its success will include a debut date much in advance of the Toyota, an impressive price tag, and a marketing campaign to put enough people behind the wheel of one. They won't be disappointed.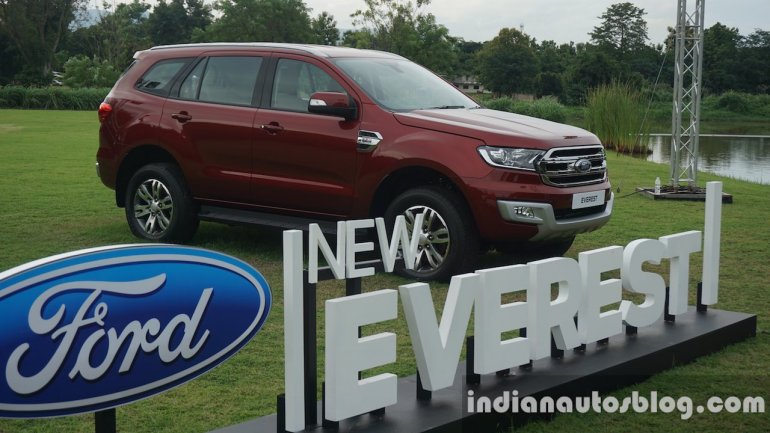 + Good build quality
+ Display for car pitch and roll angle + Powerful in presence & propulsion
- Automatic gearbox is unexciting
- Touchscreen is slow to respond
- No push-start button for engine ignition
Ford Endeavour 2016 (3rd Generation) - Facts and Figures
VP of Product Development, Asia Pacific: Trevor Worthington
Global Chief Program Engineer: Ian Foston
Interior Designer: Max Tran
Chief of Electrical/Electronics: Craig Sprenger
Vehicle Integration: Richard Woolley Tester's Height: 6 ft 1 inch
Engine Option 1: 2.2 Litre Diesel
No. Of Cylinders: 4
Power & Torque: 158 hp (3200 RPM) & 385 Nm (1600-2500 RPM) Transmission Option: 6 Speed Manual / 6 Speed Automatic Driveline: Rear Wheel Drive
Engine Option 2: 3.2 Litre Diesel
No. Of Cylinders: 5
Power & Torque: 197 hp (3000 RPM) & 470 Nm (1750 - 2500 RPM) Transmission Option: 6 Speed Automatic
Driveline: Four Wheel Drive
Suspension
Front: Independent Coil-over-Strut
Rear: Solid Axle with Watt's Linkage & outboard springs
Features
Powered Tail Gate
Projector Headlamps with Daytime Running LEDs
18 / 20 Inch Alloy Wheels
Moonroof (1st & 2nd Row)
Roof Mounted Air Con Vents (2nd & 3rd Row)
230V Power Supply
Ford SYNC2 Infotainment System with 8-inch Touchscreen Onboard Wifi
10-Speaker Audio
Navigation
Fully flat folding 2nd & 3rd row seats
Powered Front Seats
Powered Folding for 3rd Row Seats
Technology
Terrain Management System
Hill Descent & Hill Hold Control
Electronic Locking Rear Differential
Active Transfer Case (Torque on Demand) Low Ratio Gearbox (2.48:1)
Variable Geometry Turbocharger
Active Noise Cancellation
Displays for Vehicle Roll & Pitch Angle Blind Spot Indicator with Cross Traffic Alert Electronic Stability Control
Roll Stability Control
Cruise Control
Tyre Pressure Monitoring System
7 Airbags (includes drive knee airbags) Active Park Assist
Curve Control
Lane Departure Warning
Brake Assist
Dimensions
Length: 4893 mm
Width: 1862 mm
Height: 1836 mm
Wheelbase: 2850 mm
Weight: 2400 kg
Ground Clearance: 225mm Departure Angle: 25 deg Ramp-Over Angle: 21 deg Approach Angle: 29 deg
Water Wading Depth: 800mm
Towing Capacity: 3000 Kg
Payload Capacity: 750 Kg
Maximum Boot Space: 2010 Litres
Fuel Tank: 81 litres
2016 Ford Endeavour - Interior Image Gallery