Is 120 kg lighter than the model it replaces.
Audi has revealed the price for the fifth-generation Audi A4 sedan and Audi A4 Avant which will make its public debut at the upcoming 2015 Frankfurt Motor Show. The price starts from 25,900 pounds (INR 26,50,460), and goes on sale in the UK in November. The new A4 and A4 Avant can be brought in three trims - SE, Sport and S Line.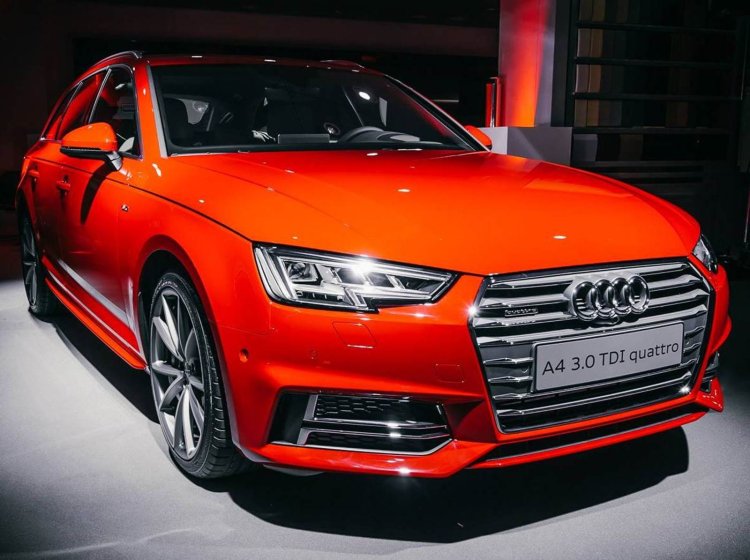 Based on the new MLB-Evo platform, the sedan has a length of 4726 mm, width of 1842 mm and height of 1427 mm thus making it 25 mm longer, 16 mm wider and the same height as its predecessor. The new architecture means that the sedan is 120 kg lighter than the model that it replaces.
The A4 Avant (estate) boasts of a class-leading 505 liters of luggage space that can be increased to a capacious 1510 liters with the rear seats folded. The boot lid and load cover come standard with electric operation.
The interior will be available with a host of options like 12.3-inch digital instrument panel, 8.3-inch monitor, Bang & Olufsen sound system, sensor control opening of the luggage compartment, inductive charging pad for mobile phones, tablet-based rear-seat entertainment and the latest version of the Multi Media Interface (MMI). Audi's pre sense city safety system will come as standard which uses a windscreen stereo camera to monitor the road and provides an acoustic warning to alert the driver, and if no response is detected it will apply the brakes at speeds of up to 25 mph (40.2 km/h).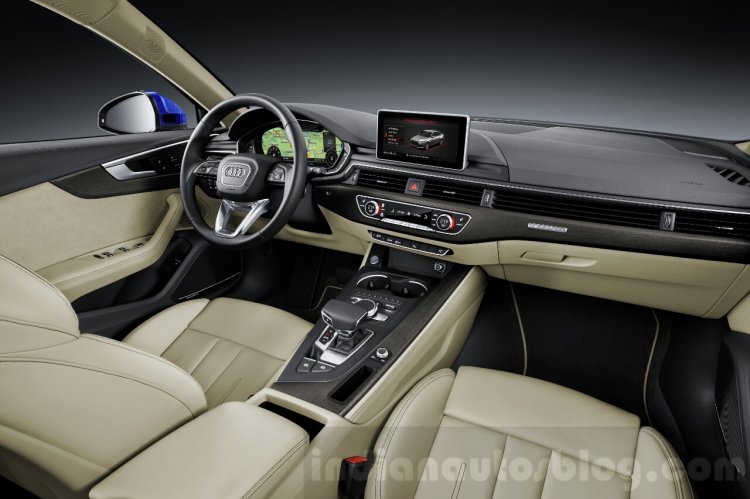 The 2016 A4 will come with three four-cylinder turbo petrol and two four-cylinder diesel units. There is also the choice of two V6 diesel engines. The petrol engines are available in displacements of 1.4- and 2.0-liters with outputs ranging from 147.5 bhp to 248 bhp. These can be paired to the 7-speed dual clutch or the 8-speed tiptronic automatic gearbox. The diesel engines are the 2.0-liter TDI units coming in two power outputs of 147.5 bhp and 187.7 bhp. Gearbox options are the 6-speed manual or the 7-speed S-Tronic dual clutch units.
For those who want more power, a 3.0-liter V6 diesel is also offered and comes in two tunes of 218 bhp or 272 bhp. Audi says that these engines will return a fuel efficiency figure of 23.8 km/l and CO2 emissions of just 110g/km. The more powerful V6 comes in Quattro all-wheel drive and 8-speed automatic unit only. Audi also says that it has improved fuel economy by at least 21 per cent across all models while simultaneously making the cars more powerful by 25 per cent.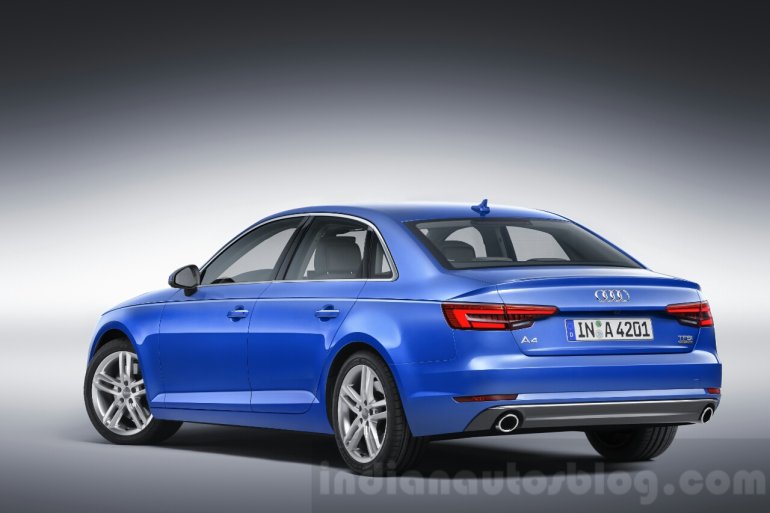 There are also twelve "Ultra" variants that are powered by the 2.0-liter TDI engine. The badging has been given to them because they return the best fuel economy in the entire range. The most frugal in the Ultra lineup is the 147.5 bhp unit mated to a 6-speed manual transmission. This model returns a claimed consumption figure of 74.3 mpg (26.3 km/l) with a carbon footprint of just 99g/km.
The 2016 A4 is expected to be making its way in to India next year. It is likely to come to India as a CKD unit, and assembled at its Aurangabad facility.
Audi A4 Saloon and Avant – UK OTR Pricing, SE models
| | | | | |
| --- | --- | --- | --- | --- |
| Model | Transmission | PS | CO2 | OTR |
| A4 1.4 TFSI | 6-speed manual | 150 | 126 | £25,900 |
| A4 2.0 TFSI | 6-speed manual | 190 | 127 | £27,700 |
| A4 2.0 TFSI | 7-speed S tronic | 190 | 116 | £29,230 |
| A4 2.0 TDI ultra | 6-speed manual | 150 | 99 | £29,150 |
| A4 2.0 TDI ultra | 7-speed S tronic | 150 | 101 | £30,680 |
| | | | | |
| A4 Avant 1.4 TFSI | 6-speed manual | 150 | TBC* | £27,300 |
| A4 Avant 2.0 TFSI | 6-speed manual | 190 | TBC^ | £29,100 |
| A4 Avant 2.0 TFSI | 7-speed S tronic | 190 | 121 | £30,630 |
| A4 Avant 2.0 TDI ultra | 6-speed manual | 150 | 104 | £30,550 |
| A4 Avant 2.0 TDI ultra | 7-speed S tronic | 150 | 104 | £32,080 |
* Launching April 2016
^ Launching February 2016
UK OTR Pricing, Sport models
| | | | | |
| --- | --- | --- | --- | --- |
| Model | Transmission | PS | CO2 | OTR |
| A4 1.4 TFSI | 6-speed manual | 150 | 126 | £26,850 |
| A4 2.0 TFSI | 6-speed manual | 190 | 127 | £28,650 |
| A4 2.0 TFSI | 7-speed S tronic | 190 | 116 | £30,180 |
| A4 2.0 TFSI quattro | 7-speed S tronic | 252 | 136 | £35,530 |
| A4 2.0 TDI ultra | 6-speed manual | 150 | 99 | £30,100 |
| A4 2.0 TDI ultra | 7-speed S tronic | 150 | 101 | £31,630 |
| A4 2.0 TDI ultra | 6-speed manual | 190 | 102 | £31,000 |
| A4 2.0 TDI ultra | 7-speed S tronic | 190 | 103 | £32,530 |
| A4 2.0 TDI quattro | 7-speed S tronic | 190 | 114 | £33,960 |
| A4 3.0 V6 TDI | 7-speed S tronic | 218 | 109 | £34,250 |
| A4 3.0 V6 TDI quattro | 7-speed S tronic | 218 | 115  | £35,680 |
| | | | | |
| A4 Avant 1.4 TFSI | 6-speed manual | 150 | TBC* | £28,250 |
| A4 Avant 2.0 TFSI | 6-speed manual | 190 | TBC^ | £30,050 |
| A4 Avant 2.0 TFSI | 7-speed S tronic | 190 | 121 | £31,580 |
| A4 Avant 2.0 TFSI quattro | 7-speed S tronic | 252 | 139 | £36,930 |
| A4 Avant 2.0 TDI ultra | 6-speed manual | 150 | 104 | £31,500 |
| A4 Avant 2.0 TDI ultra | 7-speed S tronic | 150 | 104 | £33,030 |
| A4 Avant 2.0 TDI ultra | 6-speed manual | 190 | 106 | £32,400 |
| A4 Avant 2.0 TDI ultra | 7-speed S tronic | 190 | 106 | £33,930 |
| A4 Avant 2.0 TDI quattro | 7-speed S tronic | 190 | 116 | £35,360 |
| A4 Avant 3.0 V6 TDI | 7-speed S tronic | 218 | 114 | £35,650 |
| A4 Avant 3.0 V6 TDI quattro | 7-speed S tronic | 218 | 119 | £37,080 |
* Launching April 2016
^ Launching February 2016
UK OTR Pricing, S line models
| | | | | |
| --- | --- | --- | --- | --- |
| Model | Transmission | PS | CO2 | OTR |
| A4 2.0 TFSI | 6-speed manual | 190 | 130 | £30,150 |
| A4 2.0 TFSI | 7-speed S tronic | 190 | 119 | £31,680 |
| A4 2.0 TFSI quattro | 7-speed S tronic | 252 | 141 | £37,030 |
| A4 2.0 TDI ultra | 6-speed manual | 150 | 106 | £31,600 |
| A4 2.0 TDI ultra | 7-speed S tronic | 150 | 109 | £33,130 |
| A4 2.0 TDI ultra | 6-speed manual | 190 | 113 | £32,500 |
| A4 2.0 TDI ultra | 7-speed S tronic | 190 | 111 | £34,030 |
| A4 2.0 TDI quattro | 7-speed S tronic | 190 | 118 | £35,460 |
| A4 3.0 V6 TDI | 7-speed S tronic | 218 | 114 | £35,750 |
| A4 3.0 V6 TDI quattro | 7-speed S tronic | 218 | 119 | £37,180 |
| A4 3.0 V6 TDI quattro | 8-speed tiptronic | 272 | 134 | £38,950 |
| | | | | |
| A4 Avant 2.0 TFSI | 6-speed manual | 190 | TBC^ | £31,550 |
| A4 Avant 2.0 TFSI | 7-speed S tronic | 190 | 124 | £33,080 |
| A4 Avant 2.0 TFSI quattro | 7-speed S tronic | 252 | 144 | £38,430 |
| A4 Avant 2.0 TDI | 6-speed manual | 150 | 111 | £33,000 |
| A4 Avant 2.0 TDI | 7-speed S tronic | 150 | 112 | £34,530 |
| A4 Avant 2.0 TDI | 6-speed manual | 190 | TBC* | £33,900 |
| A4 Avant 2.0 TDI | 7-speed S tronic | 190 | 113 | £35,430 |
| A4 Avant 2.0 TDI quattro | 7-speed S tronic | 190 | 120 | £36,860 |
| A4 Avant 3.0 V6 TDI | 7-speed S tronic | 218 | 117 | £37,150 |
| A4 Avant 3.0 V6 TDI quattro | 7-speed S tronic | 218 | 122 | £38,580 |
| A4 Avant 3.0 V6 TDI quattro | 8-speed tiptronic | 272 | 139 | £40,350 |
^ Launching February 2016
* Launching April 2016
2016 Audi A4 for UK - Press Release
[Slideshare direct link]