The new Mercedes-Benz C Class went on sale in India today, but only in the C200 petrol trim. Here's how the C stacks up with the BMW 328i and the Audi A4 35 TFSI, its natural competitors in this segment.
All cars are powered by a 2.0-liter turbocharged petrol engine, but its the BMW 328i which is the most powerful at 245 hp and 350 Nm. The A4 is the least powerful at 170 hp, but makes up for it in the torque department with 320 Nm. The C Class puts up respectable figures of 181 hp and 300 Nm of torque.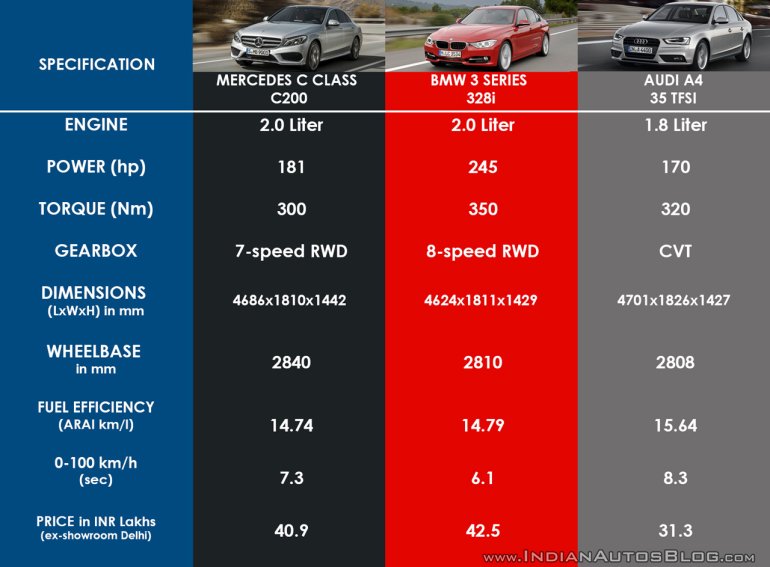 The C Class uses a 7-speed dual-clutch transmission, the 3 Series an 8-speed single clutch and the A4 gets a CVT gearbox, the last Audi to ever use the Multitronic transmission. The race from 0-100 km/h sees the 328i post the quickest time of 6.1 seconds, followed by the C200's 7.3 seconds and the A4's 8.3 seconds.
Thanks to the CVT gearbox, the A4 is the most fuel efficient of the lot, at 15.64 km/l, followed by the BMW and Mercedes posting nearly identical numbers of 14.79 km/l and 14.74 km/l respectively.
The A4 may be the longest and widest car here at 4,701 mm and 1,826 mm, but the new C Class sports the longest wheelbase at 2,840 mm, an indication that engineers have worked on its rear seat space. The A4 and 3 Series have nearly identical wheelbases of 2,808 mm and 2,810 mm respectively.
Coming to the price, the 328i retails for INR 42.5 lakhs, whereas the A4 costs INR 31.3 lakhs, as Audi offers it only in the base variant. The C200 is priced at INR 40.9 lakhs, and is available in a single top-end variant only.