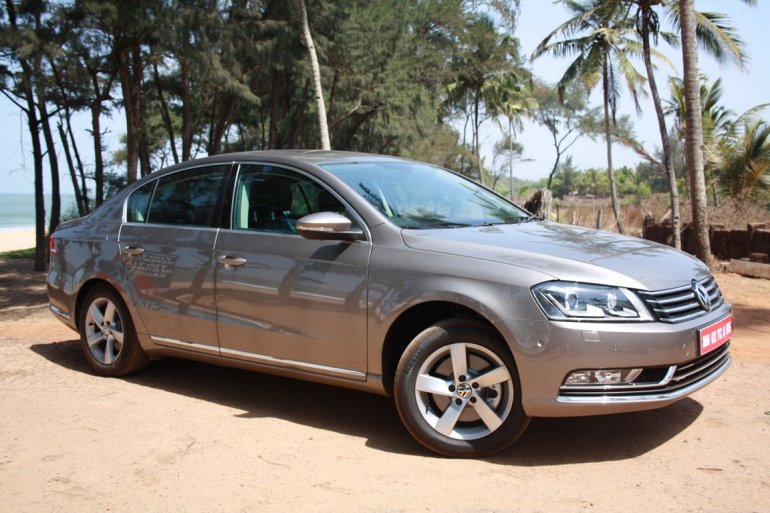 The VW Passat, more famously known as the car that can park itself, was launched in India in March last year. Loaded with technology to the brim and coupled with the brilliant Audi A4 Mk5 Golf platform, the Passat has consistently mopped three digit orders since the launch month after month.
The new Passat looked like it was a full redo but in truth it was a reskinned model with no changes to the skeleton.
However, an all new Passat is due in 2014 and we are watching the developments with hawk eyes.
We have already brought you the information that the successor will ride on the MQB platform that will underpin most VW, Skodas and Audis of the future. The latest piece of info is from Auto Motor und Sport which says the new platform will help shed a lot of weight. The 2014 Passat will only weigh around 1,400 kg.
The shared platform will also help to reduce the costs, so VW can load up even the basic model with an advanced infotainment system and more electronic aids.
A turbocharged 2.5-liter five-cylinder will replace the 3.6-liter V6 petrol. The engine will also have cylinder deactivation and retain start/stop system to keep nature lovers happy.
There are also reports of plug-in hybrid variant with a 1.4-liter TSI petrol engine combined with an electric motor and lithium-ion battery pack. The hybrid variant will produce 170 PS (125 kW / 168 hp) and travel up to 50 km on electricity alone.
[Source: Auto-motor-und-sport.de]