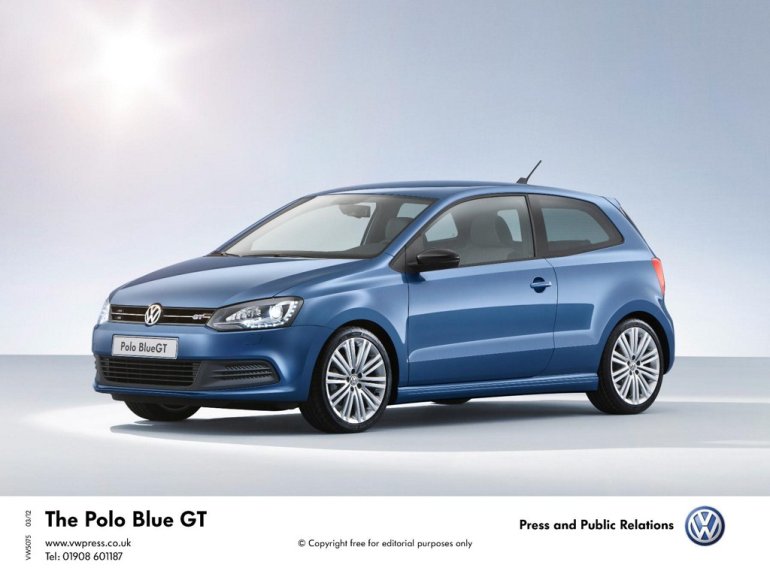 Indian Autos Blog already gave you vast information on new VW Polo BlueGT when it was unveiled at the Geneva Motor Show.  Its frugality and performance is much talked about in the International Automotive Scene. This is primarily due to its active cylinder management (ACT), which is implemented for the first time in a 4-cylinder petrol engine.
Its 1.4-liter four-cylinder TSI takes just 7.9 seconds to hit 100kmph through a 7-speed Dual-Clutch box. Note that this Polo variant also benefits from brake energy regeneration and engine stop-start system. It returns over 20kmpl mileage with immense help from its ACT.
In the Volkswagen Polo BlueGT Brochure
Since IAB has given enough details about its ACT technology in the past, we will go through what's in the brochure, thanks to PoloDriver.com who have laid their hands on an early version. We can notice lots of elements from GTI and BlueMotion variants blended into the Polo BlueGT
Seats with Blue Speed type mesh cloth
"Grey Crystal" stitched leather wrapping for its Multifunctional steering wheel, Handbrake and gear lever gaiter
17-inch Montani silver alloy wheels (Anthracite finish at extra cost)
GT badges
Dual tailpipes
GTI style black headliner
Cruise Control
Pillar trims
Ride height is lowered to 15mm and a special underbody trim for aerodynamics
Bumpers, spoiler, fog and daytime running lights are from GTI
Side-skirts and front rain channels are from BlueMotion
There was no info on price in the brochure though.
Oh yes! We know what's in your mind right now (Rs 7.50 right?)
With petrol prices skyrocketing, Volkswagen's decision to add the ACT to a small engine means that it may bring this technology to more fuel-frugal minded countries. Since the ACT is a complex technology, only after numerous customer reactions we can know about its full potential.
Another car with a similar technology running in India is the new Honda Accord V6 with VCM (Variable Cylinder Management). Manufacturers are pushing hard to bring technologies found on bigger cars into their smaller offerings. Even the relatively inexpensive features like keyless entry, push button start and automatic climate control were not present on smaller cars a few years ago. We're being introduced to technologies such as turbocharged petrol engines in hatchbacks and mini cars in recent times. Volkswagen's upcoming MQB platform is expected to be a breakthrough in this respect.
The petrol market looks like a royal mess today but with time, this could change. VCM is one way of providing a performance package without blowing a hole in the consumer's wallet. We're sure Volkswagen India is keeping all its options open for the next generation Polo.
[Source - PoloDriver.com]