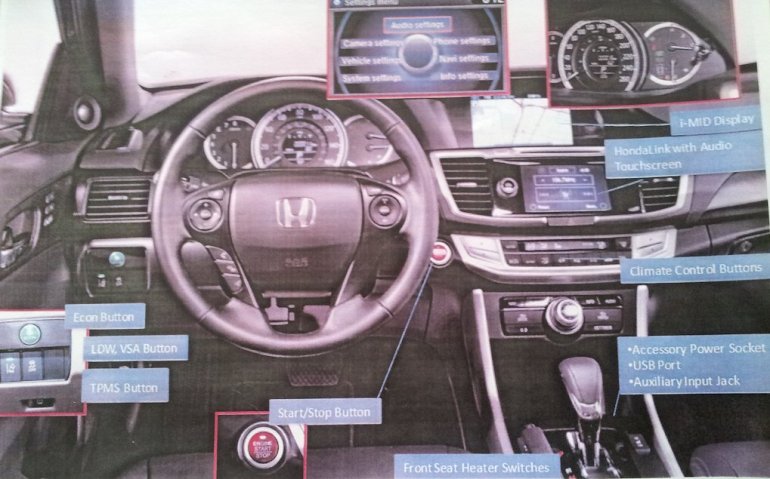 Honda has already provided us with a set of officials pictures of the 2013 Accord. We managed to bring you pics of the new Accord on its way to the dealership to know its real world presence, followed by a video showing the car in motion.
The thought that was playing on our minds even after airing all these posts was how Honda would deal with the interiors.
And now thanks to a photograph posted on The Temple of VTEC, we can show you that as well. A forum member by the name dutchboy has a copy of the brochure in his briefcase. He wanted to let everyone on the internet know this.
Through this reveal, we're able to guess that the interior is stylish and has a cutting edge look. The black finish gives it a very elegant and luxurious feel, while silver inserts are modern and futuristic. The entire dash is designed in several layers.
The centre console gets two separate screens - on top a Multi information Display is housed providing the driver with navigation options. Below are controls for the Audio and the Honda-Link system with a touchscreen capability.
There is a variety of buttons available inside the cockpit. While most are in the same black finish of the dashboard, the two buttons that stand out are the Push Start/Stop button in red and the ECON button in green.
The steering houses a number of buttons, uses of which are unknown. Controls for audio, cruise control and phone are the usual suspects here.
We might just have to wait a bit longer than rest of the world for this beauty as Honda's focus continues to be on the mini car segments. A slew of variants are expected to roll out in the following months.
But do let us know if you liked the interior of the New Accord. Throw in your thoughts in the comment box below.
[Source - vtec.net]