Since posting began back in July 2008 we have kept the topics and headlines strictly related to the auto industry. But this development is as exciting as say a set of unseen spyshots for curious followers of IndianAutosBlog.com who write in frequently asking us to share background information, details of authors, our traffic statistics, reach, and what follows when we put out an exclusive or scoop.
An unsuspecting IndianAutosBlog.com team uploaded two screen captures of the men-at-work Ford EcoSport micro site on Sunday night. We received the screen grabs and the momentarily working link from our reader Mallik Kslikiri who in his note said he was searching for information on Ford products when he accidentally stumbled on what would become an international sensation.
The site did not reveal any vital information besides the EcoBoost technology and the two images of the unreleased car were tightly cropped.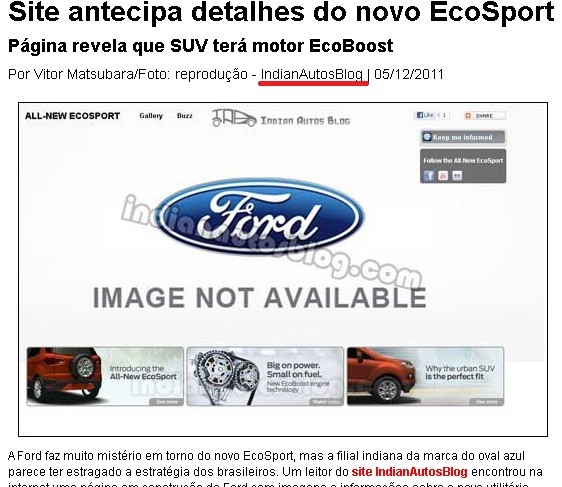 Brazil's most happening auto magazine Quatro Rodas picked up IAB's story.
About 48 hours later hundreds of websites from all corners of the web have used our text and photographs. This isn't the first time our story is making an international splash. When Renault projected two images of the Koleos facelift for the first time at the Fluence key-handover ceremony and presentation in New Delhi late June this year, little did they know that they would find no use in holding back the rest of the images 24 hours later.
We snapped the short-lived images from sitting on the front row of the media gathering and posted it on the blog for customers on the lookout for a crossover on this side of 30 lakh rupees. The response was truly phenomenal as automotive websites based out Australia, Netherlands, Romania Belgium, USA, Canada, Brazil, Ukraine, China, Italy, Russia, Belgium, Chile, etc used our images with credits. Regarded as the world's best blog in our category AutoBlog.com and esteemed publications such as Automobile Magazine France picked up our images and ran the story.
Reader contribution has helped IndianAutosBlog.com make a high impact story on many an occasion. Our longstanding fan Arjun Shrie mailed us snaps of the new Honda Civic from a Dubai Honda dealer.  We posted a story and attached information on the changes and how India needs a diesel Civic to launch an assault on Toyota's camp as the Corolla was emerging as a hands-down winner in the battle of the C+/D-Segment sedan group. Brazilian automotive media, though belated, came on to the story like a pride of lions on fresh meat. Brazil's big three Noticias Automotivas, Auto Esporte and Car And Driver attacked the story as it was a global model expected to debut in South America the next few months.
Following this we had our reader Sivakorn from Thailand who sent us brochure scans of the City facelift. Hardly hours after posting it, BSMotoring.com showed link love to IAB in their version. Many blogs from South East Asia took to the story briskly and brought many new readers to IAB. We've managed to create this effect with many other blog posts this year, the Toyota Land Cruiser facelift posting for example traveled wide and far.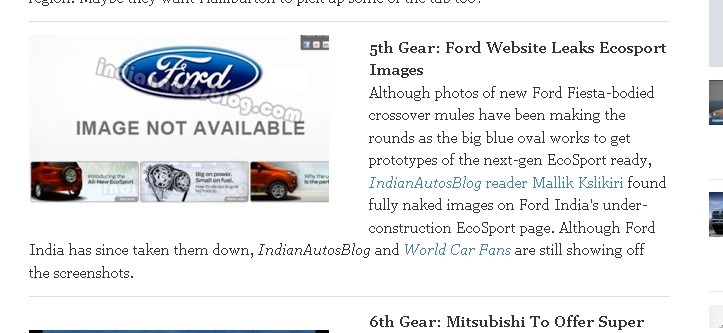 America's favorite hangout spot for auto aficionados Jalopnik.com explained IAB's find to its readers.
Coming back to the EcoSport story we had our in-house rendering specialist SRK do a sketch of the car before we posted the screen grabs. Some of the world's finest automotive websites have used the story and the information.
Here's a lowdown on some of the popular websites carrying IAB's 2012 EcoSport story.
Europe's biggest automotive blog, Worldcarfans.com carrying a bunch of recent spy pics uses our coverage stating Meanwhile, our friend Shrawan at IndianAutosBlog.com has also tipped us off to a couple of leaked images.
America's most loved and some say the most read automotive enthusiast site Jalopnik.com posted a brief description saying IndianAutosBlog reader Mallik Kslikiri found fully naked images on Ford India's under-construction EcoSport page.
Besides support from our friends at Noticias Automotivas and CarPlace, one of Brazil's most reputed magazine Quatro Rodas wrote on its website Um leitor do site IndianAutosBlog encontrou na internet uma página em construção da Ford com imagens e informações

Car And Driver picked up the story and said Foi o que aconteceu com Mallik Kslikiri, que capturou a imagem do site e enviou para o site IndianAutosBlog.
MSN Brazil used the images by saying O blog Indian Autos Blog revelou algumas imagens que vazaram de um site da Ford
Autoblog Greece made a version of the story stating something nice in Greek language!

Czech Republic's Novinsky said Obsah obrazovky pohotov? uložil indický ?tená? serveru IndianAutosBlog.com, který jako první obrázek uveejnil.

Britain's CarsUK got our name wrong, but nevertheless the story is spot on! India's Autoblog are reporting the screen captures you see above of the EcoSport which briefly appeared on Ford's website in India
Arguably Malaysia's largest automotive blog, PaulTan.org didn't leave out this development. They did the story adding IndianAutosBlog carried some reader captured screen caps and it reveals that EcoBoost tech will be present in the SUV.
Besides these websites a host of other great websites such as RAC Brazil, diariomotor.com and Autoclub Belgium have recognized IAB's coverage of the EcoSport.
If a short story on the Ford EcoSport can create an avalanche of sorts on the web, we wonder what the product, if priced liberally, can do to the company!