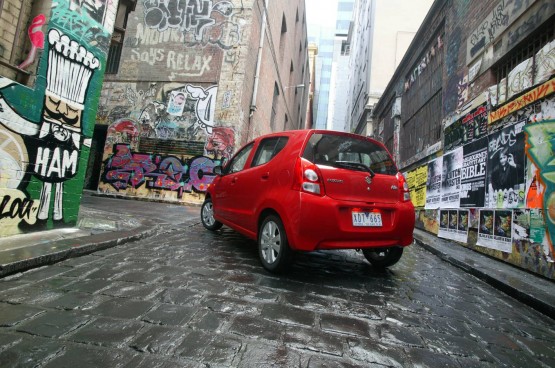 Suzuki wants to take on the competition in the sub-compact car segment in Australia and what a way to embark on the challenge.
Last week, Suzuki released its global city car Alto down under. For the price as low as $12,490 the car becomes the cheapest four door car in Australia. This is the price for the base model, GL manual.
General Manager Suzuki Australia-
"Its not about being the cheapest car in Australia but being a value for money car"
Note - Even the cheapest base model gives you features like, EBD, ABS, brake assist and 6 airbags!
The new Suzuki Alto 2009 (known as A-star in India) is manufactured in Maruti's Manesar plant, near Gurgaon. This version of the Alto is powered by the same 1.0-litre 3 cylinder engine that produces 50Kw of power and 90 Nm of torque. The 2009 Alto is Euro 4 and 5 complaint.
Mainly there are two specifications for the Alto 2009 the GL model and the GLX, both offered with a 5 speed manual or a 4 speed automatic.
The GL will provide the customer with air conditioning, an MP3 player, remote central locking, ABS, and 6 airbags.
The GLX model will have alloys, front fog, six speaker sound system tachometer extra.The GLX with higher features is priced $ 14,490 and has ESP feature as standard.
A special high tensile steel is used in the production of the Alto and has been given a 4 Star ANCAP safety rating.
Suzuki thinks the customer base will be people of age 18 to 23, who don't have a very high income or plan to buy a car with help of parents support.
Suzuki aims to sell 3,000 altos in Australia in 2010. this number may seem low and the reason behind that is alto is a highly demanded car in Europe and India so there may be a short of supply to Australia.
The car provides a little bit less room than the Swift but can easily accommodate four and looks stunning from outside.
It looks like a frog to some.
2009 Suzuki Alto Australia Image Slideshow
Direct Image Gallery Link - 2009 Suzuki Alto Australia