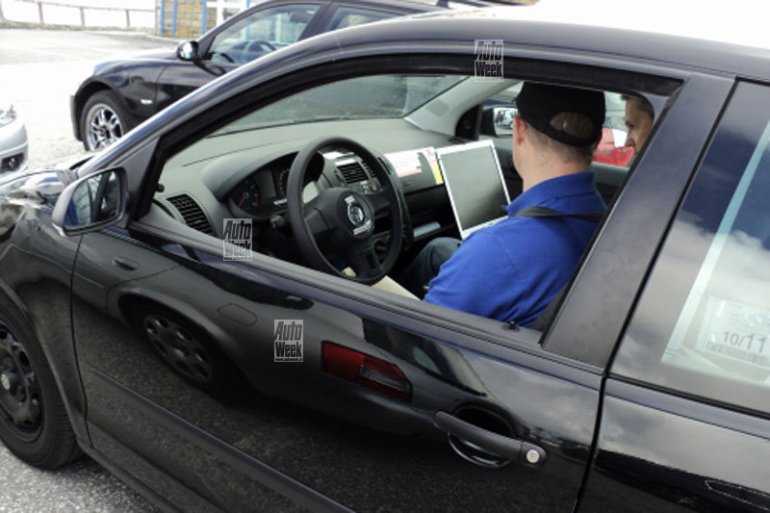 The first on-the-road spy pictures of the Lupo (VW's sub-Polo hatch) have already been shown to you, but what we have now is possibly the first image of the car's interiors.
Please note that what you see here is not the Lupo. This is the Lupo's chassis being tested and mounted with the older Polo's sawn body shell. The exterior will not be like what you see here.
What is drawing our interest is the undisguised interior. There are some components like the AC vent and center console borrowed from the older Polo (runs in South Africa as the Polo Vivo) but the steering wheel and instrumentation is picked from the currently running Polo. Could we see a combination of the old and new Polo on the production model as well?
These images of the VW Lupo mule turned up on Auto Week Netherlands. A reader had spotted Volkswagen engineers testing the mini car. Measuring about 3.45 meters in length, the Lupo will be Volkswagen's next act at the Frankfurt Motor Show. The build quality should echo the bigger Volkswagen's and the easiest way to get there is use a good level of tried and tested components.
We have an idea of the basic shape of the Lupo - it will be similar to the concept car. Up front, the windows will be large hinting at an airy glasshouse. Under the hood, we're expecting the Polo's 1.2-liter diesel to take its position along with a small petrol engine.
Does the idea of a 4 lakh rupee Volkswagen excite you?
Source - Autoweek.nl