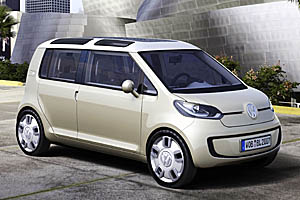 Autocar India reports VW is having grand plans for India. The Up! small car, which was discussed a while back, will be sold in India at a starting price of 3-lakh rupees and the company hopes to sell 100,000 cars initially.
VW has gone in for a front engine front wheel drive layout instead of the initially conceived Tata Nano style rear engine rear wheel drive system. This was done in the interest of curbing cost.
The Up! will battle it out with the Hyundai i10 and Suzuki A-Star when they start selling it around the December 2011 mark.
The Up! according to Autocar will come with a compact three-cylinder, 1-litre TDI engine as by then, a fully localized Hyundai i10 diesel would be in the market. For petrol lovers, the entry-level 800cc petrol unit should suffice, and the 1.2 TSI should make for a performance car.
The 1.2 TDI diesel would power the top end Up!
Source - Autocar India