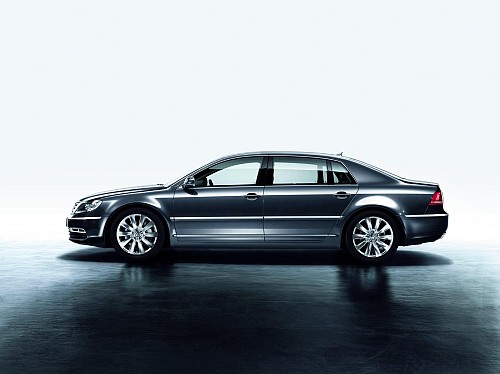 VW India would be launching the updated version of its premium flagship saloon, the Phaeton in June 2010. The Phaeton would come as a CBU import and would be priced at Rs. 76.3 lakh (ex-showroom New Delhi) .
When VW launched the top-of-the-line Phaeton way back in 2006, the Indian market barely reacted. The Phaeton was said to be better built than even the Audi A8, with which it shares its platform. The car came with a 3.2l V6 with 242bhp on tap paired with a 5 speed automatic transmission. VW even offered the gigantic W12 6.0l engine from the Bentley Continental. The reason for this being the the anonymity related with the Volkswagen brand.
When VW entered India, people weren't aware of the brand at all and this resulted in the Phaeton and the Touareg barely managing single digit sales. The main reason for the debacle was the exorbitant price tag of the Phaeton which put it right into Mercedes S-class territory,
Now, VW is trying to re-launch the Phaeton with a new 3.6l V6 engine, a 6-speed Tiptronic gearbox and a few exterior and interior enhancements. Apart from the new grille, air-dams and the headlamps and tail lamps, which have been given LED iterations, there are no other exterior changes. The interiors get very mild changes.
With VW's Polo doing extremely well at the marketplace and the VW Polo Sedan (Vento) on the cards, VW hopes to keep the juggernaut rolling by managing to sell the Phaeton alongside the Polos. But we don't think that's such a good idea, we feel VW should leave the luxury car business to sister brand Audi and instead concentrate on making cars for the common man so that it can stay true to its name.
New VW Pheaton Image Gallery