If you're a regular Indian Autos Blog reader, you would know that the VW of USA had dispatched a Passat TDI with two drivers on a Guinness World Record setting mission.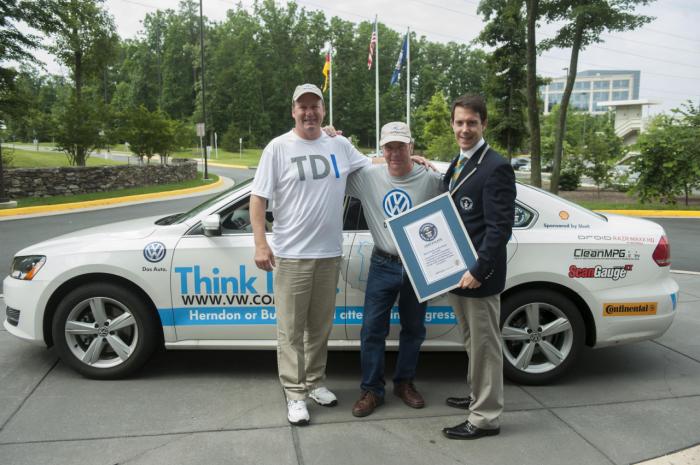 The diesel sedan was driven by Wayne Gerdes and Bob Winger across 48 states of the US. During the expedition that lasted for seventeen days, the VW Passat TDI Clean Diesel covered 13,071 km. The crew managed an impressive average fuel consumption of 3.02L/100km (33.11kpl or 77.99 mpg), thereby setting a world record for the lowest average fuel consumption of a non-hybrid car during a drive throughout the contiguous states of America.
The VW Passat bettered the previous record (3.4L/100km or 67.9 mpg) by a sizable margin. If fact, the diesel sedan surpassed the hybrid fuel economy record which stood at 3.6L/100km. That's impressive!
Commenting on the successful record run, Mr. Jonanthan Browning, CEO, VW USA, said: "To cover 8122 miles on just 104.94 gallons of fuel is nothing short of astonishing and shows just how economical our TDI Clean Diesel vehicles can be. Even for everyday drivers, the mileage benefits of our TDI engines are significant: Volkswagen has no fewer than six TDI Clean Diesel models that achieve an EPA estimated fuel economy rating of 40 mpg or better on the highway."
The VW Passat TDI is powered by a 2.0L TDI diesel engine which produces 140bhp, that also powers the Indian version. In the US, the car is either mated to a DSG automatic or a 6-speed manual gearbox. The US version is basically a cost-down version of what is sold in Europe and India.
Congratulations VW!
Head to Page 2 for the press release.
VW Passat TDI Press Release
[Can't view the above document? Head to Scribd]