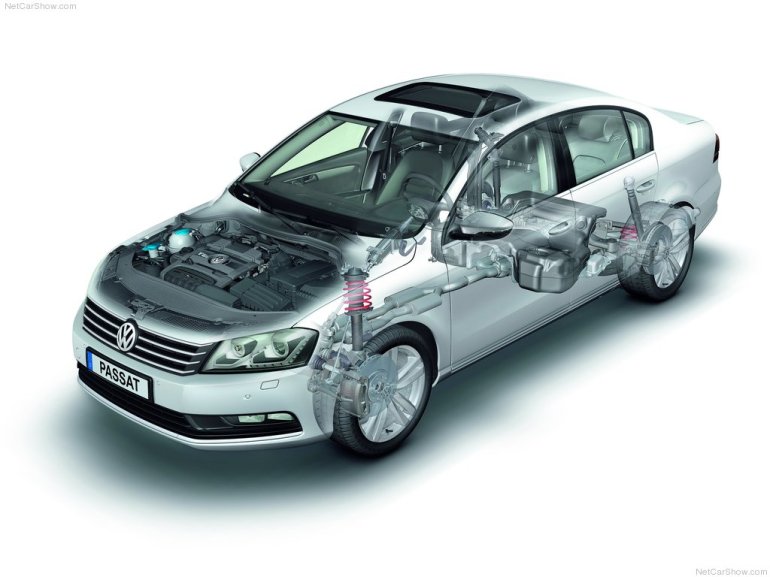 Launched earlier this year, the VW Passat has made quite a mark in the land dominated by cousin Superb. With its refined quality and clever gizmos, it is expected to sell about 200 units per month.
However, come 2014, there will be a drastic change in the VW Passat as it will move from transverse engines (B3/B6) platform to Volkswagen's brand new MQB platform. CAR Magazine point out that the shift will allow greater dimensional flexibility as well as a much more space-efficient packaging. As discussed earlier , the MQB platform will be a common base for all future VWs from Polo to Passat.
Codenamed B8, the 2014 Passat will be 75 kilograms lighter than the current Passat. Adding to that, the MQB platform provides greater flexibility so the Passat can spawn into various body styles such as saloon, station wagon, three door coupe and even a cabriolet that will play the grown up Eos for convertible-friendly markets.
Just like how the current Passat looks nothing like the earlier generation (though constructed using the same parts), the VW Passat B8 will share little in common with the B7 (a.k.a current Passat). New styling traits such as a bolder plan view, a more three-dimensional grille, more substantial C-posts and advanced LED light treatment can be expected in the new Passat.
There will be a huge range of engine options available internationally
• 1.4TSI/130bhp
• 1.4TSI/150bhp
• 1.8TSI/180bhp (from Skoda Laura)
• 2.0TSI/210bhp
• 2.0TSI/250bhp
• 1.6TDI/105bhp (from VW Vento)
• 2.0TDI/143bhp
• 2.0TDI/177bhp (from the Passat currently on sale)
• 2.0BiTDI/204bhp
Volkswagen is exploring alternate fuels and it was recently reported in the international media that every model will be offered in hybrid. The Passat in the works may come with a choice of 50kW or 80kW electric motor paired to the conventional engines.
Information used from the report on carmagazine.co.uk