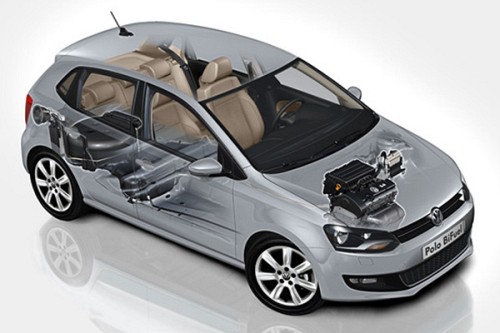 We're hearing from our sources the VW could launch the BiFuel Polo in India over the next 12-18 months.
The vehicle which Indians will have the opportunity to experience will be a LPG kit, factory fitted to the 1.2-liter Polo. The German BiFuel Polo discussed here is powered by a 1.4-liter engine, which loses just 2bhp when operated on LPG.
The LPG Polo also minimizes impact on the environment. Compared to driving on gasoline, the carbon dioxide emissions are down by 9% and since LPG costs less than petrol in Germany, fuel bills fall by almost 40%!
A 52 liter fuel tank is fitted in place of the spare wheel giving the BiFuel Polo a combined range of 807 miles (1,298 km). If you live in Germany, you can buy the Polo BiFuel in three variants - Trendline, Comfortline and Highline. Prices start at €16,325 (9.38 lakh) for the Trendline, rising to €17,625 (10.13 lakh) for the Comfortline and topping out at €18,450 (10.60 lakh) for the Highline.