Come Back Kid
Robin Page spent a dozen years with Bentley designing the interiors of the Mulsanne and Continental. And this was after stints at Rolls Royce and Bugatti. In 2013, he was pulled away by Volvo, as part of a larger plan at play. Along with Thomas Ingenlath, SVP of Design, Page orchestrated an unbelievable come back for the Scandinavian manufacturer from the depths of the financial crisis, which saw itself being sold by Ford to Geely, a Chinese automaker for what can only be considered spare change - $1.8 billion.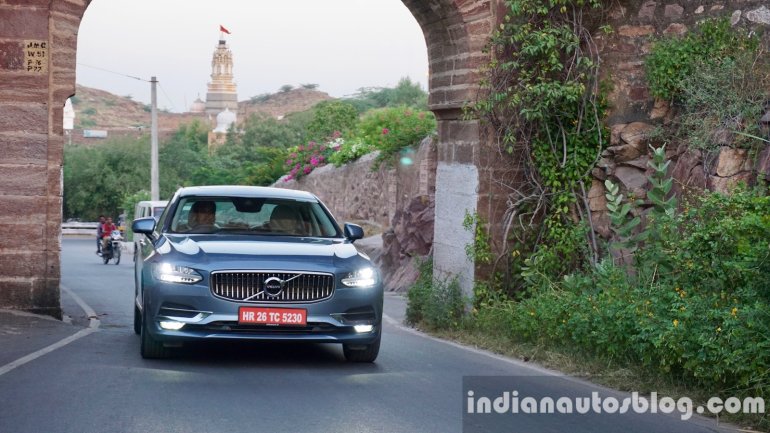 When the ink finally dried in 2010, future prospects over a Chinese takeover looked worrisome for a brand that had already struggled to take on its German rivals for well over a decade. Sure, Volvo built some of the safest cars on the planet but their design language appeased to only a certain segment of customers. However, Li Shufu, founder of Geely and someone who fashions himself 'the Henry Ford of China', poured $11 billion (backed by private equity) into Volvo to prove detractors wrong. What followed was a story line similar to Tata Motor's buyout of Land Rover and successive turnaround.
I can only imagine what the note that followed the money must have read: 'Build the best car in the world, and then - make it a Volvo'.
Sure enough, the XC90 was the first product to come out of the collaboration and it left the motoring and non-motoring world staggeringly surprised. Over 70 global awards later (for that same car), Volvo's brand identity has completely evolved, its previous restricted customer segment, extinguished. The Volvo of yesteryear isn't the Volvo of today.
The car to follow the XC90 has been the S90, from a full-blown SUV to a flagship sedan, and what Volvo has done is inject much of what got the XC90 all the success, into its flagship sedan offering. And if you thought the XC90 looked rather nice, the S90 is sharper and even better. We have pictures amidst Jodhpur's royal palaces to prove.
The Times They Are A Changin'
The last time I was this comfortable on the seats of a car, I was hibernating in the rear of the Mercedes S-Class and the BMW 7-Series. Volvo states that orthopaedic doctors were on the panel that designed every angle and contour that the seats take, and having spent ample time on them, I can only pledge to support the fact. While the rear seats do everything in their power to cuddle your senses, the front seats offer a level of comfort I haven't come across in my motoring experience. I have also never cared for seat memory function in cars but the S90 calls for the use of one simply because there are so many adjustments possible, each of which deliver meaningful comfort.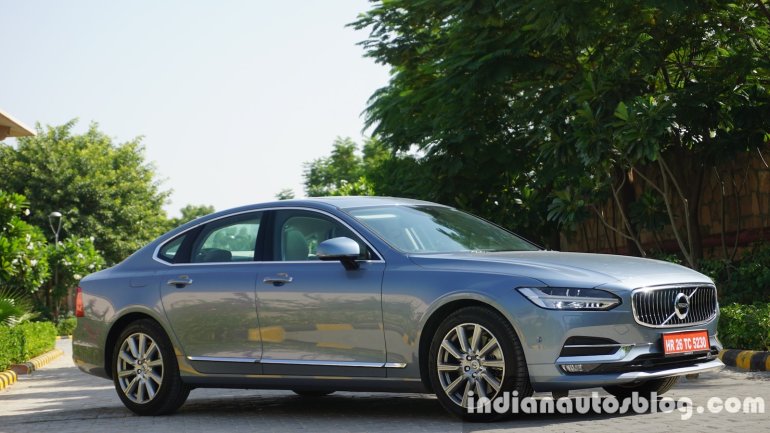 On previous occasions, I have described a car's seats using adjectives like comfortable, very comfortable, well bolstered, nicely padded, etc, but the S90's seats, specifically at the front, are something truly remarkable and the new benchmark in the segment and segments above. It goes to show how much focus designers and engineers have invested in this area since seat-design also plays a vital role in occupant safety, something Volvo knows a thing or two about. It is important to remember that earlier this year, Volvo made a shocking promise, that by 2020 it aims to make death-proof cars i.e. no occupant of a Volvo car will either be killed or seriously injured in an accident. That's a bold statement to make, and the focus that has proceeded in that direction is evident inside this cabin.
But it isn't just about seats and cushioning that make for a comfortable ride. Your Italian sofa may not be pleased travelling at 100 km/hr. Suspension systems and chassis dynamics play a big role in determining the comfort levels of occupants and on an engineering note, getting it 'right' is less about expensive components and more about the intellectual capital that goes into the design principles used. I am certain you must have come across a number of cars that are a hoot to drive and cost pennies, and at the same time, terrible cars that cost a bundle of money. The Volvo falls into the former basket.
Up ahead, the S90's bulk rides on a multi link set up and at the rear, it gets air suspension. Placing air coils on all four corners of the car (as it is with the XC90) would have pushed the price up and Volvo didn't want that. It did want Indian buyers to be properly comfortable and hence placed air cushions where most Indian buyers will find themselves - at the rear. But you will be surprised how well engineered the entire set up has come out to be. The S90 rides better than either the E Class, A6 or the 5 Series and is perfectly tuned to meet our road conditions. Even jarring tarmac behaviour is dispatched without so much as a mild rumble.
Chiselled Luxury
A little known fact is that the S90 was supposed to debut before the XC90 until company heads decided 'sports utility' was the need of the hour. They were right. The XC90 launched first and took podium in virtually every award category that existed including the one for best interior design. Nothing about the S90's interiors feels car-like and that's why it seems to inspire a want. There is heavy usage of nappa leather, contrast stitching, un-adulterated walnut wood, aluminium and chrome. It feels more like the interiors of a high-end studio apartment than a car and the attention to detail is vividly apparent. The sort of interiors that Jony Ive would be proud of.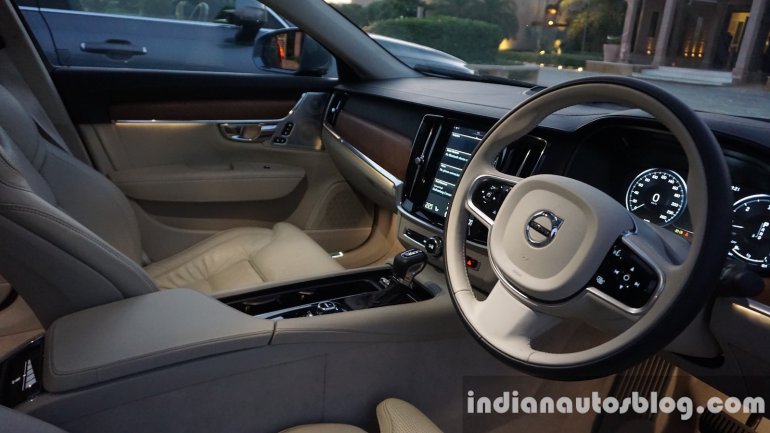 Central to the design is the large iPad-like touchscreen (similar to a Tesla) that is sort of like the command centre for the entire car. It has way too many settings to play around with and we won't be getting into that much. It is however an earnest attempt by the Scandinavian manufacturer to keep the interiors devoid of as many physical buttons as possible and to a very large extent it has succeeded. If you have operated Tesla's command module before, the S90's system is similar in touch feedback and user experience. However, it still is Scandinavian in taste. The thing is, we have become so used to touchscreen systems and their corresponding user interfaces, it is a challenge to adopt something different (a different UI) into the normal flow of life. And thanks to Android and iOS, we are already tuned to the American UI sense.
Mercedes, BMW and Audi have their own entertainment systems, none of which are anywhere near perfection. There is a huge learning curve involved. A big part of delivering a great user experience is user empathy and that's what's been missing in all these derivatives. While it is clear that Volvo has taken huge strides with this new interface (Sensus), definitely the better of the German trio, there is still some distance to go, niggles to sort out.
Connected to this touchscreen is a 19-speaker Bowers and Wilkins audio behemoth. Sound engineering, once again, is a mighty science in itself and the 50 year old company worked specially with Volvo to tailor the audio inside the S90, including a mode that delivers the acoustics of the Gothenburg (Volvo HQ) Concert Hall in Sweden - inside your car. I have never been to a Gothenburg symphony before, and yet - I have. And it's magical.
Other inclusions are a 4-zone climate control, a CleanZone mode that filters out PM2.5 and PM10 particulate matter, sunroof (You can see the moon too), heated & cooled seats, heated windshield washer nozzles (go figure), password protected glovebox (a la Transporter), a 12.3 inch driver display (no mechanical odometers or tachometers here), navigation (not the best in class), ambient lighting, powered tailgate, LED headlamps with dynamic cornering, enough airbags, pre-tensioning seat belts and Apple Car Play. Android Auto is absent on the S90 for the time being but I am told it is more to do with international licensing than a feature war cry. Volvo will shortly update the system to include the Google system once the paper work is sorted out.
Driver aids include cruise control, lane keeping aid (steering wheel vibrates and self-corrects if you begin to veer off your lane), automatic parking & exit (first levels of autonomy), hill start assist, rain sensors, traction control, stability program, antilock braking, indirect tyre pressure monitoring (via ABS sensors), and the usual works.
Swedish Prescription
Twin turbos feed air into a 4-pot diesel burner to produce 190 hp on the throttle that are delivered to the tarmac via 18 inch wheels that adorn 245/45 grade Pirelli tyres. The spare space-saver is a Chinese (T125/80) make though. All that drama unfolds within a 1969cc aluminium block that is controlled by an 8-speed automatic gearbox completely, and perhaps by design, devoid of any paddle shifters. The dual clutch unit is manufactured by Aisin and happens to be the first 8-speed front-wheel-drive gearbox in the world (launched in 2012). It controls 400Nm of torque that converts a stationary kerb weight of 1680 kilograms into rapid momentum rather effortlessly.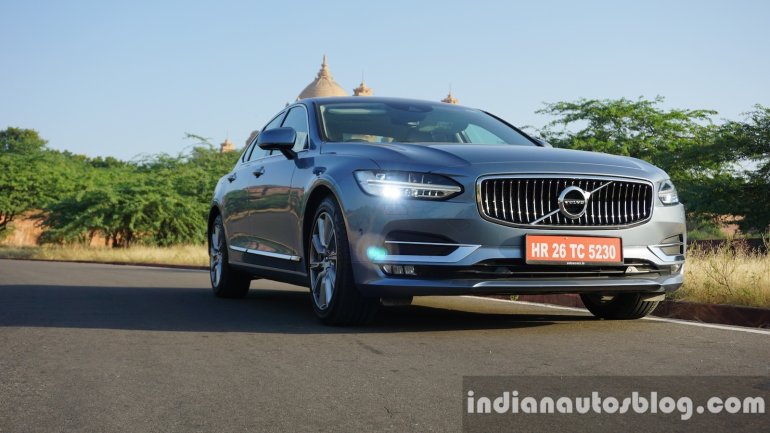 The entire car is built on Volvo's new SPA (Scalable Product Architecture) platform, which also is the foundation for the XC90 and V90 nameplates. It is a modular platform, inline with what almost every manufacturer on Earth has been working on to create. Modular platforms allow for a high degree of design and engineering control to suit different classes of cars. The same platform can hold an SUV, sedan, estate, etc, saving time and money in the process, for the manufacturer and you - the customer.
Placing the above numbers aside, the S90 delivers a relaxed driving experience akin to guiding a yacht in quaint ocean waters. I haven't guided a yacht in quaint ocean waters but I can now imagine how it must feel like. It is clear that Volvo has focussed intensely on factors such as luxury and comfort. In less congested regions of the world, the S90 would have left drivers wanting for a bit more sharpness and cornering drama, but here in India, where you are only as fast as the vehicle in front of you, the S90's set up is exactly where it needs to be. It isn't anywhere as stiff as a BMW and falls behind the E-Class too. It isn't German and doesn't try to be either. It wants you to be driving it without ever knowing that you are having to drive it. It is that effortless a transporter.
Straight-line acceleration is rapid with 100 km/h coming up in just over 8 seconds, and there is a heads-up display too (invisible with sunglasses on). The steering feels numb to outside road conditions and the cabin itself is excellently insulated from any exterior noise. Volvo made quite an effort in this direction too. The tyres were specially designed by Pirelli for Volvo and come with a 'VOL' tag on the rubber. Small gaps like the ones that exist on the hood's shut-line are insulated with rubber beadings to isolate and kill wind noise before it makes it into the cabin. The diesel motor too sounds like a petrol unit right upto the 4000 rpm mark.
Only beyond that does the diesel noise become audible, and even that feels pleasantly muted. I have seen diesel engines that produce less power while honing a penchant for generating mind-numbing racket. Oh, and there is no noise cancelling tech included. The terrific insulation is achieved solely through good old mechanical engineering.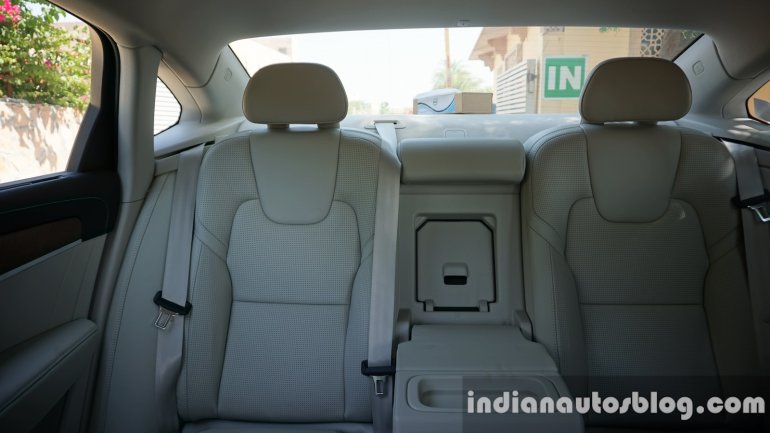 I was however surprised by the absence of paddle shifters behind the steering wheel. But the non-inclusion does fall in-line with what Volvo has tried to deliver here and by the end of the drive, I didn't find any need for them either. The 8-speed auto shift unit responded to every overtaking call without so much as a question mark and the rapidly spooling turbos did the rest.
I did try out the basic level of autonomy that the S90 was equipped with - auto parking - and it worked perfectly fine. It did give me a few jitters initially, but it was just me being overtly cautious. Remember though, the car handles steering and acceleration automatically, you do the braking. In other parts of the world, the S90 (and future Volvos) will arrive with more dominant autonomy (Uber just ordered 100 100% autonomous Volvos) and if you are looking at a future full of self-driving cars, they better be the safest ones in the world.
Summing It Up
In the normal course of things, when designers get around to developing a new car, they kind of already know what a few elements on the car need to look like for them to represent the brand they are built under. I get the strong feeling that this might not have been the case with Volvo here. They developed fresh, new, unrestricted lines from a clean sheet of paper, testing and tweaking imagination, and once they were satisfied with what they had conjured, decided to turn it into a Volvo. And because it is the Swedish manufacturer's flagship sedan, no stone was left unturned.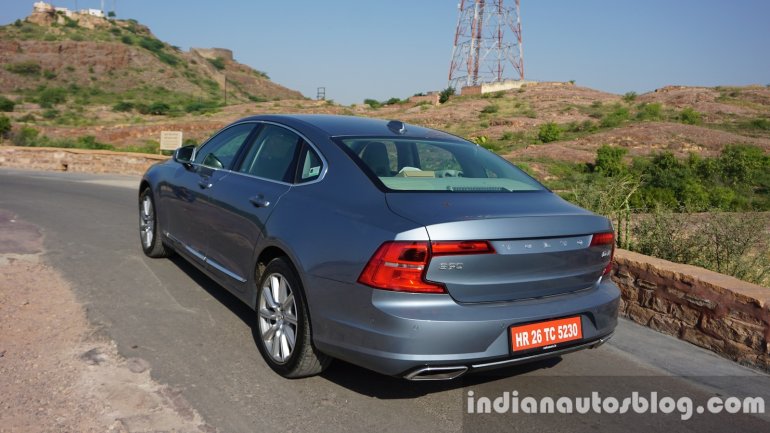 The S90 is gorgeous to behold and a refresh for a segment that had gotten predictable thanks to the German trio. The only element that invited mixed responses was the boxed-out rear. But what makes it unique is the horizontal space that Volvo carved into the boot lid to place the brand name. The boot itself is deep and volumetric, attested to by the best people in the business - hotel security.
In the focus to keep things simple and straightforward, Volvo India will launch just 1 variant, the D4 Inscription. The car will arrive loaded to the brim with everything (and more) described above, no optional extras. You only get to choose the body color (8) and interior shades, that's it. There is no introductory pricing to worry about either. The S90 debuts at INR 53.5 Lakhs (Ex-Showroom, Mumbai without Octroi) and will stick to it. Later next year, Volvo will bring in a D5 variant with all-wheel-drive and 235 hp, all of which I think the car doesn't need because even in its current spec, the S90 is undoubtedly one of the best cars in the world.