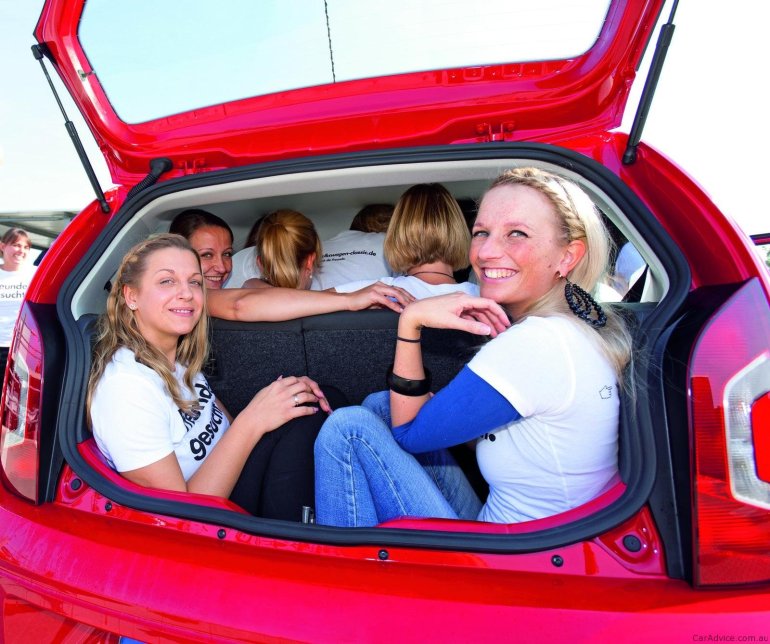 We are quite excited about the VW's cheapest entrant in the Indian market – the VW UP! Revealed at the Frankfurt motorshow, the UP! promises to the change the game in the B segment. Its sleek design, efficient engines combined with VW legendary build quality, UP! will prove as a worthy contender in the market.
Volkswagen is equally excited with UP!, as it will be the group's smallest car yet. However, the company is trying some innovative marketing ideas to demonstrate the practicality of a small car. Earlier we brought you a naughty tactic adopted by VW to demonstrate how UP! will liberate a lot of parking space due to its compact size.
Now, in a effort to demonstrate the huge amount of space inside, VW stuffed the UP! with 16 chicks. No wait. 15 chicks and one dude.
These girls are not acrobatic experts that can origami themselves into a matchbox. In fact,  these are actually VW workers from the factory. They managed to fit two girls in the 252-litre boot, seven on the back seat, four in the front seats, two in the foot wells, and one more on the dashboard.
Of course, there is a huge list of records when it comes to cramming people in a car. But this was not a record attempt because no officials were present there to vindicate the record. But still 16 people in a hatchback that is only 3.54 metres long, 1.64 metres wide and 1.4.8 metres tall. That's mighty impressive eh?
Volkswagen UP! with 15 women and one dude on board Image Gallery
[Source - CarAdvice.com.au]