Though the practicality and popularity of EV's in the current age is quite debatable, Volkswagen has decided to dip its hands in the pool.
VW has launched an electric version of its Up! which the Wolfsburg based giant claims is 'the perfect tool for the commuter'
Being an EV, out goes the three-cylinder petrol engine and in comes a brand new electric motor with 81bhp of power and 210 Nm of torque making it more powerful than the petrol-powered Up!. The engine sources its power from its 18.7 kWh battery pack mounted under the cabin floor to keep the center of gravity as low as possible.
Though it is more powerful than its petrol counterpart it is not faster because of the weight of the battery pack. The kerb weight has been gone up by 256kg to grand total of 1185kg. 0-100 km/hr comes in 14 seconds, 0.8 seconds slower than the petrol model. Even the top speed is limited to 135 km/hr as opposed to 170 km/hr of the petrol model. But that's just judging the fish by its ability to climb a tree.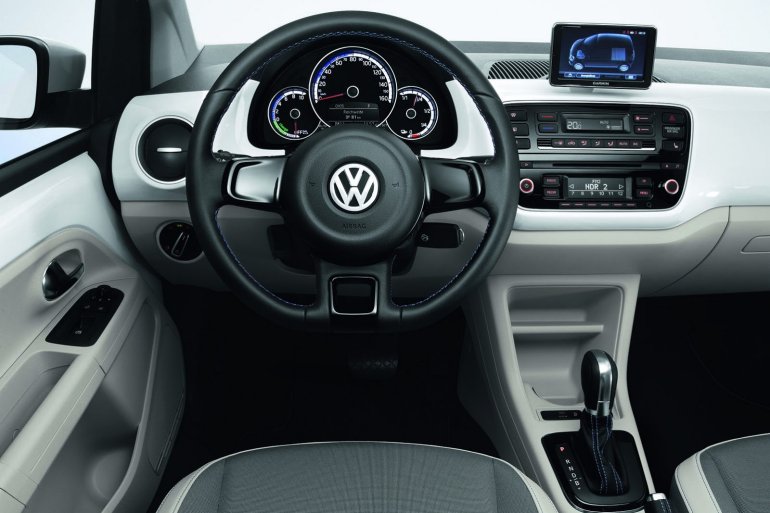 The e-Up! has a range of 150 km and takes just half an hour to charge the battery to 80 percent of its capacity. Volkswagen will also add a new Combined Charging System (CCS) as an optional extra that will enable the consumer to charge the e-Up! via both AC and DC charging.
To differentiate the e-Up! from the normal model, VW has given it some interesting design changes such as -
Curved LED daytime running lights in the front and the rear bumper
15-inch polished alloy wheels
Aerodynamic changes to the front end, side sills and underbody
Light-grey seat covers with blue stitching
Special leather
Chrome accents
Bookings will open after its public debut at the 2013 Frankfurt Motor Show. Expected price is upwards of £11,000 (9 lakh rupees).