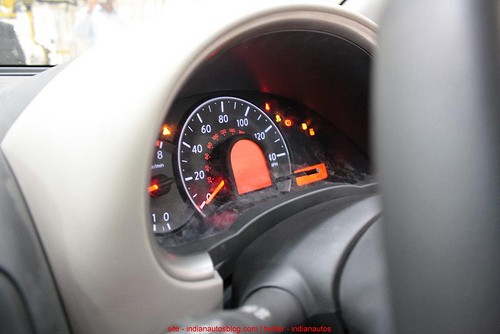 Venkata Chaitanya runs a highly reputed company in Hyderabad. He recently began following Indian Autos Blog, and decided to share his views on the Nissan Micra which he saw at the local dealership. So, here is Venkat's two dents on the Micra for India -
It is floods in India. Before you scratch your head, let me clear the air - I am talking about the floods in the Indian Auto sector. I've never witnessed of so many cars gushing on to the Indian roads, especially small cars.
It was raining in Hyderabad on Friday and the clouds just happen to clear. I head out to check the all new Nissan Micra. The orange car was standing on the left side of the showroom grabbing everyone's attention. The car is pretty neat and built well.
Goodies like Start/Stop button, Automatic air-conditioning, Airbags, keyless entry and so on impresses me. The boot is pretty decent considering Micra to be a city driven car. A few talks with the onlookers reveals some feel that Micra is looks like a well-shaped bubblegum.
Why would a Japanese auto giant like Nissan land up in India with such a car. I happen to check a Nissan engineer's statement, and he says a neutral car that appeals equally to both the male and female buyers is what they want to sell. Is the really possible?
Nissan landed in India almost 5 years back with X-trail, being its first launch. The SUV which is fully imported in India, Teana followed X-trail 2 years later in 2007. In my view, both cars are amazing, but it is a pity that Nissan not projecting them well. The lackluster approach, I should say, has not really helped these two capable models. Though X-trail picked up sales, it was limited to double digits only.
In India, we have clear examples of how companies have been rejected by Indian consumers when their expectations have not been met. Fiat is one of them, yes I am talking about Fiat India, when it came with Uno, Palio etc. Uno was one of the best cars Fiat could deliver in India. The debacle began with the way Fiat handled service issues. Even a normal replacement of side view mirrors took almost 3 days and the customer was asked to leave the car in the service centre.
One wonders, if at Nissan is in the dark about these things. With 11 dealers in a country like India, it is hard for me to understand where Nissan is heading.  They better ramp up their dealer network soon or else I'll conclude that Nissan wants to make use of our country's resources to manufacture a car to sell it overseas at a competitive price.