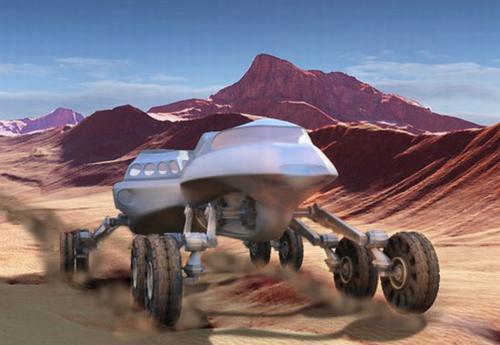 From the front, it looks like a frog that has grown lots of extra legs! What it is though is a vehicle aimed at conquering the Martian planet by the Martians themselves. Well, not exactly.
Created by American graphic illustrator Terrence Hardeman, this ravishing modeling project here presents us with a rather realistic view of what commuting on Mars could look like. Titled Going for a Spin on Mars, the project is inspired by NASA's Martian Rover and the creations of legendary futurist Syd Mead and is expected to develop into a full fledged "Go-Nav Land Yacht explorer."
Still in the works, the vehicle aims at being able to meet all the demands that the Martian landscape has to offer with the super-cool suspensions looking all set to deal with all the ups and downs of the rugged terrain on the Red Planet!
It gets a big thumbs-up from IAB