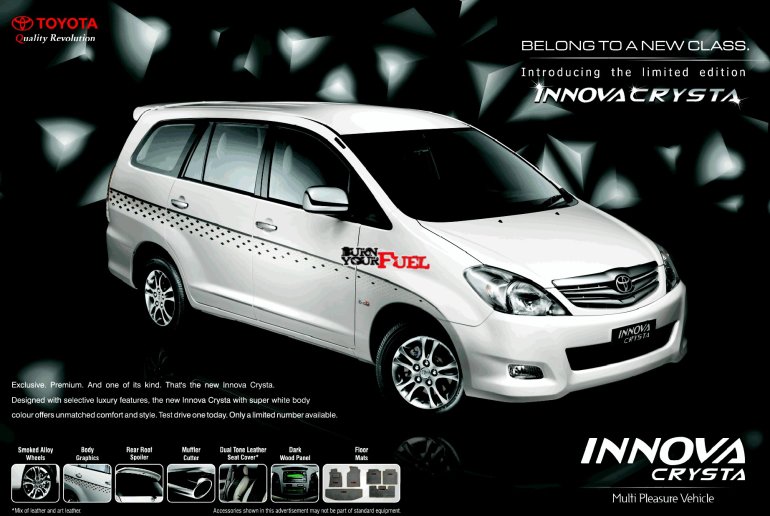 The Toyota Innova has been the king of the MPV segment since the dawn of time. Hardly any car has dominated a segment so aggressively. There were many attempts by competing manufacturers to dethrone the king but very few of them made a difference. The Innova refused to budge from its No 1 position.
Part of success can be attributed to the fact that the Innova appeals to the Taxi market and the privately owned market at the same time. Having said that, over 50% of the Innovas sold are the top-end model.
Very few vehicles have managed to pull that off. Some cars, when they enter taxi market, simply loose their charm to family owners. Toyota's marketing team has managed to keep the image of Innova desirable for both customers.
The way they have managed to pull that off is by introducing 'special edition' of Innova every now and then. This time it is the Innova Crysta Edition. 1,000 units of the special model will be manufactured till October 2011. For a little extra dough, this special edition features:
• Smoked Alloy wheels
• Body Graphics
• Rear Roof Spoiler
• Muffler Cutter
• Dual Tone leather seat cover
• Dark wood panel
• Floor mats
Mahindra XYLO Special Edition II – Be afraid, be very afraid ;)
[Image Credit - BurnYourFuel.com]