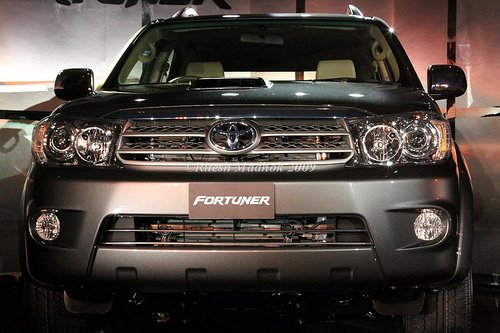 Toyota Indonesia would be expanding the capacity of its Indonesian manufacturing plant to cater to the huge demand in the home market as well as export markets like the Middle-East and Philippines. The expansion would be complete by August of this year and Toyota Indonesia plans to export around 10,000 units of the Toyota Fortuner in 2010.
This manufacturing facility produces the Toyota Fortuner fitted with the new mammoth 4.0l VVT-i petrol engine that produces 235bhp. This engine is neither for the home market nor for Phillipines but exclusively for the Middle-East. The Indonesian and Filipino Fortuners are fitted with a 2.7l VVT-i petrol engine that churns out 160bhp.
When Indian Autos Blog contacted Mr.Sandeep Singh, Deputy Managing Director of Toyota Kirloskar Motors on this development, this is what he said -
We have no plans to introduce petrol-engined Fortuner in India.  As you know, we're facing a shortage for the existing model (diesel).
This comment from the higher official puts a lid to all speculation on Toyota's petrol engine plans for Fortuner. Toyota would neither be bringing the 4.0l VVT-i petrol engine nor the 2.7l VVT-i to India anytime soon. Even though the 3.0l diesel Fortuner is selling extremely well in India and is in huge demand, there are customers who would not like the clatter of a diesel engine under the hood. For these customers, it will be a long wait before their call is answered.
Source - Oto Detik