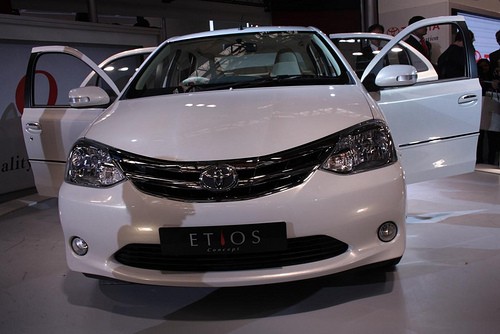 The Toyota Etios sedan comes three months ahead of the hatchback
After unveiling the Etios concepts at the Auto Expo in January, Toyota is conducting the 'Q' World programme, a two day event where it will display the Etios concepts and the other vehicles it sells in India in 10 cities across India.
Toyota wants to ensure maximum visibility to its products and the new Etios concepts, which it is banking on for multiplying its production volume. According to Autocar India, Etios sedan will come in two variants and will be launched in December 2009 or January 2011. The hatchback model will come three months later.
Mr. Sandeep Singh, deputy MD, Marketing, Toyota Kirloskar Motor -
It could be launched in December 2010 or by early 2011
Toyota will make the Etios in its second plant in Bidadi. The construction of the facility is half way through and initially it will be able to churn out 70,000 cars a year. Production can be ramped up to 200,000 units a month, which Toyota aims to do in the coming years.
Toyota Etios hatchback Image Slideshow
not able to see slideshow above? visit the Toyota Etios Hatchback Image Gallery directly
Toyota Etios sedan Image Slideshow
not able to see slideshow above? visit the Toyota Etios sedan Image Gallery directly
Source - Autocar India