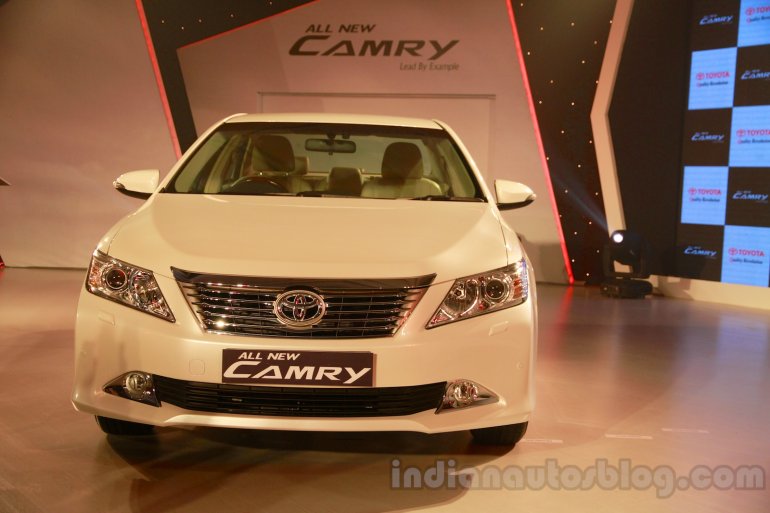 Toyota has launched the 7th generation Camry in India to compete with a formidable set of rival constituted by the Skoda Superb, Hyundai Sonata, Volkswagen Passat and Honda Accord.
During today's press conference many questions were fired at the Indian subsidiary's management.
In this blog post, we get you the answers to some of the questions that may be hanging over your head.
Why did you drop the distinctive styling of the last generation in favour of a more conventional design?
Generally whenever these cars are launched, they are made for the global market and the situation's the same with the car launched here today. The company's design theme and the customer feedback we get, influence our decisions. The styling of the car has been appreciated quite a lot across the world including India.
Why didn't you forward the excise-cut benefit to your customers?
Back in 2002, when the Camry was launched, $1 was equal to Rs. 46 and with the Rupee depreciating now, the initial costs have increased. We have managed to launch the Camry at the same price tag as before.
What is the percentage of localization of parts?
89% of the parts are imported as CKD kits and rest 11% are localized in India.
What was the investment that was put into the localization of this car?
At Bidadi there are two plants. The first plant manufactures the Innova and the Fortuner whereas Camry shares the second plant with the Corolla and Etios. About Rs. 2,300 crore were spent on the development of the second plant.
Are we going to see manual or diesel variants in the near future?
No manual option is on the cards. There has never been a diesel variant of the Camry anywhere in the world and the only other option is the hybrid.
In India, the diesel market is booming, and suppressing the petrol market, so why are you still sticking with gasoline?
The Camry is placed in the D premium or E segment in which, 35% cars are still petrol, and people will buy this car because of its premiumness and the Toyota USP factors.
You've interacted with some potential buyers over the last 10 days, what has been the response so far?
Without disclosing the price, we have already bagged 50 odd bookings from all across the country.