The boys are back! News on the interweb suggests that the 19th season of the world most popular automotive/entertainment show Top Gear will start airing from January 27.
[can't see the video above? Head over to Youtube]
The bad news is that this season will be shortest of all with only 5 episodes for us. But the five episodes are definitely packing some serious heat!
Here is what to expect –
The boys will head to Africa again in search of the source of the Nile in three second-hand station wagons - BMW 5-Series Touring, a Volvo 850 T5-R and a Subaru WRX (image below).
Jeremy will try to create a car smaller than the Peel P50 with the help of some students from Coventry University.
James goes rallying in a stock Bentley Continental GT.
A US roadtrip with the new SRT Viper, the Lexus LFA and an Aston Martin Vanquish.
Richard and Jeremy redesign a Fiat Multipla for the elderly.
Car football returns to the telly after a long time.
And Jeremy will race a Shelby Mustang GT500 against the other guys in a train.
There will also be road tests of Toyota GT86, Pagani Huayra, Ford Focus ST, Renault Megane RenaultSport Cup 265 and Vauxhall Astra VXR.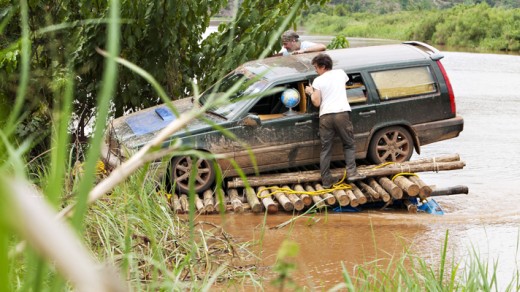 So definitely lots of stuff to look forward to in the 19th series. Store up your grease!
[Source: Jalopnik.com; Image from TopGear.com]