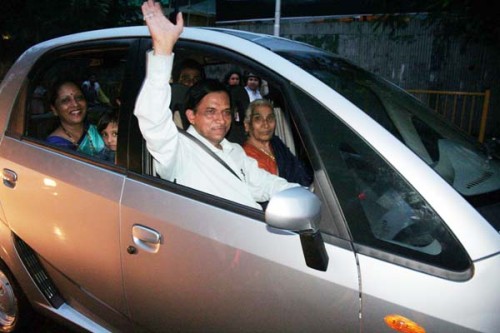 Wishes of common man answered!
My Envisage
The dream that was vision in 2003 from the glass of the back bench of the ultra luxury car, seeing a family of 4 souring in the rain on the scooter has been realised on 18th July 2009 when Chairman of Tata Motors, Ratan Tata hands over the key of the first "Nano car" or "People's Car" or "The world's cheapest car" to Ashok Raghunath Vichare in Mumbai.
That indeed is one of the greatest achievements in Indian automobile Industry and auto Industry across the globe. This engineering marvel depicts a part of a "new breed of 21st-century cars" that embodies "a contrarian philosophy of smaller, lighter, and cheaper" and potentially portrays a new era in inexpensive personal transportation.
"Don't we owe a salute to Mr. Ratan Tata getting the wishes of common man answered"
Behind the Steering
This weekend while driving my Chevy Optra Magnum Diesel 2.0 LT I was wondering, what is the reason behind this car not having the sale number it deserves?
This is one heck of a Diesel sedan with great power (Feels like your daily Petrol Sedan on Steroids) and awesome ride quality (amongst the best in this segment) combined with Snob factor and presence you ask from it and add to that it offers decent economy and priced competitively too. IMHO, GM's marketing team has lost the plot with the diesel Optras pricing & Marketing, again a potential product being forced to die, just because it wasn't introduced properly.
Motor of the Week
Maruti Alto the great "Bread & Butter" car of our Industry, No I am not taking the name from Maruti 800 which remained the entry level car for ages but it's the growing economy and spending power of Indians which made them grow to the next best potential buy to 800. This mini is seriously mini on everything it offers, be its price or be it the fuel consumption (The ad suits best "Miles to go") and be it the maintenance cost (The Legendary Maruti Suzuki service network). This baby from Maruti stable has earned its name as King of sales lets see how Nano answers and takes the crown & glory.
What's your say?
Folks here is my question for you, what according to you suits the most appropriate name for Nano:
People's Car (Fits in for everyone's need)
The world's cheapest Car (Armani suit is more expensive)
The future Car (Smaller, Lighter, and Cheaper)
Just another small Car (Why so much hu ha...)
Tata Nano Image Source - Daji World