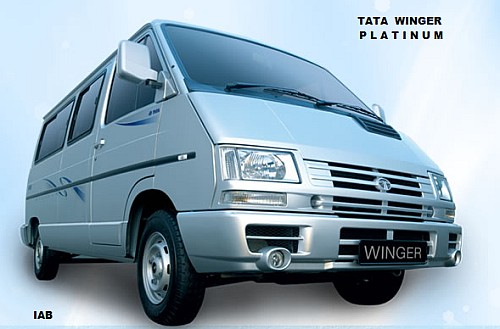 Tata Motors has been offering the Winger as a 9, 12 or a 13 seater with the top of the line Winger Deluxe have 9 fully reclining seats. To further increase the appeal of the Winger as  a luxury people mover, Tata Motors has launched a new iteration of its Winger utility vehicle called the Winger Platinum.
The new Winger Platinum features just 7 seats, all of them are fully reclinable individual captain seats. These seats get adjustable head-rests and armrests too. The Winger comes with dual AC and every occupant gets an individual AC vent.
The Tata Winger Platinum is priced at Rs. 6.94 lakhs (ex-showroom Cochin). This is incredible value for money, as the car can seat seven people in luxury, has a very good ride quality and a fuel-efficient, tried and tested 2.0-liter turbocharged diesel engine.
Tata is the only major player in this segment and as of now is enjoying monopoly. The Tata Venture people mover to be slotted under the Winger has also been spotted testing and would be launched soon.
Press Release
Tata Motors introduces Tata Winger Platinum

Kochi, June 11, 2010: Tata Motors today launched a new offering in the Winger range, the Tata Winger Platinum, in Kerela. The Tata Winger Platinum is a luxurious 7 seater, designed to provide an enhanced on-road experience with a perfect blend of comfort and space.

The Tata Winger Platinum has been specifically designed to fulfill the needs of passengers who look for carriers but have to depend on Utility vehicles. The innovative design of Winger Platinum ensures that for a similar vehicle size, it provides much more space in the passenger seating area. This ensures that passengers are equally comfortable even in the last row making it the most apt vehicle for the segment. The seven individual reclining captain seats provide private space for each passenger.

With adjustable head rests, soft wide adjustable armrests, best in-class legroom, individual AC vents and wide luggage space, the Tata Winger Platinum ensures every journey is a pleasurable experience. Passenger comfort has been further enhanced with well thought out features like collapsible grab handles, a side foot step for easy entry, coat hooks and two mobile chargers. In addition, a 2-Din music system with 4 in-built speakers and provision for LCD provide sufficient entertainment for long trips.

The fully enclosed body, rugged engine sub-frame, anti-roll bars at both front and rear, retractable seat belts and child safety lock enhance safety. The 3-way adjustable driver's seat with power steering and a turning radius of 5.65 metres helps reduce driver fatigue. Motorised headlamps, fog lamps and a demisting unit aid visibility while driving. The aptly designed suspension ensures ride comfort, while the monocoque design minimises NVH (Noise, Vibration & Harshness). The Winger is powered by a proven 2-litre turbo charged inter cooled diesel engine.

The versatility of the Tata Winger Platinum allows it to be deployed for both long-distance transportation as well as intra-city needs such as transportation for working executives, holidaying families and other tourist usage.

The Tata Winger Platinum comes in two colour options – Pearl White and Cycus Grey. It is backed with a 1.5 lakh km / 18-month warranty.

The Tata Winger Platinum would be available at a price of Rs. 6.94 lakhs (ex-showroom, Cochin).
Source: Businessline