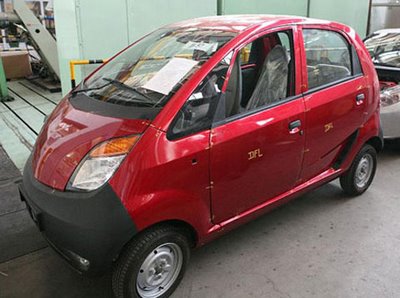 The first units of Tata Nano will roll out from Tata's Pantnagar facility by the end of February this year. While the engines and gearboxes for the Nano will be built at Tata's plant in Pune, the final assembly will take place at the Pantnagar plant upon shipment.
80,000 units between April 2009 & March 2010
Tata considers the Pantnagar production idea only an interim solution as the main Nano plant in Sanand, Gujarat, is still under construction. From the Pantnagar facility, Tata Motors will only be able to produce very few units of the Nano - approximately 6-7,000 cars by March end. However, Tata claims that the pantnagar facility is capable of producing upto 80,000 units of the Nano between April 2009 and March 2010.
Sanand plant expected to be ready by mid-2010
The Tata Nano mother plant at Sanand is expected to be ready only by mid-2010. Once the production starts there, the company aims to produce 150,000 units of the Nano in the very first year. The company will make an investment of Rs 2,246 crore in the first phase of Nano car project in Gujarat, while shifting and relocation expenses will cost an additional Rs 650 crore. While the Sanand plant will be the main manufacturing facility for the Nano, the Pantnagar facility would continue to assemble smaller volumes of the car based on demand.
Diesel Nano by end-2011
The Nano will be powered by a 625cc, 33Bhp 2-cylinder Petrol engine. The basic Nano – without airconditioning or any other luxury accoutrements – is expected to cost about Rs 1.20 lakh on road, including registration and insurance costs. The company has plans to launch a Diesel version by end-2011, which will be more expensive and the same goes for Nano variants with an AC, automatic gearbox and other luxuries.
Not enough information? Catch other Tata Nano posts from our Tata Nano special coverage.
Source: Hindu Business Line