Showcases four new construction vehicles.
Tata Motors is presenting four new construction and mining commercial vehicles at the 8th International Construction Equipment and Construction Technology Trade Fair (EXCON 2015) in Bangalore. The show is reckoned as the largest construction equipment exhibition in South East Asia.
The new vehicles are Tata PRIMA LX 2523 .K RePTO, Tata PRIMA 3138.K 32 CuM Coal Tipper, Tata PRIMA LX 3128.K 19 CuM Scoop HRT and Tata SAK 1613. They belong to the Construck range of Tata Motors CVs, which comprise of Tippers, Transit Mixers, Truck mounted Cranes and Concrete Boom Pumps.
Tata PRIMA 3138.K Coal Tipper
The PRIMA 3138.K 32 CuM Coal Tipper is powered by an 8.9-litre Cummins ISLe engine that produces 385 PS (380 hp) and 1,550 Nm, that is mated to a 9-speed Eaton ES-150409 transmission with direct drive. The truck gets a fully-loaded PRIMA cabin, a 48T suspension, an Electronic Instrument Cluster with Midline Multi-Function Display and a 32 cu. m half pipe load body. The Tata PRIMA 3138.K Coal Tipper is best suited for transporting washed coal and fly ash.
Tata PRIMA LX 3128.K HRT (Hub Reduction Tandem rear axle)
The PRIMA 3128.K 19 CuM Scoop uses a 6.7-litre Cummins ISBe engine that generates a maximum power of 284 PS (280 hp) and a peak power of 975 Nm. It features a 9-speed gearbox, a 19 CuM Scoop Hardox body, a heavy-duty 48T bogie suspension, a Tata HRT 210 rear axle and 12X24 tyres. This model is designed for shallow mining and surface applications such as road construction and irrigation.
Tata PRIMA LX 2523.K RePTO (RMC)
The PRIMA LX 2523.k RePTO 8 CuM RMC with RePTO is based on the Tata PRIMA platform and is pushed by a Cummins ISBe 6.7-litre engine producing 233 PS (230 hp) that is mated to a 9-speed Tata G1150 gearbox. The vehicle is touted to be fuel efficient and is said to have lesser maintenance despite the higher payload. The RMC (Ready-to Mix Concrete) unit is driven directly by the engine, which allows the mixing to be carried out on the move as well as on stand still.
Tata SAK 1613 4X4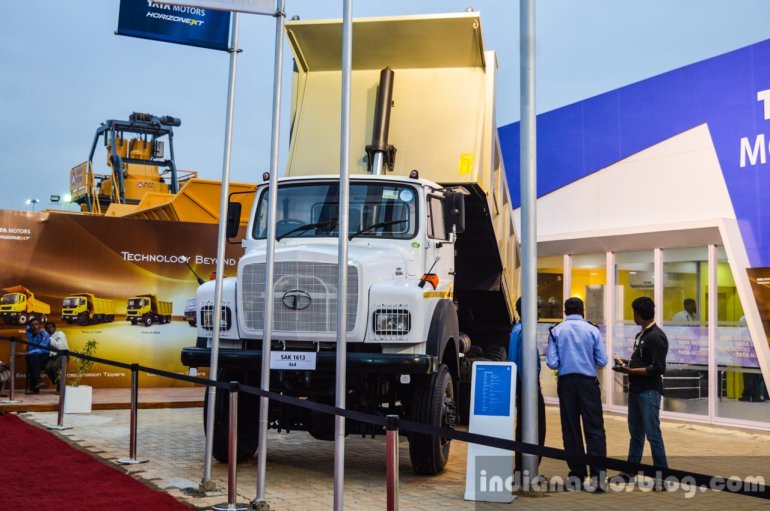 The Tata SAK1613 4x4 is a 4X4 16 ton GVW vehicle that gets a 10 cu. m and an 8.5 cu. m box body. It uses the Cummins B5.9 Engine with a 6-speed Direct drive gearbox and a TC 2500 auxiliary gearbox. The truck gets a Tata RA 109 RR rear axle with a deeper RAR of 6.83 for improved grade-ability of 25 percent, and a FA 106 front axle for heavy duty applications and better off-road drivability. The high grade-ability and off-road capabilities enable the SAK 1613 4X4 Tipper to be suitable for hilly terrain applications.
Apart from these, Tata Motors also showcased Tata LPTK 2518 6X2, Tata LPK 2518 10 CuM, Tata PRIMA 3138.K AT and Tata PRIMA LX 3123.K 22 CuM Box.
Tata Motors at EXCON 2015 - Image Gallery