Tata Motors Defense Solutions showcased for the first time the Kestrel wheeled armoured amphibious platform at the DefExpo India 2014 in New Delhi. The Kestrel has been jointly developed by Tata Motors and the Defense Research and Development Organisation (DRDO).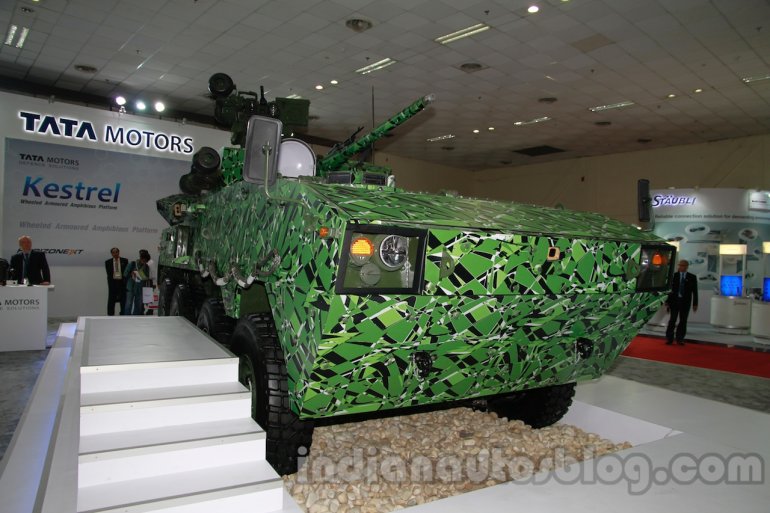 The Kestrel has a scalable 22.5-26 ton GVW and can carry a total of 10+2 personnel. The engine has been placed at the front left in order to aid ergonomics and optimum space utilization, says the company. The Kestrel 8X8 has an under chassis driveline with double wishbone type independent hydro pneumatic suspension, providing all terrain mobility.
The two steerable front axles give the Kestrel a 19 m turning radius and its run-flat tyres with central tyre inflation system comes as standard.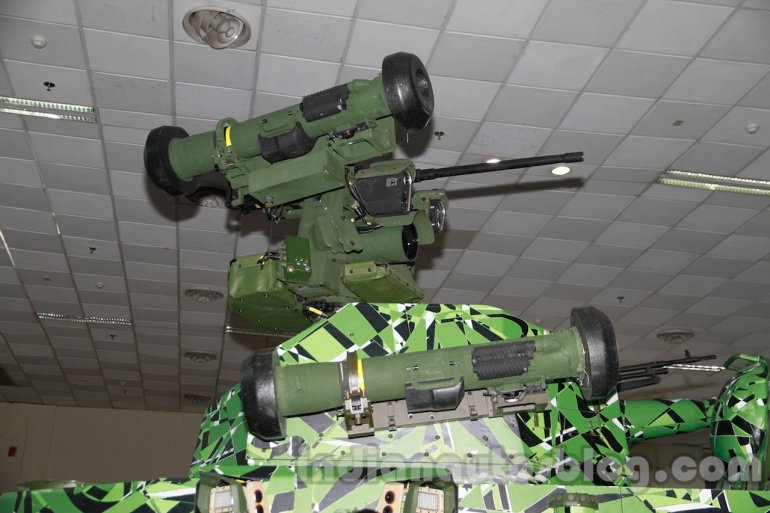 Depending on the application, the Kestrel can withstand threat levels ranging from Stanag I to Stanag IV. Stanag standards are a NATO standardization agreement covering the standards for "Protection Levels for Occupants of Logistic and Light Armored Vehicles".
Stanag I dictates that the vehicle should be able to withstand hand grenades, unexploded artillery fragmenting submunitions, and other small anti personnel explosive devices detonated under the vehicle, while Stanag IV states, among other parameters, that the vehicle should be able to withstand a blast of a 10 kg mine under either each tyre or under the vehicle.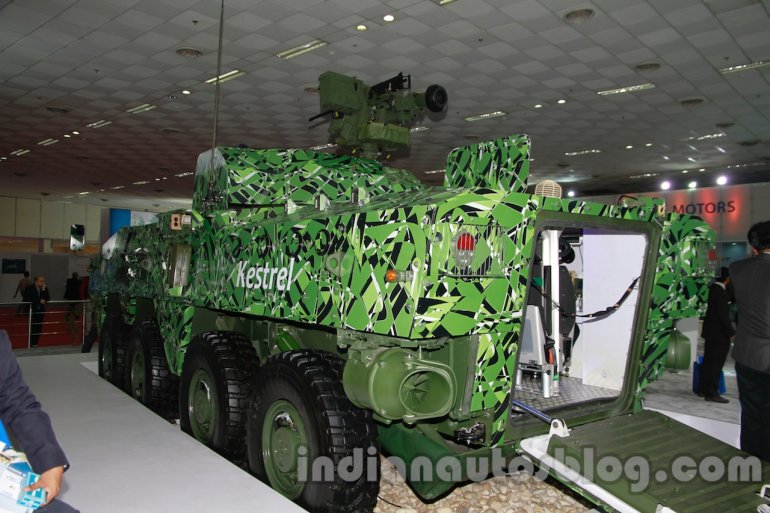 The Kestrel is powered by a 600 hp indigenous engine and under chassis driveline. It can achieve a speed of 100 kph on land and 10 kph in its amphibious mode. It is propelled by a rear-mounted water jet and need no preparation before entering the water.
The armoured vehicle can also carry two fire-and-forget missiles, an automatic grenade launcher and one man or two man turrets for all calibers, apart from standard radar systems.
Tata Kestrel - Image Gallery