As the Indian auto market enters in a deep recession phase, the automakers are offering crazy discounts to offload their inventory. Tata Motors is offering a massive Rs 45,000 discount on its eV2 model.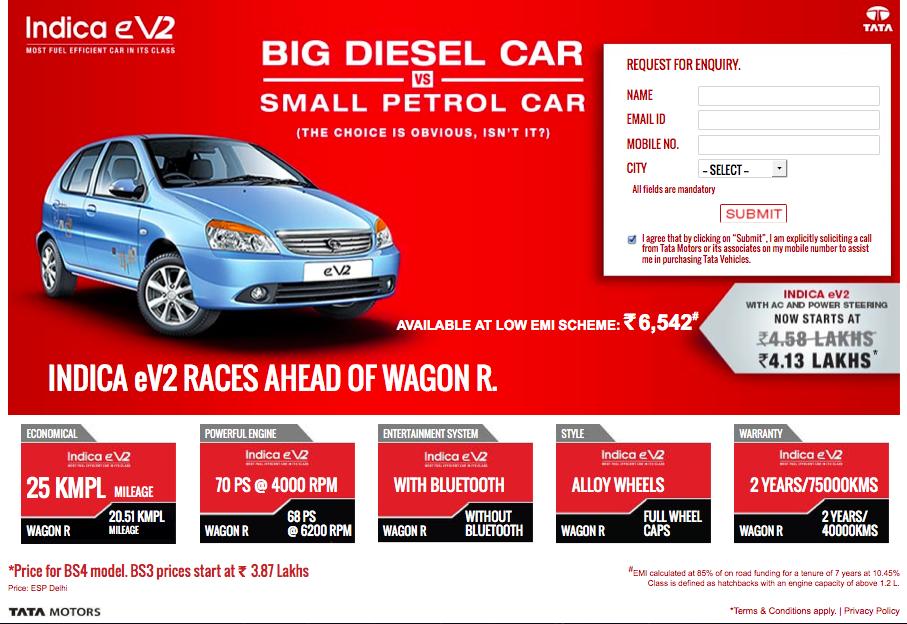 The BSIV variant of the eV2 now starts from Rs 4.13 lakhs and the BSIII model starts at Rs 3.87 lakhs which is a substantial saving for us commoners.
In the advertisement, Tata Motors has squared-off the eV2 against Maruti Suzuki's wonder child Wagon R. The Wagon R is always in the top 3 bestselling cars in India. Clearly, Tata Motors wants to boost the eV2's volumes in the Indian market.
This is cleaver positioning because the biggest USP of the Wagon R is its spaciousness and the eV2 is no 'Romanian jail' in that department. It is equally spacious as the Wagon R, if not more.
But the eV2 has an impressive diesel engine under its bonnet which the Wagon R lacks. With the fuel prices showing high volatility in the recent years, the common man is bound to be persuaded to buy a diesel car because of better fuel economy.
Considering the Wagon R starts at 3.62 lakhs, the consumer just has to shell Rs 51,000 more to buy the diesel eV2 making the whole deal a fantastic value-for-money proposition.
[Source: Rushlane.com]