A chopped mini UV based on the Tata Aria? Last year Tata Motors did not consider that idea worthy!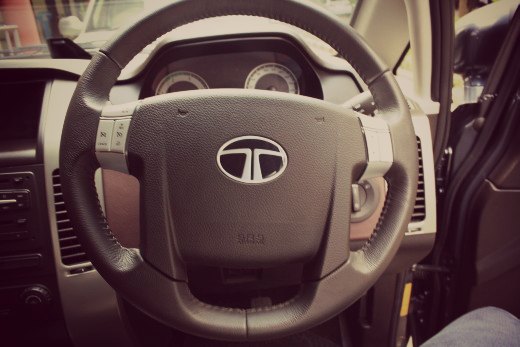 But in about a year's time, that decision has changed, or the market has forced them into changing it.
Our good friends at Overdrive magazine have just reported that Tata is working on a mini-Aria.
The compact utility vehicle will be Tata's answer to Mahindra Quanto which despite its ungainly proportions has managed more than 5,000 bookings in just few weeks from the launch. So, Tata Motors' contender will have to play the value for money card more wisely than the looks.
The potential for a sub 10 lakh rupee UV is huge and the mini-Aria will be aimed at addressing the needs of the segment. The platform to be used for the mini-Aria may not be the chopped version of the Aria's hydro-formed chassis since it would pump the costs up but instead, Tata may be looking at the old Safari's platform.
Using the old Safari's platform could mean less stiffness but on the brighter side, Tata will be able to price the mini UV competitively and even tuck it within the critical four metre mark. Now that brings us to another crucial parameter, the engine. The mini-Aria could be powered by either the Fiat's 1.3 MultiJet or a three cylinder version of the 2.2 litre diesel engine that is powering the Aria and Safari.
While the powertrain options are not clear as of now, we reckon that having their own 1.5 litre diesel will give Tata an upper hand when it comes to pricing. The 1.3 MultiJet is designed for front wheel drive cars while the ladder frame chassis primarily supports rear wheel drive. Moreover, being based on a heavy ladder frame chassis, the 1.3 MultiJet would prove to be underpowered. The 1.4L CR4 from the Indica is another option, but which way will Tata go?
Whether the baby-Aria will be marketed as a compact MPV or SUV remains to be seen but what is certain is that the vehicle will have Mahindra Quanto and Maruti Ertiga clearly in its sights.
Overdrive also reports that a sub-four metre Sumo is also being developed. According to their sources, the exterior design of the Sumo which is almost ready is a joint work of Tata's European and Indian technical centers.
We would love to watch Tata Motors spring a surprise on us by pricing the baby Aria at par with the competition while still using the advanced hydro-formed chassis.
[Source: Overdrive.co.in]