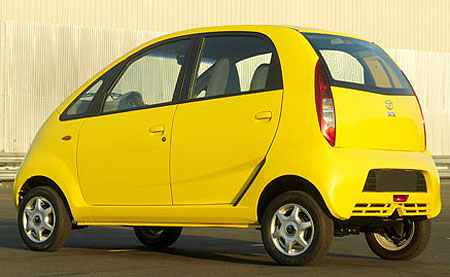 Good news (atl ast!!) from Tata. The much awaited car of world-wide acclaim, the Tata Nano will finally be made at the Ranjangaon plant which will serve as a satellite unit for the little car. Having been a painful gestation period for the Nano, Tata believes an initial roll-out of at least 1000 units from the Pune facility will smoothen things out, or atleast to merely keep up Chairman Ratan Tata's promise.
Highly-placed sources have revealed that Tata Motors has already scaled up the production of Indica at the Ranjangaon unit, and now Nano may also be rolled out in this unit, in order to avail the humungous tax benefits provided to investors in that state. Although Tata is ready to wait for an amicable solution to the Singur issue(despite the spoilsport by the W.B govt), the rush is due to the nearing roll-out date(oct '08).
The Nano, which will have a 623 cc engine that produces 33 hp, will be be the cheapest car on sale when it hits showrooms later this month. It will subsequently use a diesel engine while battery operated and hybrid versions are part of the entire plan. Fiat officials revealed to a local magazine last month that the Nano's platform could be used by them to make their own small car, which will go on sale at least two years from now.
Tata has faced turbulent times the past few months. However, the country's largest commercial vehiclemaker is maintaining maximum focus, and is determined to rollout the Nano this month end. So far Tata has been playing the cards close to the chest. Only time will tell if Tata is making the right moves.