At the 2012 Paris Motor Show, Ssangyong will present yet another compact SUV concept, 'XIV-3' Just-Auto.com has revealed. The XIV-3 could be a near-to-production version of the XIV series, presented at global auto shows over the last year.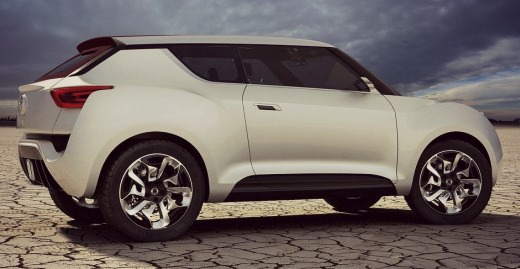 Ssangyong's convertible guise of the XIV concept, the XIV-2 (eXciting User Interface Vehicle 2) gathered crowds at the Geneva Motor Show. Ssangyong terms it as a vehicle that offers 'a special experience with fun'.
The XIV concepts preview a future strategic global model in the B segment. This automatically puts it under the Korando C, making it the entry model for Ssangyong. The XIV competes with vehicles like the Ford EcoSport, Chevrolet Trax and Renault Duster. It targets young drivers in their twenties with a sporty design.
Ssangyong said the XIV will source power from Euro VI compliant 1.6-liter gasoline and diesel engines mated to manual and automatic transmissions. The production version could be shown in the fourth installment at Geneva next year or later in Seoul.
It was said in the media recently that Ssangyong and parent company Mahindra are working on two platforms, one in India, and another in Korea. Mahindra's compact SUV is codenamed S101, while the company has also begun work on a successor to the Scorpio at its newly inaugurated research and engineering center in Chennai.
Will the S101, new Scorpio and XIV-3 have any commonalities? We've started digging, stay tuned to IAB!
[Source - Just-Auto.com]