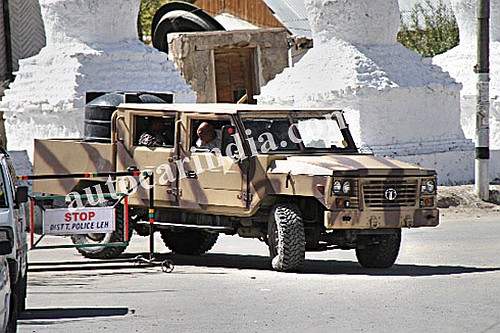 Tata Motor's High Mobility Multipurpose Wheeled Vehicle (HMMWV) called the Light Specialist Vehicle (LSV) has been spotted in Leh. Tata's new tactical high mobility vehicle would be on the lines of India's first HMMWV, the Mahindra Axe. The vehicle was first showcased at the 2008 Defence Expo in New Delhi.
Tata has been developing vehicles for the Indian Armed Forces since 1958 and is India's largest manufacturer of defense vehicles. Tata has an impressive line up of tough all terrain armoured vehicles. Tata Motors' current range of High Mobility Vehicles are based on trucks and are mostly 6-wheeled and 8-wheeled vehicles.
The new Tata 4-wheeled LSV has been supplied to the Army as well as the newly formed Anti Terrorism Squad (ATS). The Tata family itself has borne the brunt of Mumbai's terrorist attack. Tata's LSV satisfies the need of a high mobility armoured vehicle which is capable of transporting troops and artillery in case of counter insurgency operations.
Tata's LSV is capable of carrying a 1.2 tonne payload and its joint platform can be altered for diverse missions reconnaissance and counter insurgency operations for special forces. The LSV has an adaptive automatic transmission with a top speed of 105 kmph. Tata's LSV is capable of 60 percent gradeability, 45 degree approach and departure angle and 300 mm vertical climbing. The LSV massive 255 mm ground clearance helps its all terrain capabilities. The LSV can operate in very harsh climatic conditions and can withstand temperatures ranging from -20C to 55C.
Tata Motors' Defense Solutions also builds armoured Safaris and Sumos and other mine protected vehicles. Tata's ownership of the Land Rover can only add to the strengths and capabilities of the Tata's Defense vehicles.
Tata Light Specialist Vehicle (LSV) gallery -
Source: Autocar